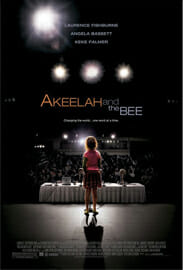 Director/Writer: Doug Atchison
Cinematographer: M. David Mullen
Starring: Keke Palmer, Laurence Fishburne, Angela Bassett
Studio info: Lions Gate, 112 mins.
Akeelah and the Bee is the kind of movie you want to recommend to every 11-year-old you know. Akeelah has brains but little motivation until her teachers urge her to participate in a spelling bee. Especially re-warding is the way Akeelah draws inspiration not only from one attentive teacher, but also from her community, family, peers and competitors. It's reminiscent of the great short film by Charles Burnett, When It Rains, in which an L.A. neighborhood rallies to help a guy who's having trouble making rent.
The film is certainly fantastical in the way it uses winning a contest as a symbol of success, but it's honest about inner-city life even when it simplifies. For example, the subtle implication that one guy in the neighborhood is a drug dealer probably flies past many young viewers. And the mildly salty language seems realistic, even though it's atypical for a family movie.