Watch the Creepy, Demon-Filled Trailer for Annabelle Comes Home
Image via Warner Bros. Pictures
Movies
News
Annabelle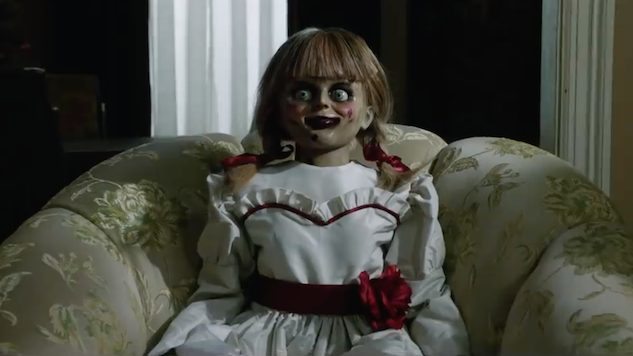 In the latest installment of babysitters who probably deserve to die in horror films, the trailer for Annabelle Comes Home features Ed and Lorraine Warren (Patrick Wilson, Vera Farmiga) fighting off the ghouls and demons set free by their daughter's babysitters.
The trailer follows Ed and Lorraine after they finally lock Annabelle up to stop her terror, or at least try to. From there, their daughter's babysitters decide that snooping in the Warren's demon-filled room would be smart and instead seemingly release all of the previously captured entities the Warrens have tackled. Annabelle is deemed a "beacon for other spirits" in the trailer and thus ensues demonic madness.
At Comic-Con 2018, The Conjuring director James Wan described the forthcoming installment as a typical Annabelle film but with a Night at the Museum twist. Wan also acts as a producer on the forthcoming film.
"Annabelle basically activates all the other haunted artifacts in that room," Wan told Entertainment Weekly in July. "So, it's basically A Night at the Museum, with Annabelle!"
Annabelle Comes Home is the third Annabelle-centered film in The Conjuring Universe, and is written and directed by Gary Dauberman, making his directorial debut after writing the two previous Annabelle films, It and The Nun. The film comes to theaters June 26.
Watch the new trailer for Annabelle Comes Home below.