The New Aquaman Extended Trailer Is Kind of Awesome, Honestly
Images via Warner Brothers/DC
Movies
News
Aquaman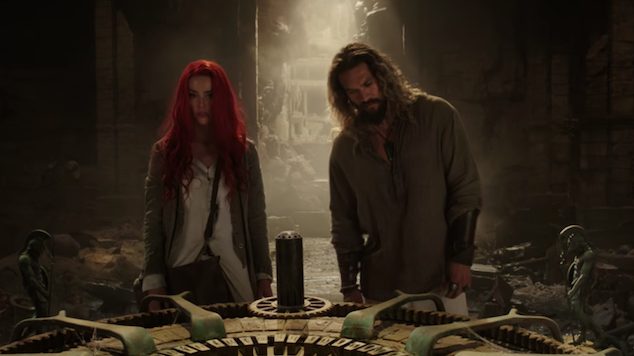 At New York Comic-Con, James Wan dropped an extended trailer for his forthcoming Aquaman—and it looks surprisingly cool. In it, we get a vertical slice of the entire movie, including origins, character arcs and a closer look at villain Black Manta. A few weeks ago, DC published an interview with Wan that established the director's intent to include as much from the character's history as possible. Not only does the extended trailer show that, but also, it works.
One of the first few scenes show Aquaman (Jason Momoa) and Mera (Amber Heard) together, looking for one of the film's MacGuffins. Mera shows off her powers and some excellent CGI by pulling water out of Arthur's body. It's a cool moment, which Arthur slices open, saying, "You could've just peed on it." The scene suggests DC has finally figured out how to balance its serious moments with lightheartedness, which we've hardly seen outside of Wonder Woman.
When Black Manta arrives, the trailer shows off Aquaman's dynamic action. We get an exhilarating rooftop chase scene, one-on-one fights and—of course—giant sea monsters.
Somehow, Aquaman genuinely looks like it might work. We'll see what happens when Aquaman hits theaters on Dec. 21.
Check out the video below and see for yourself.