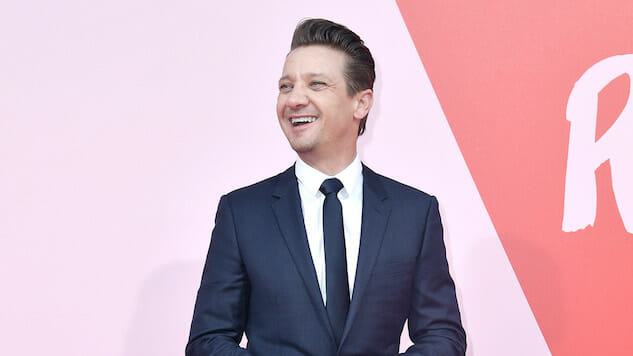 Despite the fact that the forthcoming Avengers: Infinity War is likely to be the most computer-generated film since Cars 3, apparently not everything will be built using an Apple laptop. We know this to be true, if only because Jeremy Renner's broken arms—much like Shakira's sultry hips—do not lie.
Jeremy Renner told Variety today that he freaking broke both of his arms during an Infinity War stunt. Renner, of course, plays everyone's favorite useless Avenger: Hawkeye. Despite his power having all but lost its relevance around the invention of gunpowder, Renner himself is a fantastic actor, and Marvel Studios has consistently tried to give his character more prominence even while he's working alongside such powerhouse superheroes as Iron Man and Captain America. Clearly one such attempt involved a particularly epic stunt, which resulted in a fractured right elbow and left wrist. That sounds about right for any Hawkeye attempt to do something cool.
Renner, to his credit, has taken it all in stride. "That's how it goes," Renner said. "It's part of the job." He continued, "I'm sort of a problem solver, you know. There will be an effect to it, but it won't stop me from doing things that I need to be doing. I'll heal fast. I'm doing everything I can to heal faster."
The real question is whether Renner's Hawkeye will be one of the major characters that's expected to die in the forthcoming Avengers film. After all, it wouldn't take much more than a stray punch from a true superhero to turn Hawkeye into snarky mush.