Back to the Future turned 30 last week, and what better way to look back on the series than to see what we've gained due to its existence. From music, TV shows and tie-in amusement park rides to Halloween costumes and philanthropic efforts, Robert Zemeckis' 1985 classic has left a mark on pop culture. Check out our list of 11 things we have all thanks to Marty McFly and Doc Brown's time-traveling adventures.
1. Huey Lewis and the News' "The Power of Love"
With Huey Lewis and the News coming fresh off their chart-topping 1983 album Sports, the band was a no-brainer choice to contribute Back To the Future's soundtrack. Along with the lesser known "Back in Time," "The Power of Love" appears in all three of the series' films, most notably when Marty is skateboarding to school in Part I. A hard-rock version is also featured when his band the Pinheads auditions for the school's Battle of the Bands competition, with Lewis himself making a cameo to tell the kids they're "just too darn loud." The song's ties to the film carried over to the song's music video, which features Doc Brown accidentally losing the DeLorean while watching a performance from the group.
---
2. Reviving the phrase "Great Scott!"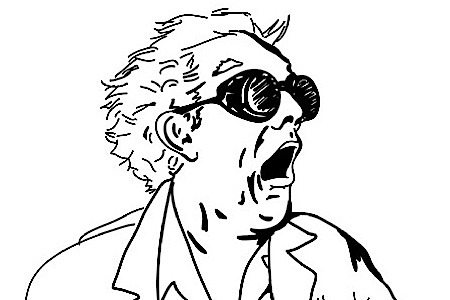 Aside from time travel, we can thank Doc Brown for bringing the phrase "Great Scott!" back into the American lexicon. The phrase was widely used in literature throughout the late 1800s, but had basically been phased out well before the film's release. With it being Doc's catch-phrase throughout the series, it was revived and eventually immortalized in memes across the internet.
---
3. Elijah Wood's film career
Even though Elijah Wood was well on his way to becoming a child star after appearing in a David Fincher-directed Paula Abdul video, his brief appearance in Part II was his first major film role. Wood is "Video Game Boy #2" and meets Marty in the diner while playing a light gun arcade game. Marty shows him how to play the "primitive" game with Wood replying, "You mean you have to use your hands?" Admittedly, Wood most likely still would've marched into Mordor and voiced a tap-dancing penguin without this credit on his résumé, but as we learn in BTTF, whatever changes in the past affects the future, so let's not take any chances by leaving out this role on his road to stardom.
---
4. Popularizing DeLoreans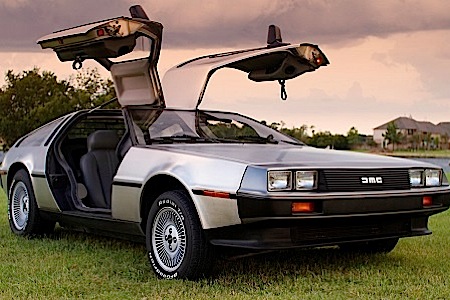 The DeLorean DMC-12 was never "popular" by any means, but without being Doc's vehicle of choice in the series, the DeLorean Motor Company's only creation would have been just another failed car design. With its ties to the film, the vehicle is now sought out by collectors around the world, who often alter the car's design to be more in line with the look of Doc's time machine. The passion for the car carries on today, as series producer Bob Gale and a group of producers successfully crowdfunded over $78,500 to fund the restoration of one of the original vehicles and an accompanying documentary entitled OUT OF TIME: Saving the DeLorean Time Machine, which is set to premier at this year's Back to the Future Fan Celebration in Los Angeles.
---
5. The Back to the Future Fan Celebration
Speaking of which, fans from around the globe will gather in Los Angeles this October to celebrate everything BTTF at "We're Going Back 2015." As they did in 2010, fans will gather to tour filming locations, meet cast and crew members, screen the original films and recreate the Part II hoverboard scene with the help of a stunt crew. Other activities for the event include a recreation of the "Enchantment Under the Sea" dance from Part I, screenings of the upcoming in-depth documentary on the series Back in Time and the aforementioned OUT OF TIME, prop auctions, cosplay contests and tons of opportunities to take pictures with DeLoreans used in the films. Also, did we mention that you get to ride a hoverboard? Seriously, when else are you gonna get that kind of opportunity?
---
6. Increased Awareness (and Research) for Parkinson's Disease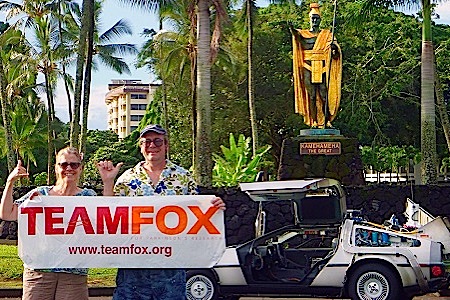 Since being diagnosed with Parkinson's Disease in 1991, Michael J. Fox has become the largest celebrity advocate for research on the disease. He started the Michael J. Fox Foundation, which is dedicated to finding a cure for the disease, through fundraising efforts. Events are set up every week in countries around the world, many of which capitalize on the series' brand to increase awareness. Most notably, Team Fox volunteers Oliver and Terry Holler visited conventions and car shows in all 50 states over a seven-year period with their restored DeLorean. They called their journey "To the Future, a Drive to Cure Parkinson's" and raised more than $250,000 for the foundation, with no intention of stopping anytime soon. Other events planned this year include screenings, Enchantment Under the Sea reenactments and the "Cruise for the Cure" fundraiser featuring BTTF cast and crew members. For more information on the Michael J. Fox Foundation, visit michaeljfox.org.
---
7. Back to the Future: The Animated Series
Set after Part III, an animated series aptly titled Back To the Future aired on CBS for two seasons in 1991-92. The show follows Marty and Doc's misadventures as they visit the Roman Empire, encounter dinosaurs and travel on the Oregon Trail, among other escapades. Another notable aspect of the show comes with its live action segments. Christopher Lloyd reprises his role as Doc and conducts various experiments related to the episode with the help of everyone's favorite science guy, Bill Nye.
---
8. Back to the Future: The Ride
From 1991 to 2007, Universal Studios Florida and Hollywood patrons could step into Doc Brown's DeLorean and go on a time-bending adventure of their own. The ride, which was supervised by Steven Spielberg, strapped fans into a motion-based simulator paired with a video screen to create a fully immersive experience. The video features Lloyd and Thomas L. Wilson reprising their roles as Doc and Biff, respectively, as you hunt down Biff, who has stolen one of Doc's spare time machines. If you never had a chance to experience this piece of BTTF history, there's still one remaining version of the ride at Universal Studios Japan.
---
9. Back to the Future: The Game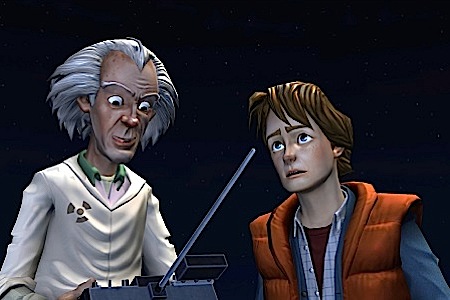 Aside from the 8-bit platformers that accompanied the trilogy, Back To the Future never got a fitting video game adaption, at least until Telltale Games' 2010 episodic series. With writing by original producer Bob Gale and voice work from Lloyd (and Fox in a small capacity), the developers behind the award-winning Walking Dead and Strong Bad franchises bring their signature style of point-and-click adventure gameplay to Hill Valley with enthusiastic results. The creators truly captured the tone and humor of the films like no other style of game could have. If you still need another game to satisfy your Marty and Doc fix, both characters will appear in LEGO form in this fall's LEGO Dimensions.
---
10. Some Incredible Live Adaptations
A musical adaptation of Part I is set to debut in London later this year, but if you're dying to see a live version of the first film, look no further than Secret Cinema's large-scale adaptation from 2014. Filmed at the Queen Elizabeth Olympic Park in London, the event combined a screening of the film with live-action reenactments. The outdoor venue allowed for live car chases and humongous set pieces, making it a truly one-of-a-kind experience. On the other end of the spectrum, the Old Murder House Theatre troupe, who is also behind productions like Aliens on Ice! and Jurassic Park Live!, took a smaller-scale approach to recreating the film. Using cardboard props, the cast brings the film alive with hilarious results. The highlights from the show are currently available to stream on the troupe's Vimeo account.
11. The Marty McFly Halloween costume
Lastly, if you've ever needed a quick and easy Halloween costume that reflected your love of a certain '80s movie about time travel, look no further than this simple ensemble. All you need is an orange vest, denim jacket, plaid shirt, jeans and white sneakers, all of which you can typically find at your local thrift store. If you want to go all out, you could add a skateboard or old school camcorder to the mix, or spring for a custom jacket and hat to recreate Marty's look from Part II. Either way, you'll sure to look the part for your next costume party or convention.
---
John Connor Coulston is a freelance pop culture writer and a contributor to Paste. You can follow him on Twitter.