Kino Lorber Acquires Cannes Jury Prize Winner Bacurau
Image via Vitrine Filmes/YouTube
Movies
News
Bacurau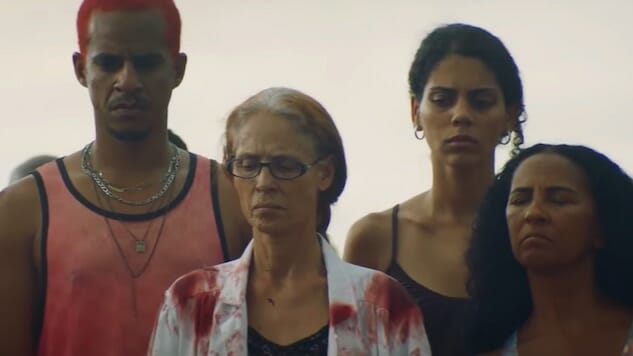 Kino Lorber, which specializes in European, Asian, silent, documentary and independent films, has scored North American rights to the Brazilian weird Western thriller Bacurau.
Winner of the Cannes Film Festival's Jury Prize, Bacurau is directed by Kleber Mendonça Filho and Juliano Dornelles.
The daring and brutal narrative is set in the near future in a small Brazilian village mourning the death of their 94-year-old matriarch. Now vulnerable, the village quickly becomes a target of armed Americans, culminating in a bloody blowout in which the townspeople unite against white aggressors set on hunting them for sport.
Pulling from modern Brazilian sociopolitical happenings, the film weaves between genres as a clear, hard-hitting political allegory.
Golden Globe-nominated and famed Brazilian-American actress Sônia Braga, who led Filho's Aquarius, stars in the film alongside Udo Kier and Bárbara Colen.
An acting veteran, Kier has appeared in works dating back to the '60s including Melancholia, Armageddon, Ace Ventura: Pet Detective and Suspiria. Colen can also be seen in Filho's Aquarius.
Bacurau is Filho's follow-up to his 2016 renowned drama Aquarius, and it also isn't his first time bringing attention to societal crises in Brazil through his work. Aquarius, which revolves around a retired music critic who vows to live in her apartment until the day she dies, despite a developer nabbing the units around her, sheds light on economic and ethical conflicts in Brazil. Filho is also known for his critically acclaimed 2012 thriller Neighboring Sounds.
A frequent collaborator of Filho's, Dornelles is primarily a production designer and did production work on Filho's 2009 short Cold Tropics. But Bacurau is the duo's first directorial/screenwriting collaboration.
One of the best-reviewed Cannes films of the year, Bacurau nabbed the Jury Prize, shared with Les Miserables, from jury president and Oscar-winning director Alejandro Inarritu.
The movie will get its theatrical release in early 2020, but until then, feast your eyes on the official teaser below.