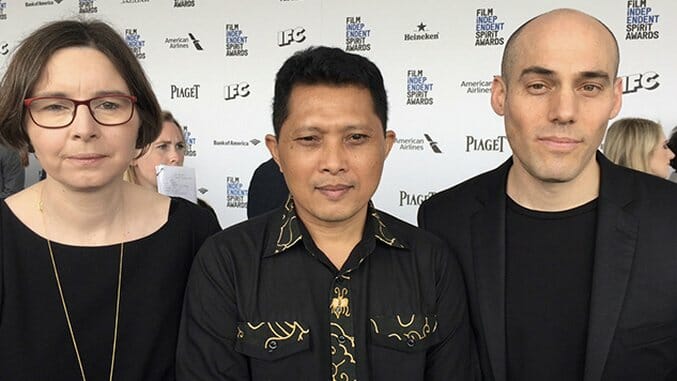 The 2016 Film Independent Spirit Awards are in the books, with Spotlight, Beasts of No Nation and Room each taking home multiple trophies. Under-the-radar films were also honored on Saturday with Marielle Heller's The Diary of a Teenage Girl picking up Best First Feature, and Krisha, written and directed by Trey Edward Shults, winning the John Cassavetes Award (for best feature made for under $500,000). Tangerine, Sean Baker's film shot on modified iPhones, also made history when one of its stars, Mya Taylor, won for Best Supporting Female—the first transgender person to win a major film award.
While attendees and viewers of the award show were entertained by comedians and co-hosts Kate McKinnon and Kumail Nanjiani, serenaded by music care of house band Rooney, and treated to relatively short acceptance speeches, Paste Magazine was behind the scenes, interviewing many of the nominees and winners on the red carpet and backstage.
Sean Baker on Tangerine, the little film that could.
In the pressline, we asked director Baker if he had ever imagined Tangerine going this far, nominated for best feature against films like Spotlight, Carol, Beasts of No Nation and Anomalisa.
"We had to believe in the film because if we didn't believe in the film, we would have failed," he said. "And we had Mark and Jay Duplass behind us, so…at least it would be recognized to a certain degree. Whether it would be liked or not or divide audiences or not, we had no idea, but we did know the Duplass name would help push us along. But being nominated for Best Picture—this costs less than my previous film [Prince of Broadway] that was in the Cassavetes section. To be put into this category is mind-blowing."
On Mya Taylor's personal journey.
When asked in the pressroom about advice for others who are struggling to achieve their dreams, Taylor talked about her own experiences:
Idris Elba's biggest challenge in his role for Beasts of No Nation.
Elba plays the ruthless Commandant of a rag tag battalion of child soldiers in Cary Fukunaga's Beasts of No Nation. In the pressroom, Elba said he tried to keep the Commandant grounded in reality, and away from cliché. His biggest challenge was "not to demonize him…These are people, and shit happens."
Krisha was a family affair.
"We made this film at my mom's house for 9 days, and it stars my aunt," said Shults of his deeply personal film. In the film, which takes place over a Thanksgiving holiday, a woman (Krisha Fairchild) returns home to the family she abandoned years before. In the pressroom, Shults said his inspiration for the film came from "a lot of lost souls in my family" who struggled with addiction.
Fairchild, 64, whose performance in the film wowed at Cannes and SXSW, gave up on a full-time acting career years ago, but couldn't pass up this role. "I waited twenty-something years for him to write a role for me," she explained. "That's what really drew me back. I'm his aunt. I always knew he was going to be a director." But how did she really know? "When he was 6, we had a conversation in the back of a van on a road trip, and he was giving me a dissertation on the directorial styles of the Batman movies. I would not make that up. It would be too kooky."
Cinematographer Ed Lachman's inspiration for Carol.
Backstage, Lachman told the press that instead of taking cues from the films during the period from Patricia Highsmith's 1952 novel The Price of Salt, on which Carol is based, he looked at the still photography of the era, particularly color slides on Ektachrome. He also told reporters that he was proud to be a part of a "small film that says we all have the right to love and be loved."
On the differences in making The Look of Silence, which won the Spirit Award for Best Documentary, and its precursor, The Act of Killing.
Both films examined genocide in Indonesia, but from two very different perspectives. "The last film, the Indonesian government was rolling out a red carpet for everything we were doing because we were working with the most powerful men in the country," director Joshua Oppenheimer told us before the ceremony. "But this film, we follow Adi Rukun as he goes and visits the men who killed his brother while they're still in power, and he's asking them to take responsibility for what they've done while actually testing their eyes. And it was a dangerous and unprecedented thing to do because it was the first film ever where survivors are confronting perpetrators while perpetrators are still in power. We would have a getaway car ready for Adi to evacuate; the moment we finished shooting, we would have Adi's family at the airport ready to evacuate. If anything went wrong, we had the crew—under [producer] Signe [Byrge Sørensen]'s very careful command, always poised and ready to make sure that we were safe. It was a dangerous and frightening film to make in a way, that if The Act of Killing was emotionally frightening, this was physically frightening…but maybe emotionally healing."
(Note: Sørensen, Rukun and Oppenheimer are pictured above.)
Why The Look of Silence was worth the risk for Rukun.
"It's ended a regime of fear for millions of survivors because talking about this was completely impossible for 50 years," Rukun told us (with Oppenheimer translating). Before the film had its worldwide release, including in Indonesia, Rukun and his family moved to another region of Indonesia. "We feel free for the moment because we're no longer surrounded by the perpetrators who murdered my brother and extorted and intimidated and terrorized my family ever since." Here, Oppenheimer interjects that for the past two years, there's been a team of five people who work full-time to monitor Rukun and ensure his family's safety. There's a backup plan should things go awry, but Oppenheimer says that The Look of Silence has been received positively since its release and there have been no threats since the film came out.
On making "Room" a character.
Best Female Lead Brie Larson (Room) spoke about how she, co-star Jacob Tremblay and director Lenny Abrahamson worked to make "Room" another character in the film.
---
Christine N. Ziemba is a Los Angeles-based freelance pop culture writer and regular contributor to Paste. You can follow her on Twitter.