Bird Box's Monsters Were Cut from the Movie Because They Looked So Absurd
"It was a green man with a horrific baby face," star Sandra Bullock recalled in a recent interview
Image via Netflix
Movies
News
Bird Box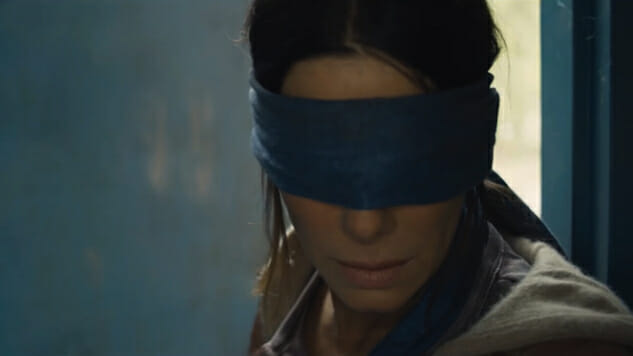 Netflix's new horror-thriller Bird Box—in which a mysterious force invades earth, compelling anyone who lays eyes on one of their number to commit suicide—never shows the malevolent creatures that terrorize a band of survivors led by Sandra Bullock's Malorie. That's a bold choice for a film that derives so much tension from the literal appearance of its antagonists, but judging by recent comments key cast and crew members made to Bloody Disgusting, Bird Box is better off for having left viewers in the dark.
"There was a time when one of the producers was like, 'No, you have to see something at some point,' and forced me to write essentially a nightmare sequence where Malorie experiences one in that house," screenwriter Eric Heisserer (Oscar-nominated for his adapted Arrival screenplay), told Bloody Disgusting. Heisserer adapted the film's script from Josh Malerman's 2014 post-apocalyptic novel of the same name.
"It was a green man with a horrific baby face," recalled Bullock in the same interview. "It was snake-like, and I was like, 'I don't want to see it when it first happens. Just bring it into the room. We'll shoot the scene.' I turn and he's like this [growling at me]. It's making me laugh. It was just a long fat baby."
Director Susanne Bier (The Night Manager) added of the creature, "It so easily becomes funny. We actually shot that and spent a lot of energy on [it], but every time I saw it, I was like, this is not going to be tense. It's just going to be funny. At first, Sandy was like, 'I don't want to see it,' because she thought it was scary. Then it was like, 'Don't show it to me because [I'll laugh].' Every time I did it, I was like, 'Shit, that's a different film.'"
"I'm so sorry you had to shoot that," Heisserer told her.
"We're going to deliver it to Saturday Night Live," Bier joked. "Whatever those beings are, they tap into your deepest fear. Everybody's deepest fear is going to be different from the other person. I think to suddenly take upon a concrete shape in order to illustrate that becomes weak. Where the conceit is really strong, then trying to illustrate it is kind of almost meaningless. So it would have been the wrong decision."
We can't help but agree—better to let viewers project their own worst fears onto the film, rather than dispelling Bird Box's intrigue by laying its trump card on the table. And as most film fanatics know, showing a monster movie's big bad sparingly, a la Jaws, usually proves far more effective than parading it around all over the place—particularly when said monster looks like "a long fat baby."
Bird Box is now streaming on Netflix. See a trailer for the film below.