Parasite's Bong Joon Ho and Song Kang Ho Donate $82K to South Korean Coronavirus Relief
Photo by Chung Sung-Jun/Getty
Movies
News
bong joon-ho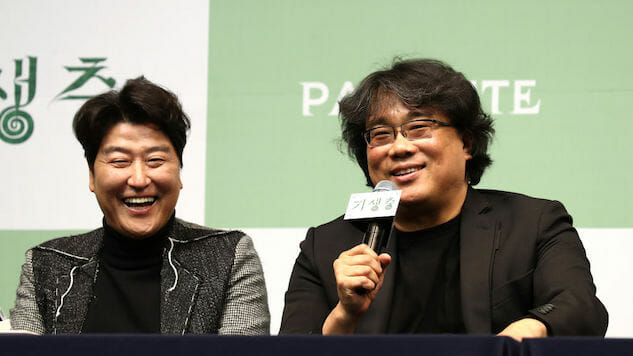 South Korean director-turned-national icon Bong Joon Ho has donated 100 million won ($82,000) to coronavirus relief efforts within his home country. His frequent collaborator and Parasite actor Song Kang Ho also donated the same amount towards relief efforts.
Just in: 'Parasite' director Bong Joon-ho and actor Song Kang-ho have each donated 100 million won ($82K) towards relief efforts re: coronavirus outbreak in S. Korea, via the Korea Disaster Relief Association. https://t.co/ksuAi3mgeA

— Raphael Rashid (@koryodynasty) February 27, 2020
South Korea has been hit particularly hard by the coronavirus outbreak, which, according to The Wall Street Journal, is now spreading faster in the country than in China, where the original outbreak occurred. In fact, South Korea is the country worse-hit by the virus apart from China.
The country tallied 505 newly confirmed cases of the virus among civilians during a 24-hour period from Wednesday to Thursday afternoon. During the same 24-hour period in China, 433 new cases were confirmed. South Korea also had one coronavirus-linked death on Thursday, bringing the national death toll up to 13. There are under 2,000 confirmed virus cases within South Korea as a whole.
A week ago, South Korea had only 104 cases, and much of the blame for the rapid spread of the virus lies with President Moon Jae-in, who has reportedly prioritized the country's political ties with Beijing instead of imposing travel bans on Chinese travelers.
While the World Health Organization (WHO) has urged against declaring the coronavirus outbreak a pandemic, its impact on other countries such as Iran and Italy has been swift and dangerous. However, the stigma attributed to Asian travelers and inhabitants all over the globe has also been reactionary, and steeped in racist and xenophobic rhetoric stemming from panic around the virus.