Benedict Cumberbatch Will Star in the British "Political Thriller," Brexit
Photo via Getty Images, Rich Fury
Movies
News
Brexit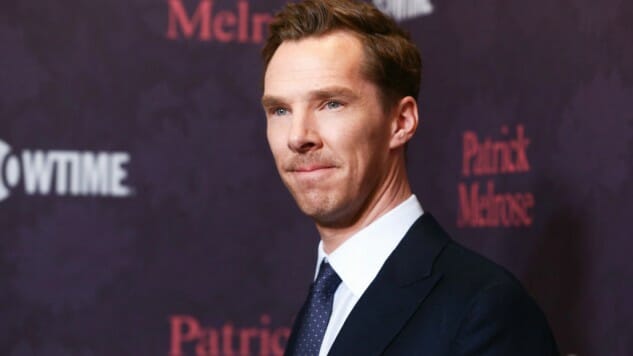 Benedict Cumberbatch may be a genuine Hollywood movie star these days, enshrined in the ultra-profitable Marvel Cinematic Universe by his role as Dr. Strange among other things, but he hasn't forgotten about the arena where he rose to fame—British TV. As such, he's just been announced as the main star of Brexit, a two-hour television film from the U.K.'s Channel 4. As the name would imply, the film revolves around the so-called Brexit vote of June 2016, wherein British citizens voted to leave the European Union.
Cumberbatch will star as Dominic Cummings, the man who served as "leading strategist" and campaign director of the "Vote Leave" movement. It will be interesting to see exactly how that character's treatment is handled, considering that the vote is still quite a hot-button issue. Channel 4, presumably, is trying to cash in on some of that controversy, calling the film an "utterly timely and compelling new political thriller from Olivier- and Royal Television Society-winning screenwriter James Graham."
"Unpacking the anatomy of the historic, high-stakes campaign to win the hearts and minds of the British people, this one-off drama set primarily during the referendum will, for the first time, explore the myriad tactics employed to swing one of the most surprising referendum results in living memory," Channel 4 said.
The use of the phrase "political thriller" to describe the story does seem a little odd, does it not? It's not as if we don't know the outcome of the Brexit vote. The story almost seems more like a legal drama than anything one would refer to as a "thriller." Are there attempted assassinations and car chases involved at some point?
Brexit is directed by Toby Haynes, who has directed episodes of Black Mirror and Sherlock, the series that brought Cumberbatch to fame. It will apparently "explore the data-driven political campaign behind one of the most contested, controversial government referendums in modern history."
"I'm so excited—not to mention a little nervous—to have this chance to try and get under the skin of what happened during that historic vote," said Graham, the screenwriter. "I hope by going behind the scenes of the campaign, we're able to interrogate the consequences of what happened during these eight weeks that have changed the country forever. To work with this incredible team and Channel 4 to bring this story to life onscreen is a real honor."
It sounds to us like Graham will likely be coming to some conclusions about culpability, morality and fault in doing so … and that seems quite likely to stir up further controversy.
We'll have more information on Benedict Cumberbatch in Brexit as it arrives.