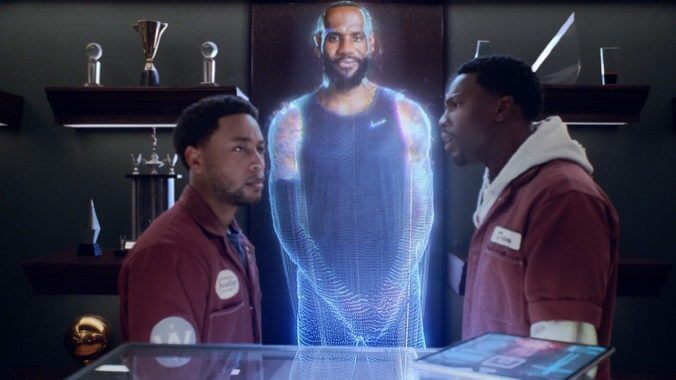 Calmatic's loose House Party remake ushers the playful '90s comedy into the modern era on the back of NBA G.O.A.T turned movie producer LeBron James. It's both self-unserious and self-celebratory of the superstar's larger-than-life persona. Mainstream comedies en masse have found more streaming platform premieres than Friday night box office conversations since the pandemic altered release landscapes, especially something stupendously silly like House Party. But writers Stephen Glover and Jamal Olori pen a cameo-stuffed, genre-jumping, out-of-bounds rager that fearlessly goes where theatrical audiences won't expect—for better and worse.
In the revamp, best friends Kevin (Jacob Latimore) and Damon (Tosin Cole) plot to earn a quick payday and take their party promotion company to the next level. The idea strikes while at work as private cleaners—a job Kevin's evergreen crush and co-worker Venus (Karen Obilom) informs them that they've lost after getting high on camera—and they discover whose house they're scrubbing spotless. The giant-sized clothing, the backyard basketball court, the diamond-studded championship ring? Kevin and Damon are in James' mansion and seize the opportunity (since James' schedule confirms him at a meditation retreat for two weeks). They'll throw a "secret" party titled "Off The Grid 2" on James' property and, as long as everything goes according to plan, won't end up in jail.
Commence wacky celebrity hijinks and inebriated anarchy in the King's Los Angeles castle.
House Party 2023 remixes Reginald Hudlin's 1990 House Party in spirit but separates itself outside of high school confines. Latimore's worrisome, beat-producing single father is Kid incarnate, and Cole fills the playboy host personality exuded by Play. They're allowed to be more adult about their shenanigans and handle conflicts outside of chasing cute girls and dodging muscular bullies. Glover and Olori take a more Grandma's Boy or Project X approach to this script, where lessons for young adults are swapped out for visual gags involving feral marsupials and fantastical side-quests involving a rather famous secret society. Hudlin's socially conscious coming-of-age commentaries are downplayed in favor of appearances from famous athletes, musicians and entrepreneurs—the guest list keeps mouths agape.
House Party tracks Kevin and Damon's odyssey through friendship, later-stage maturation and time-traveling DJs—even if scenes seem more focused on shock-humor swerves. Damon's social media influencer dreams clash with Kevin's family-man anxieties: The responsible half feels he's paying for his mess-around partner's reckless self-sabotage, always right before shenanigans interrupt. Kevin chases romantic stability in Venus' longtime platonic companion (Obilom sells their comfortable chemistry), while Damon eyes Instafamous models and mingles around attendees like Kid Cudi and Snoop Dogg. Toss in Allen Maldonado and his flanking goons as the "bully" representation who want to whoop Damon's player-stupid butt, and there's enough to navigate all the generic buddy-comedy angles—and nothing that redefines our bromantic expectations.
There's plenty I won't spoil—from an NFL ball-catcher to a New Orleans music mogul—and despite Kid Cudi stealing the spotlight as a sullen melodramatic rogue, there's too much reliance on star power to hype audiences. It's not necessarily a "break" factor, but it certainly doesn't "make" House Party a consistently reliable comedy. James might be the funniest supporting performer in House Party as his holographic self, speaking motivationally about how he should be rated 100 in NBA 2K or dogging his career choices, but even his parts of the storytelling shift into LeBron James advertisements.
With House Party, Calmatic jumps from a prolific music video career to feature filmmaking with the same energy, leading to shorter-burst storytelling that values standout moments over longevity. There's a prevailing sense that House Party will push harder than you expect, which is paid off over and over, devolving into a bloody horror-comedy or tossing another dazzling cameo out of nowhere. Hudlin is honored as the O.G. while Calmatic isn't afraid to go big or go home—even if the rowdy trespassing comedy lands somewhere between a blow-out win and a total rout.
Director: Calmatic
Writer: Jamal Olori, Stephen Glover
Starring: Tosin Cole, Jacob Latimore, Karen Obilom, D.C. Young Fly, Scott Mescudi
Release Date: January 13, 2023
---
Matt Donato is a Los Angeles-based film critic currently published on SlashFilm, Fangoria, Bloody Disgusting, and anywhere else he's allowed to spread the gospel of Demon Wind. He is also a member of the Hollywood Critics Association. Definitely don't feed him after midnight.