Billie Lourd Opens Up About Losing Her Mother and Grandmother in Interview with Sarah Paulson
Photo by Gustavo Caballero/Getty
Movies
News
Carrie Fisher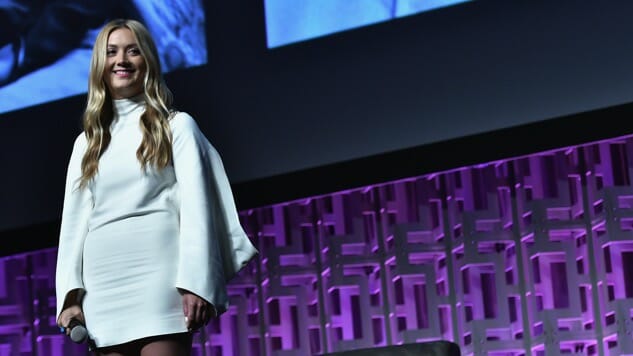 Billie Lourd is proof that humor really is in the genes. The 25-year-old actress lost her mother, Carrie Fisher, and her grandmother, Debbie Reynolds, just one day apart last year, but you would never know from her charm and quick-witted remarks that she has endured a recent tragedy. In the first interview after her losses, Lourd spoke with her American Horror Story: Cult co-star Sarah Paulson to discuss moving on with her life and career, and how her mother and grandmother influenced both.
She notes her mother's influence on her nontraditional upbringing, which Paulson got to peek into during her earlier days as an actress when Fisher would invite her to stay at her home. Paulson reveals to Lourd that she actually bought a computer so she could email her mom, which the rest of us would probably do, too, if we had gotten the chance to befriend Carrie Fisher. Lourd split time at her mom's and dad's respective houses, since they were divorced. "At Mom's it was like, 'Let's put Christmas lights in the palm trees at 2 a.m.' Do you remember when Sharper Image was 24 hours?" Lourd asks Paulson. "We went there all the time, 1 a.m. or 3 a.m., just picking up little trinkets as if that was what you do!"
Lourd shares her mom's sense of humor, bringing a sense of lightheartedness to an otherwise grim situation: "If life's not funny, then it's just true—and that would be unacceptable. Even when she died, that was what got me through that whole thing. When Debbie died the next day, I could just picture her saying, 'Well, she's upstaging me once again, of course—she had to.'"
As for her career, Lourd is looking forward to starting with a blank slate: "I've always kind of lived in their shadows, and now is the first time in my life when I get to own my life and stand on my own. I love being my mother's daughter, and it's something I always will be, but now I get to be just Billie."
It's clear that Lourd has a bright future ahead. You can read the entirety of her interview via Town and Country here.