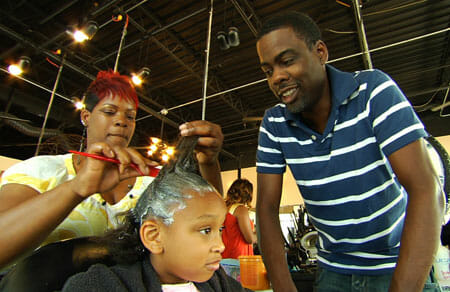 Release Date: Oct. 9
Director: Jeff Stilson
Writers: Lance Crouther, Chris Rock, Chuck Sklar, Jeff Stilson
Starring: Chris Rock
Cinematographers: Cliff Charles, Mark Henderson
Studio/Run Time: Roadside Attractions / HBO Films, 95 mins.
Chris Rock mines a surprisingly rich topic for laughs and insight
With director Jeff Stilson, Chris Rock delves into the socio-economic issues surrounding the fashion of the day and the industry of products that support it, unraveling a surprisingly complex web of forces that are applied—literally and figuratively—to a woman's head. It's a surprisingly thorny thicket.
Rock says he began wondering about all of this when his daughter asked him why she didn't have "good hair," a question that made him think about how a little girl could believe there was anything wrong with her perfectly natural curls. He looks into the companies and chemicals that black women use to straighten their hair, and he traces the origins of the high-priced wigs and extensions that are made of human hair (which, it turns out, come from India, a country poor enough that people who shave their heads for religious reasons can sell the remainder for a substantial sum). Leaving few stones unturned, he wonders who owns the companies that sell products specifically for black people, and he looks frankly at sexual relations that might lead women or their significant others to set such demanding goals.
In some ways, Rock is the ideal guide through this world. His race brings him close to the topic, but his gender leaves him as a bemused outsider. His daughters give him a personal wish to break through the neuroses that pass through modern culture, and his sense of humor allows him to present the whole thing with plenty of laughs. Good Hair feels enough like a comedy bit that the density of information sails by with ease.
Of course people of all races and genders change their appearances, for all kinds of reasons, and often at great discomfort or expense—and Rock stops well short of outright condemnation. He seems curious, not confrontational. He shows what a chemical straightener can do to an aluminum can—not pretty—but he admits that there are other ways to get the job done. And presumably, modern chemistry could improve things. The filmmakers have structured the movie around the Bonner Brother's International Hair Show in Atlanta, an elaborate on-stage competition that plays like reality TV, and while it's the least interesting of the film's tangents, the spectacle is dramatic enough to move things toward a definitive conclusion when Rock himself doesn't.