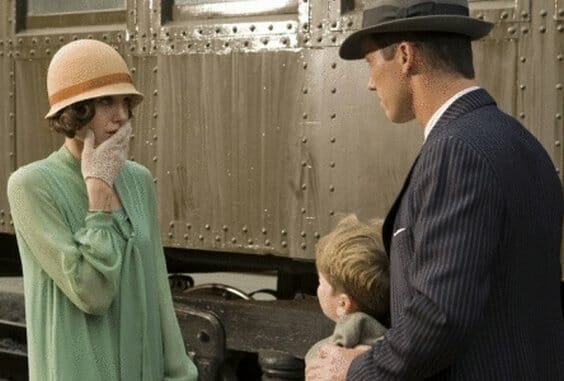 Release Date: Oct. 31
Director: Clint Eastwood
Writer: J. Michael Straczynski
?Cinematographer: Tom Stern?
Starring: Angelina Jolie, John Malkovich, Jeffrey Donovan, Amy Ryan
Studio/Run Time: Universal Pictures, 140 mins.
In Eastwood's latest, a woman's struggle against the system spirals into chaos

It shouldn't be a spoiler, but it is: Changeling is based on a true story. This detail went largely unannounced before the movie's world premiere at the Cannes Film Festival this past May. When the credits rolled at film's end, it was as if director Clint Eastwood whispered in everyone's ears, "That was for real."
Additional whispers at Cannes also suggested that Changeling would take the competition's top prize, the Palme d'Or. It didn't, though Eastwood was awarded a Special Prize (alongside Catherine Deneuve). As the award's title suggests, it was a sort of consolation prize for the film legend.
Set in late 1920s/early '30s Los Angeles, Changeling follows the tribulations of single mother Christine Collins (Jolie), who takes on an extra shift at work one evening and comes home to find her nine-year-old son missing. What opens as a straightforward missing-child melodrama rapidly turns into something more disturbing. The L.A.P.D. delivers Collins' son, who returns a few inches shorter—and circumcised. Needless to say, he isn't hers. In the name of saving face, Police Captain J.J. Jones (Donovan) convinces Collins to take the boy home on a trial basis, despite the eerie fact that he's clearly not her son, and that the whole notion is absurd.
The story unexpectedly takes a turn for the gruesome and bizarre, beginning a moral crusade and a fight against a corrupt institution. The Reverend Gustav Briegleb (Malkovich) takes on Collins' struggle against the police department. A serial killer (Jason Butler Harner)—menacing, twisted and jovial—adds further layers. Even more intriguing, though, is the undercurrent of sexism, during a time when women were dismissed as creatures of wild emotion and senselessness in the event of over-stimulation. When Collins stands up to Captain Jones for the last time he can bear, he has her carted off to the psychiatric ward.
Employing a washed-out palette reminiscent of vintage photographs, the film engages as a period picture, complete with impeccable costume and set design. However, it risks losing itself in distracting details, like when Jolie rollerskates through her office, where she's a telephone-operator manager. The film's shortcomings as a period piece are few, but they're grave. Donovan's portrayal of corrupt, chauvinistic Police Captain Jones resembles the kind of police caricatures often seen in goofy gangster movies. Dialogue that, at times, sounds stilted to 21st-century ears is redoubled by Donovan's over-eager acting.
Jolie, however, provides a positive contrast. A scene in which she screams at the young imposter, damning him to hell, is downright frightening. Building plausibility in what is an otherwise fantastic case, the scene investigates Collins' response to a scenario fraught with high-intensity emotion and tension. Here, Jolie is most effective. At other times—like when Eastwood has her warily peering up from under her cloche hat, or simply saying, "I just want to find my boy," over and over—the character loses power. While a mother with a lost son could conceivably sound like a parrot, the repetition is grating.
Although the two-hour-plus film is long by industry standards, the pacing is apt. The extended denouement sputters at times, jumping from court trial to court trial. The movie could've wrapped up several times over. But Eastwood chooses to see it to its very end, giving the story due justice. As Collins tells her son, and later fulfills herself, one musn't start fights, but finish them.