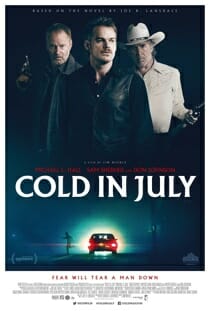 Richard Dane seems like a decent-enough man. Living in East Texas in 1989, he has a wife and child, and when he hears a noise coming from the living room late one night, he goes out cautiously, holding his dead father's gun tentatively. He didn't mean to kill anyone. And he certainly didn't intend to have just about everything in his world change in the moment when he accidentally pulled the trigger.
Cold in July tells the story of Richard, a small-town guy who runs a framing store, and because the film is directed by Jim Mickle (Stake Land, the American remake of the cannibal thriller We Are What We Are), there's an anticipation that our hero's journey will be fraught with slithering, queasy peril. Our presumption turns out to be correct, but for the film's first half, Mickle teases us with the possibility that Cold in July will be more than a well-executed genre flick. That it eventually settles into that terrain in its second half can't help but feel slightly disappointing. The movie succeeds on its own terms, but a more intriguing story is within its reach.
Michael C. Hall plays Richard, not overdoing the character's regular-hick modesty. Richard may not be a particularly sharp fellow, but he's no dummy, either. More accurately, he seems like the sort of man who blends in, all the better not to attract attention. Which is why he's even more upset when he shoots a home-invader, a bandana obscuring the burglar's face. In the aftermath, Richard finds himself a local celebrity because of his decisive action (which only happened because he panicked), but it also attracts the attention of the criminal's father, Ben (Sam Shepard), who's recently gotten out of prison and never knew the son he had to leave behind at an early age. Fearing that Ben will take vengeance on his family, the mild-mannered Richard must be on high alert—but when he realizes that the burglar he killed wasn't Ben's son, despite the assurances of the police, he realizes that Ben may turn out to be an unlikely ally in solving this mystery.
Adapted from Joe R. Lansdale's novel, Cold in July has a steely, slightly off-kilter vibe. Less extreme than the regional portraits preferred by the Coen brothers, the movie soaks up the period details, particularly in Jeff Grace's wry nod to the synthesizer-driven scores of the 1980s. As in his past films, Mickle demonstrates an impressive degree of tonal control: Cold in July clearly pays homage to a certain style of bygone genre filmmaking, but not at the expense of the characters or the stakes. (Still, not for nothing is a crucial scene set at a drive-in theater.) Consequently, the film has both a giddy, escapist feel and a grim suspense, its self-conscious artificiality melding perfectly with its barebones emotional authenticity.
Once Richard convinces Ben that the man he killed isn't his son, Cold in July shifts boldly from a revenge film into something far less easy to define. It becomes a murder mystery, a detective story and a dark comedy about some unlikely comrades. (In comparison to Shepard's no-nonsense ex-con, Don Johnson is more flamboyant as a good-ol'-boy private eye named Jim Bob who also runs a pig farm.) The narrative shift leaves us reeling—Who was the burglar? What happened to Ben's son?—and we're not quite sure where the film will go.
Unfortunately, Cold in July doesn't always seem sure, either. Where at first Richard proves to be an engaging protagonist—an ordinary man trapped in an increasingly harrowing situation—he slowly begins to recede into the background as the coldly violent Ben and shit-kicking Jim Bob start to assert themselves and pull focus. Mickle cedes the movie to these supporting characters, but because he hasn't invested as much time in explaining who they are, it's not as satisfying to see how they resolve their issues. (In particular, Ben's uncovering of his son's whereabouts doesn't have the pathos it deserves.) Presumably, Mickle's intention is to thrust us and Richard into a dark, unpredictable world where we're out of our depth, and to some extent that's effectively done. (Richard's final scene, though seemingly mundane, underlines the strangeness of the odyssey he's undertaken.) But Cold in July ultimately settles for an engaging but familiar finale in which tightly orchestrated gunplay resolves a story that promised to travel into more nuanced, resonant terrain.
Tim Grierson is chief film critic for Paste and the vice president of the Los Angeles Film Critics Association. You can follow him on Twitter.
Director: Jim Mickle
Writers: Jim Mickle, Nick Damici (screenplay); Joe R. Lansdale (book)
Starring: Michael C. Hall, Sam Shepard, Vinessa Shaw, Nick Damici, Wyatt Russell, Don Johnson
Release Date: May 23, 2014