David Gilmour's "Black Strat" Just Became the Most Expensive Guitar Ever Sold, at $3.975 Million
Photo via Getty Images, MJ Kim
Movies
News
David Gilmour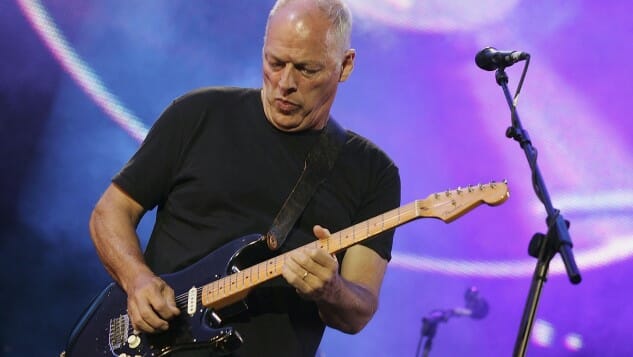 The minds of a lot of Dads, worldwide, must be boggling right about now. Not only is there a new record for the most expensive guitar ever sold at auction, it's
A. An item deeply connected to the legacy of Pink Floyd, and
B. contributing almost $4 million to charity in the process.
Regardless of your opinion of a media mogul like Indianapolis Colts owner Jim Isray, the guitar's new owner, that is still one heck of an impressive figure. And David Gilmour's legendary "Black Strat" wasn't even the only item that Isray picked up at the Thursday auction from the David Gilmour Guitar Collection at Christie's New York. All in all, he got the following:
— A 1969 black Fender Stratocaster, The Black Strat," for $3.975 million.
— A 1969 Martin D-35 acoustic guitar, for $1.095 million.
— A travel case used for "The Black Strat," for $175,000.
All in all, that's a tiny little $5.245 million expenditure that heads in Gilmour's direction, who announced on Wednesday that he would donate all proceeds from the auction to ClientEarth, an environmental law charity that will use the funds to help in the fight against climate change. In total, the auction raised an astounding $21.491 million from more than 120 guitars and amplifiers. We're not surprised, per se, that Gilmour has more than $20 million in guitars to get rid of on any given day, but still—damn.
"The Black Strat" is as valuable as it is due to the recordings Gilmour used it on, including the albums The Dark Side of the Moon, Wish You Were Here, Animals and The Wall. The Martin D-35 acoustic, on the other hand, features prominently in the title track of "Wish You Were Here," which is one of the more iconic guitar tunes of all time.
The previous record for the most expensive guitar was a Stratocaster sold in 2005 for $2.7 million, to benefit tsunami relief in Asia. That guitar had been signed by a bevy of rock superstars, including Eric Clapton, Pete Townshend, Jeff Beck, Mick Jagger, Keith Richards, Jimmy Page and Gilmour as well. But it was presumably the real-life history of "The Black Strat" that pushed its value into totally uncharted territory.
Isray, understandably, was pretty chipper about his new purchase. Hopefully he'll feel the same way after waking up tomorrow morning and remembering he spent $4 million on it.
The incomparable David Gilmour.. the greatest "phrasing" guitarist in the world!! Honored to bring The Black Strat to the public. The most expensive guitar EVER purchased. And for charity!!!

— Jim Irsay (@JimIrsay) June 20, 2019