Sam Raimi Appears to Be the Frontrunner for Marvel's Doctor Strange 2
Photos via Getty Images, Michael Kovac
Movies
News
doctor strange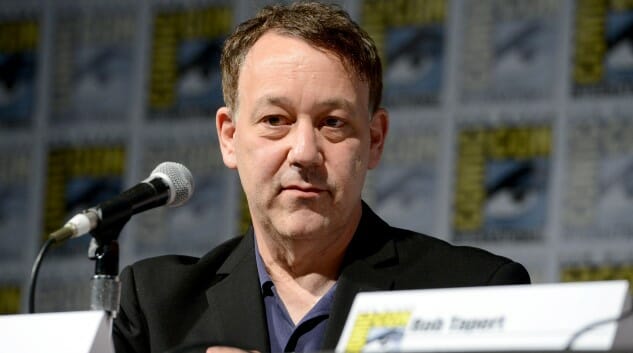 In what would certainly be a very interesting get for Disney, director Sam Raimi is now reportedly in talks to step into the vacant role as leader of Marvel's Doctor Strange in the Multiverse of Madness. He would be replacing original director Scott Derrickson, who left the film in January due to the usual report of "creative differences"—a common occurrence on Marvel Studios and Disney tentpoles in general. Many fans theorized that this departure had something to do with Derrickson's stated desire to take Multiverse of Madness in more of a cosmic horror direction, whereas it's assumed that Disney likely wants to hew closer to the expected Marvel formula.
If Raimi is on board, though, who knows? He's certainly a director known for a lifetime of contributions to the horror genre, all the way back from directing 1981's infamous The Evil Dead on a shoestring budget, through glossier horror and horror-comedy fare like Evil Dead 2 and Army of Darkness. He likewise has plenty of experience in superhero cinema, having directed the Tobey Maguire Spider-Man movies, which would rightly be considered (along with the first X-Men) as the launching point for the modern superhero movie that led directly to the creation of the MCU. Raimi's Spider-Man 2, in fact, is still considered by many comic book fans to be among the best superhero films ever made—it makes Paste's top 10, even now.
Raimi, however, has been somewhat out of the public eye in more recent years. After the poorly regarded Spider-Man 3 in 2007, he's personally directed only two films, 2009's Evil Dead-adjacent Drag Me to Hell and Disney's 2013 Wizard of Oz prequel Oz the Great and Powerful. He's instead been working more as a producer, either on remakes like 2013's Evil Dead reboot, or indie horror films by up-and-coming directors such as Don't Breathe and Crawl.
If he is on board, Raimi certainly doesn't have much time to get caught up, as production is scheduled to begin in May. Still, he is a professional—the most recognizable director that Marvel Studios would have worked with in quite a while, in fact. Recent entries in the MCU have typically been given to buzzy indie directors looking to make their first big break in Hollywood, such as New Zealand's Taika Waititi. The hiring of Raimi, on the other hand, would be closer to that time Kenneth Branagh directed the first Thor movie—does that not seem utterly bizarre to say now?
As for the film itself, we still don't know a lot about Multiverse of Madness, aside from the fact that it's been said to explore more of the Marvel multiverse we got a taste of in Spider-Man: Into the Spider-Verse. Benedict Cumberbatch will obviously be back as Stephen Strange, the Sorcerer Supreme, joined by most of the first film's supporting characters, including Wong (Benedict Wong) and Karl Mordo (Chiwetel Ejiofor), who is likely to be heavily involved in the film's plot, if the post-credits sequences of Doctor Strange are to be believed. Further MCU connections are expected from the inclusion of Elizabeth Olsen as Wanda Maximoff, the Scarlett Witch, whose reality-altering powers will soon be seen in the Disney + series WandaVision. The only person missing from the first film is reportedly Rachel McAdams' love interest character, Christine Palmer—why are we not surprised by that?
Currently, Doctor Strange in the Multiverse of Madness is scheduled for a May 7, 2021 release. Assuming the Raimi directorship happens, let's hope he gets production off to a smooth start in May.