Brian De Palma Would Probably Prefer You Avoid the Trailer for Domino, His First New Film Since 2012
Starring Nikolaj Coster-Waldau, Carice van Houten and Guy Pearce
Photo courtesy of Saban Films
Movies
News
Domino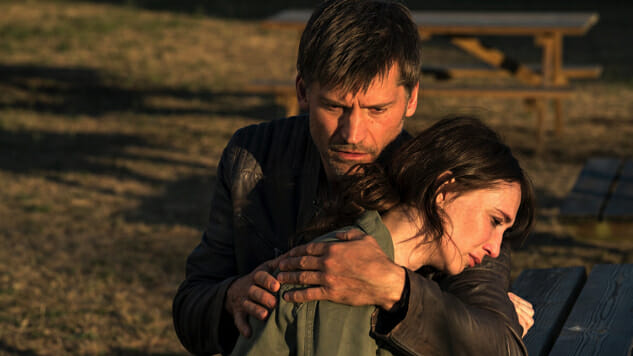 Brian De Palma is billed as the director of Mission: Impossible and Scarface in the first trailer for his new revenge thriller, Domino, which speaks to the sorry state of affairs that is the filmmaker's output of late. Despite the immense cachet of those and others of his films, De Palma has all but fallen off the map in recent years, a situation that seems unlikely to be improved by his latest, which he basically disowned in the wake of its troubled production.
The long-delayed Domino, directed by De Palma and scripted by Petter Skavlan (Kon-Tiki), stars Game of Thrones costars Nikolaj Coster-Waldau and Carice van Houten, and Guy Pearce. Coster-Waldau plays Christian, a Copenhagen police officer in pursuit of justice after his partner's (Søren Malling) murder at the hands of ISIS member Ezra (Eriq Ebouaney). Christian and a fellow cop (presumably van Houten's Alex), seeking revenge, instead find themselves caught up in the machinations of a sneaky CIA agent (Pearce) who is using Ezra to trap other ISIS members.
De Palma had a bad time making Domino, to say the least. "Domino is not my project, I did not write the script," the director said in a June 2018 interview (via The Playlist), adding, "I never experienced such a horrible movie set. A large part of our team has not even been paid yet by the Danish producers. The film is finished and ready to go out, but I have no idea what its future will hold, it is currently in the hands of the producers. This was my first experience in Denmark and most likely my last."
It's also rumored that Domino's original runtime was an expansive 148 minutes, as opposed to the lean 88 minutes currently listed, suggesting perhaps that De Palma's vision for the film was compromised along the way—that would certainly help to explain his open disdain for the project. As we learned in the case of Tomas Alfredson's The Snowman, it's never a good sign when a film's own director feels compelled to air their grievances about it.
Domino comes to theaters and VOD on May 31. Watch the trailer below. It looks … fine?