Elijah Wood and Melanie Lynskey Sure Seem Like They Feel at Home in the World
Photo by Gordon Hight
Movies
Features
Elijah Wood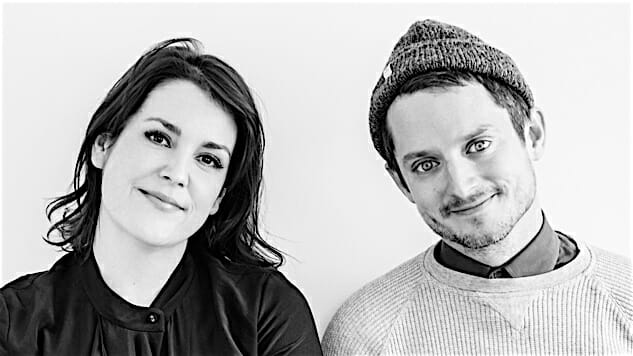 I Don't Feel at Home in This World Anymore is the latest feature from writer Macon Blair and marks his directorial debut. The film, which premiered at the Sundance Film Festival, stars Elijah Wood and Melanie Lynskey as Tony and Ruth between whom an unconventional relationship forms in their combined pursuit to right wrongs in the aftermath of a burglary at Ruth's home in suburban Portland, Ore. Tony, a rattail-wearing, throwing-star-wielding vigilante-wannabe with some pretty sweet eyewear lends needed moral and physical support to neighbor and disenchanted nurse Ruth in the search for her stolen property. Full of unexpected twists, the film's climax includes an intense getaway/rescue scene in which Ruth leads their escape by means of rowboat. I Don't Feel at Home in This World Anymore made Paste's list of the 20 Best Films of Sundance 2017 and also won the U.S. Dramatic Grand Jury Prize. Paste caught up with the actors in Park City, Utah, to talk about the film, Lynskey's rowing skills, and shared love for Oregon and the TV series, Atlanta.
Elijah Wood: Nice Atlanta shirt! That show is so good. I've only watched the first episode, so I have so much to get through, but man.
Paste: It's genius. It's been a long time since I've seen a show that's that funny, and then also that serious.
Wood: The tonal balance is crazy. It starts off and you think it's going to be a drama, and then it's definitely a comedy, but it's both things at the same time. It's really incredible.
Paste: Agreed! Let's talk about your new film, I Don't Feel at Home in This World Anymore. It's both very comedic at points and then has some very surprising things happen (and continue to happen). What appealed to you?
Wood: Macon [Blair] and the script, really. Both of us were huge fans of Blue Ruin and loved his work in that. I met him at a film festival in Austin, Texas. He was like, "I've got a script that I've written. I want you to read it." I read it and it was just … it's what you saw. It's so great. And such well-defined characters. That's the thing I connected to the most—how well-drawn they were, how three-dimensional, and how interesting the world was that they were occupying. And it was very, very funny. There's this sort of caper aspect to it, but it's also about a woman who's going through a pretty intense existential crisis, and it also goes pretty fucking gnarly at the end. It ticks off all these wonderful boxes in one.
Melanie Lynskey: I just have an instinct. Something happens in my body, and I just know, "I can do this. I hear it. I hear the voice. I feel it." Um, or that doesn't happen. I've read really good scripts, but it feels irresponsible to take it on if I don't feel it. But I just was such a fan of Macon. And as I was reading it, I just started reading it out loud to myself the first time I read it, and I was like, "Oh, she's here." I just loved it.
Paste: It's seemed to have worked out well for both of you so far. Had either of you worked in Portland—or that part of the world—before?
Lynskey: I had once, years ago, just for a couple weeks. But, oh gosh, it was so great to be there.
Wood: It was incredible. It was my first time to Portland. I fell in love with it, man! I didn't want to leave. Oregon itself was just such a beautiful state.
Lynskey: The beach, like out at the coast. That's my new dream.
Wood: I think we have the same dreams. Reach mogul-hood. Buy awesome property in Oregon.
Paste: Talk about some of the styling choices, like with the soundtrack and the wardrobe. Tony's glasses and rattail. Did you have any input in that or was it predetermined for you?
Wood: Macon was very specific with what he wanted, but there was also a lot of play. The rattail was definitely something that he'd had for a while. But, as far as the wardrobe was concerned, he had ideas, but it was kind of a collaboration finding it. The costume designer [Julie Carnahan] was so wonderful, and we just played with different things that would fit.
Paste: I want to ask about the second-hand shop. I assume that was an actual place?
Wood: Funny story about that location, Janet Weiss from [the rock band] Sleater-Kinney, on the side works as a location scout. She found us that location! Pretty neat, right?
Lynskey: It was a pretty expensive antique store. It was gorgeous. I was like, "This is pricey!" Do you remember that little thing I wanted to get, the makeup cabinet thing with the tiny drawers, and then I was like, what? … $2,000!
Paste: Tony's line—I'm sure everybody loves this line—but the, "That's how hard I threw it" line. It's perfect.
Lynskey: Did you improvise that?
Wood: No, it was in the script.
Lynskey: Oh, it was

Wood: Yeah, and it was of my favorite lines in the script. I love it.
Paste: I also loved the "You ask for help; I ask for help" moment.
Lynskey: Yeah, it was beautiful.
Wood: It is beautiful. Tony so wants to be the one who's got it all under control. He sort of doesn't at all! (laughing) It's so charming and sweet.
Paste: About the film's soundtrack…
Wood: Isn't it so stunning? It was our first time seeing the movie [at the Sundance premiere] the other night, so all of those elements were completely foreign to us. And man, the Blair brothers—what a talented family.
Lynskey: Macon's brothers [Brooke and Will] did the score, and then Macon had a great music supervisor [Lauren Marie Mikus], as well. The only other time I've felt like this watching a movie for the first time that I was in, was when I saw The Informant!. Marvin Hamlisch did that crazy score, and I had no idea and the movie was transformed for me.
Paste: Melanie, this is a bit off-topic, but I had have to say: I am a fly fishing guide and wanted to comment that you're rowing form is really good.
Wood: I thought the same thing, Melanie!
Lynskey: Are you joking?
Paste: No, I'm not joking. I would not bring it up if I literally didn't have that thought during the film.
Wood: That is so funny. Watching it, I was like, "Melanie, that is great!" It's so strong.
Lynskey: I had never done that before—I mean, one time as a teenager, we got a rowboat at a park by my house. And I just was like, "This is too hard!" And my boyfriend did it.
Paste: Did you get coached on set?
Lynskey: They put me in there and then they were like, 'So, you know how to row?' And I was like, "Nooooo!"
Wood: (laughing)
Lynskey: And then, it was hard. We were doing that for a long time.
Wood: A long time, and it was cold, too.
Paste: Let's end on an important question: do you still have Tony's glasses?
Wood: I do. I do. They framed it for me, so the rattail and the glasses and the throwing star are framed.
Lynskey: I got some kind of a like, cast of my face? But, I was given it on the last day and had no room in my suitcase. So I said, "Can you send that to me?" And I never got it! Also, I never received my paint-by-numbers of the Last Supper!
Paste: We'll shame them in print!
I Don't Feel at Home in This World Anymore will be available on Netflix worldwide beginning February 24, 2017.
---
Gordon Hight is a writer, photographer, and fly fishing guide living in Teton Valley, Idaho. You can follow him on Instagram.