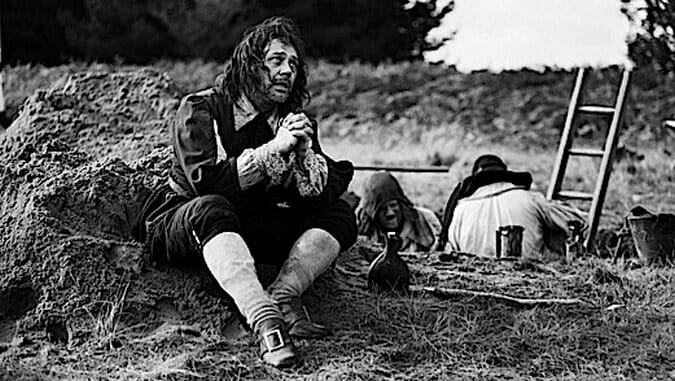 "Open up and let the devil in." Ideal whether he's forcing unwanted drink or an uninvited firearm down a victim's throat, the menacing turn of phrase is savored by O'Neil (Michael Smiley), the malevolent figure who serves as the fulcrum in the latest cinematic tilt-a-whirl from Ben Wheatley (Sightseers, Kill List). Likewise, viewers are encouraged to part their lips and imbibe any substance that might dissuade, if not impede, them from approaching this occasionally madcap, persistently deranged horror story in a traditional manner or asking any more of it than leaving them properly mind-fucked by the time they're released back into reality. Anyone in their right mind is in no position to make demands of such undiluted spectacle that dictates the terms and offers enlightenment only through abstract means.
Set amidst the English Civil War and populated by a handful of alchemists, charlatans, fools and cowards, A Field in England doesn't lend itself particularly well to synopsis. While its scant plot points are simple enough to covey, it's nearly impossible to impart the pervasive sense of dread that it transmits, seemingly on primal frequencies, that leaves the stomach churning even when the early chapters prominently feature screenwriter Amy Jump's hilarious comic dialogue. (With many lines evocative of superior Black Adder episodes, the scene in which the basics of astronomy are explained to an imbecile who can't even grasp the concept of stars stands out as a highlight.)
Freed from his charge of tracking down and detaining a rogue Irishman when a stray spear snuffs out his minder, Whitehead (League of Gentleman's Reece Shearsmith) falls in with Jacob (Peter Ferdinando), a surly, STD-ridden scavenger, and Friend (Richard Glover), a remarkably dimwitted soldier who's tired of all the "marching about" combat requires. When another stranger named Cutler (Ryan Pope) suggests adjourning to a nearby alehouse, the party "formed merely by the alchemy of circumstance" sets off with on a modest quest. In short order, Cutler proves himself a scoundrel, drugging his new acquaintances and delivering them to O'Neil, the very man Whitehead was to apprehend.
Wheatley's three previous features have all hinged on characters who've labored to mask their sinister impulses and present themselves as civil creatures governed by conventional values. Conversely, O'Neil makes no bones about his outright villainy, allegiance to dark forces and lust for a treasure he believes to be buried somewhere in the bucolic pasture. In fact, when it's suggested that he might be the devil himself, it hardly seems hyperbolic. Smiley, a favorite of both Wheatley and Edgar Wright, brings both maliciousness and mirth to the role, lending this loathsome adversary a pungent air of wrongness.
Shifting power dynamics have always proven critical in generating tension in this filmmaker's work, be it a coddled adult son wriggling free of his parents' influence in Down Terrace or a seemingly meek innocent ultimately raising the murderous ante in Sightseers. Consequently, when O'Neil responds to Whitehead's laughable attempts to apprehend him by unceremoniously enslaving him and transforming him into a leashed divination tool through occult means (and a nightmarish extended slow-motion sequence), it's evident that the coward will need to assert himself or continue to suffer the ghastly consequences. In this regard, Wheatley's film is akin to Sam Peckinpah's Straw Dogs, only on this occasion it's not a man's home that must be defended from violation but rather his psyche and soul.
It's Whitehead's decision to counter inconceivable evil by wolfing down handfuls of magic mushrooms that propels A Field in England into bat-shit brilliance. Initially effectively conveying the starkness of the landscape, Laurie Rose's striking monochromatic cinematography proves ideal for evoking instances of beguiling surrealism (such as when the players assume and hold tableaux-worthy poses) before plunging us into a climactic ten-minute burst of strobing, kaleidoscopic psychedelia achieved largely through the dizzying graces of Wheatley and Jump's sublime editing. Not only is it an assault on the senses featuring glorious imagery that sears itself in your subconscious (and may very well induce the odd seizure) but a V-sign staunchly raised at the forces of conformity.
There are those who'll laud A Field in England for being an "instant cult classic." And while it certainly boasts the esoteric credentials necessary to be anointed with that title, it also demonstrates how genuinely spellbinding cinema can be when it's wielded by an artist who doesn't so much play by his own rules as forego such restrictions entirely.
Director: Ben Wheatley
Writer: Amy Jump
Starring: Julian Barratt, Peter Ferdinando, Richard Glover, Ryan Pope, Reece Shearsmith, Michael Smiley
Release Date: Feb. 7, 2014