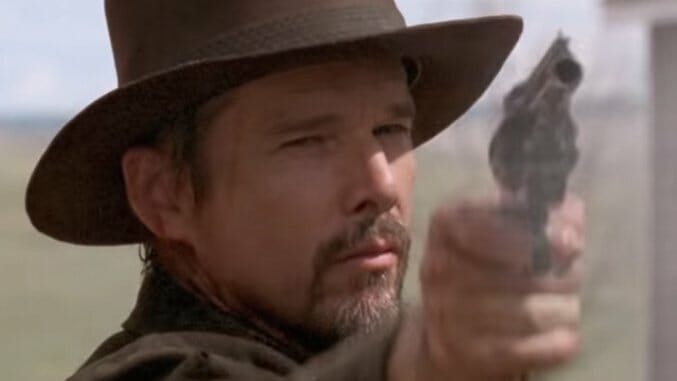 Ti West is known for striking fear into viewers of his horror films, but he's now going in a different direction: west. In a Valley of Violence will undoubtedly still be just as suspenseful as The House of the Devil and The Innkeepers.
Ethan Hawke, who's also starring in another forthcoming Western, The Magnificent Seven, plays a drifter named Paul who, along with his beloved dog, stumbles onto the town of Denton, also known as a valley of violence. Apparently, that isn't clue enough to send him running, and Hawke's character sticks around long enough for blood to boil in the veins of John Travolta's Marshal and his son, James Ransone's Deputy Gilly. When an inevitable act of violence triggers a disastrous chain reaction, the whole town is dragged into the bloody crosshairs of revenge.
The film also stars Taissa Farmiga and Karen Gillan. It heads to theaters Oct. 21.
Watch the trailer above, and find the film's old-school poster below.