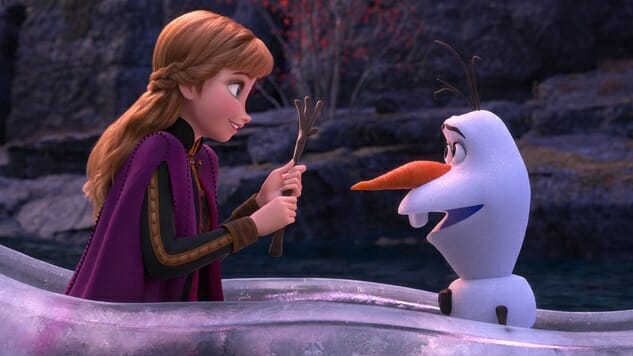 The colossal success of 2013's Frozen guaranteed a sequel, so Frozen 2's release on the cusp of winter movie season comes as no surprise. What is a surprise is the seriousness of the sequel's material, at least on paper, compared to its predecessor. Functionally (and strangely?), Frozen 2 feels like a remake of Alex Garland's doleful 2018 sci-fi horror film Annihilation, scrubbed of its weird fiction elements for the sake of it chief demographic.
Not that directors Jennifer Lee and Chris Buck needed mutant bear attacks or morbid fungal blooms to give the film more mature, darker themes. Whether in making observations about life's fleeting preciousness, the sins of a nation's past or even continuing with the questions of self-determination and identity, Frozen 2 has plenty of those. Unfortunately, the script constantly hedges and hamstrings itself on these issues, as if operating under the mistaken assumption that kids can't stomach the darker stuff. Lee and Buck may successfully pasteurize the script's grim side, but the accomplishment comes at the expense of lasting emotional resonance.
The story picks up three years after Frozen. Arendelle is a bustling, thriving fantasy kingdom made immediately appealing as only fantasy can do: The charming, European-influenced cobblestone hamlet rests beside a gleaming castle, a bulwark overlooking the harbor on which the town resides. Despite this scenic charm, heavy lies the crown for Queen Elsa (Idina Menzel). Her subjects love her, and she's never been closer with her sister, Anna (Kristen Bell), but she's troubled by a mysterious, ethereal tone recently calling her northerly. So she sets out with Anna, Kristoff (Jonathan Groff), and Olaf (Josh Gad) to discover the song's source and learn a bit about herself along the way.
Most of Frozen 2's action takes place in the untamed Enchanted Forest, a land overseen by elemental spirits and blockaded from the world by a foreboding wall of mist only Elsa can pierce. Once inside, the gang encounters the Northuldra tribe, who live their lives in harmony with nature, as well as Arendellian soldiers who've been lost in the woods for years prior to the events of the first film. It's a long story, but central to Frozen 2's anti-colonialism message. Heavy stuff for a kids film, but Frozen 2's willingness to evoke real-world historical wrongs makes sense; its audience has grown as much as its characters have.
But Frozen 2's script doesn't satisfactorily pay off those wrongs with meaningful consequences. They're righted too easily, which, granted, is part of the fantasy, but also snubs reality. Films like this ideally straddle that line without succumbing to the fantasy. Lee and Buck acknowledge the grimmer details of colonialist aggression and then dumb down the process of reparations. They teach sobering lessons about death's permanence but treat it as temporary. There's a limit to how far movies like Frozen 2 can go while exploring graver matters, but the impulse to soften them does viewers a disservice. The adult instinct to shelter children from darkness is admirable, but Frozen 2 makes the case that this instinct is actually harmful before frustratingly giving in to it.
The picture itself, at least, is lovely, though as with the original, the animators miss out on opportunities to fully flex their muscles: They've made a film brimming with beauty that translates well to desktop wallpaper, but there's a sense that they could go further with expression and imagination. (In this manner, they seem as restrained as Buck and Lee.) This won't stop Frozen 2's core audience from buying tickets. Like most sequels, it doubles down on all that they loved about Frozen. But the delights of the familiar hold Frozen 2 back from saying something more.
Director: Chris Buck, Jennifer Lee
Writer: Jennifer Lee
Starring: Kristen Bell, Idina Menzel, Jonathan Groff, Josh Gad, Sterling K. Brown, Martha Plimpton, Jason Ritter, Evan Rachel Wood, Alfred Molina
Release Date: November 22, 2019
---
Bostonian culture writer Andy Crump covers movies, beer, music, and fatherhood for far too many outlets, perhaps even one of yours. He has contributed to Paste since 2013. You can follow him on Twitter and find his collected work at his personal blog. He's composed of roughly 65% craft beer.