Final Trailer for Godzilla: King of the Monsters Confirms We're All Just Living in a Kaiju World
Images via Warner Bros. Pictures/YouTube
Movies
News
godzilla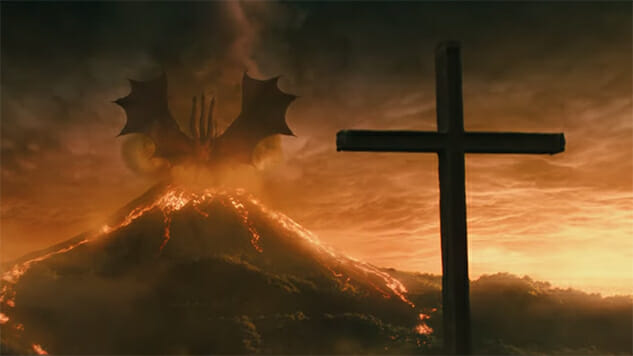 "My god … " " … Zilla!" – Godzilla: King of the Monsters (2019)
The forthcoming kaiju sequel Godzilla: King of the Monsters tears into town on May 31, and its final trailer is massively bonkers.
The new trailer features puns, a grinning Millie Bobby Brown amidst rubble and destruction (typecasting?), puns, the three-headed Ghidorah flexing over a crucifix and also puns.
Michael Dougherty's forthcoming chapter in the Legendary MonsterVerse features Brown alongside Kyle Chandler, Vera Farmiga, Sally Hawkins, Thomas Middleditch, O'Shea Jackson Jr., Ken Watanabe and Zhang Ziyi.
Do allow yourself to unapologetically enjoy the new trailer below.