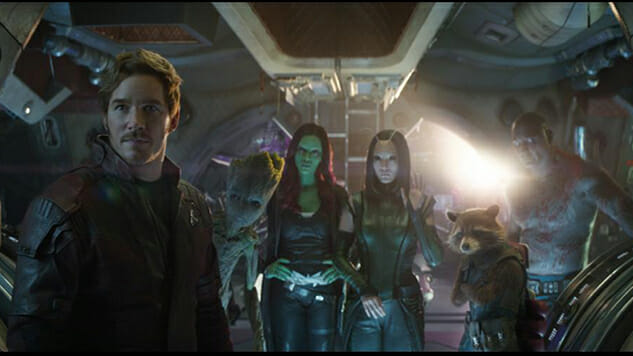 "Everything We Know about … " is Paste's series of deep dives into the forthcoming projects we're most excited about. Explore them all here.
The third entry in Marvel's breakout Guardians of the Galaxy series has been troubled, to say the least. The first two films, written and directed by James Gunn, were surprise hits for the studio, bringing a much-needed dose of both campy cosmic action and quick-witted humor to the decidedly Earth-centric action of the Marvel Cinematic Universe.
But production on the third entry in the franchise hit a wall when Disney abruptly fired Gunn following the resurfacing of some offensive old tweets. Now, with the future of the franchise up in the air, it's time we take a look at everything we know about Vol. 3 so far, and see if we can't try to sort this all out with a nice, well-researched dance-off … of knowledge.
So what happened?
In what has become an increasingly common phenomenon, Gunn was fired over old tweets that were in particularly poor taste. Many of the tweets reference pedophilia and molestation in a sarcastic manner: "This hotel shower is the weakest shit ever. Felt like a three year old was peeing on my head," reads a Gunn tweet from 2011. These tweets came to light in July of 2018, which led Disney to quickly sever ties with the director. By mid-August, Disney chairman Alan Horn had confirmed that the studio would not re-hire Gunn for Vol. 3.
Many of the tweets were nearly a decade old, and Gunn had previously apologized for many of his self-described "provocative" statements back in 2012, during production of the first Guardians film. "I can see where statements were poorly worded and offensive to many," Gunn said at that time. "I'm sorry and regret making them at all."
Particularly infuriating to many fans was the fact that many of Gunn's old tweets were being resurfaced by alt-right pundits in response to Gunn's outspoken criticisms of Donald Trump. Leading the campaign against Gunn was noted rightwing conspiracy theorist Mike Cernovich, who was the man behind "PizzaGate," a debunked conspiracy that attempted to link child pedophilia to Hillary Clinton. Cernovich was arrested and charged with rape in 2003, which was later reduced to misdemeanor battery, for which he performed community service. He's gone on record stating that he doesn't believe date rape is real, writing that it is a "harmful concept for men and women." He's accused other media personalities of pedophilia, often in the same manner he did with Gunn: by resurfacing old tweets.
What happens next?
As to be expected, fans, cast and crew of Guardians did not take well to Gunn's firing. Following Disney's initial firing, over 170,000 fans signed a petition to reinstate Gunn, while cast members Dave Bautista, Zoe Saldana, Chris Pratt and Karen Gillan, among others, took to Twitter to support the director. On July 30, the entire cast released a joint statement in support of Gunn, stating that they were "discouraged by those so easily duped into believing the many outlandish conspiracy theories surrounding him." The cast stood by their statement in spite of Disney's Aug. 15 confirmation that they would not be re-hiring Gunn.
"Understand this, my dear brothers and sisters. Let every person be quick to listen, slow to speak, slow to anger."

JAMES 1:19

— chris pratt (@prattprattpratt) July 22, 2018
It's been a challenging weekend I'm not gonna lie. I'm pausing myself to take everything in before I speak out of term. I just want everyone to know I love ALL members of my GOTG family. Always will.

— Zoe Saldana (@zoesaldana) July 22, 2018
Bautista in particular has remained outspoken concerning his disdain for the company. "I will do what I'm legally obligated to do but Guardians without James Gunnis not what I signed up for," he tweeted. "It's also pretty nauseating to work for someone who'd empower a smear campaign by fascists #cybernazis." He followed up the statement by saying that if Marvel doesn't use Gunn's script for Vol. 3, he'd quit the movie. Bautista has also said that he "doesn't know if he wants to work for Disney" following the whole situation.
I will have more to say but for right now all I will say is this..@JamesGunn is one of the most loving,caring,good natured people I have ever met. He's gentle and kind and cares deeply for people and animals. He's made mistakes. We all have. Im NOT ok with what's happening to him

— Dave Bautista (@DaveBautista) July 21, 2018
The production appears to be on hold for now while the studio looks for a new director. No candidates have been floated publicly as of yet, although Thor: Ragnarok director Taika Waititi has been rumored to be in talks with the studio for an unknown project, and is a noted fan of the Guardians series. Gunn had previously said that the film would be due out in 2020, though with the indefinite hiatus, that will likely be pushed back quite a bit. And given Marvel's rigid release timelines and interconnected movie universe, who knows how the third Guardians will be able to fit in, if at all.
Gunn, meanwhile, is tackling Suicide Squad 2 for Warner Bros., in a huge get for the DCEU.
What about, you know, the plot?
This is where an already-tricky situation gets even trickier. Before the tweets, before the firing, before the whole public debate on bad-faith accusations, Gunn said in an April 2017 Facebook post that he would be returning for Vol. 3, and that he had already turned in a script.
"In the end, my love for Rocket, Groot, Gamora, Star-Lord, Yondu, Mantis, Drax and Nebula—and some of the other forthcoming heroes—goes deeper than you guys can possibly imagine, and I feel they have more adventures to go on and things to learn about themselves, and the wonderful and sometimes terrifying universe we all inhabit," he wrote.
In the wake of Gunn's firing, there's been no real consensus on whether Marvel will proceed with the director's original script. Reports back in September stated that the studio would indeed be using Gunn's original script, but there's been no official confirmation. (Rumor has it the script is a real tearjerker.) But the big question, of course, is what a post-Infinity War Guardians movie will look like.
We'll keep it relatively spoiler-free, but it's no secret that the latest Avengers movie changed the stakes in the MCU drastically. The Guardians are, well, scattered, and while it's set to come out after Avengers: Endgame and Gunn has hinted that the major players will indeed return for the third film, the MCU will still likely be a vastly different place after all is said and done.
She will be. But tell her to keep it between us. https://t.co/YWkQbs3I6H

— James Gunn (@JamesGunn) May 17, 2017
Even if the Guardians all reunite, what will their story be? From whom exactly will they be guarding the galaxy? The first film saw them facing off with one of Thanos' minions, while the second one brought a bigger threat in the form of Peter Quill's Celestial, planet-sized father Ego. In a post-Thanos (or post-Avengers) world, what would the next galactic threat be? Theories abound—some point to the Skrulls, an alien race capable of mimicking and replacing any person they want, soon to debut in the Brie Larson-starring Captain Marvel. Others see the next big bad as cosmic devourers Galactus or Annihilus. Some even posit that Vol. 3 will be a prequel, taking place before any of the other films.
The Guardians were previously the one group in the MCU who could explore the galactic side of things, and seemed poised to be the movies that connected Earth's struggles to the struggles of the galaxy at large. Marvel head Kevin Feige has hinted that the MCU is heading towards a cosmic future, and the Guardians are an important part of that.
Sure, there's the aforementioned Captain Marvel, which looks to have a similar role, and the soon-to-receive-a-sequel Doctor Strange dabbled in cosmic entities and threats, but the Guardians had a special, Avengers-esque team-up appeal that would help immensely with the transition from the MCU's original Avengers-based movies to this new wave of superheroes. We'll know the plot, the cast and everything else soon enough, but we'll never truly know what could have been.
The latest
Adam McKay, director of Anchorman, The Big Short and the forthcoming Vice, revealed in a conversation with podcast Happy Sad Confused that he has had discussions with Marvel about the possibility of directing Vol. 3. "We've talked a little bit," McKay said. "We were kicking around the idea of The Inhumans at one point. We're always kind of talking. I think [Kevin] Feige is just the greatest, and I think what they're doing over there is amazing."
In a stunning March 15 reversal, Disney has rehired James Gunn to direct Guardians 3, which he'll helm after completing work on Suicide Squad 2.
---
Stay tuned for more info on Guardians of the Galaxy Vol. 3 as it becomes available.