Guillermo del Toro Finds Studio Backing for Scary Stories to Tell in the Dark
Photos by Christopher Polk/Getty
Movies
News
Guillermo del Toro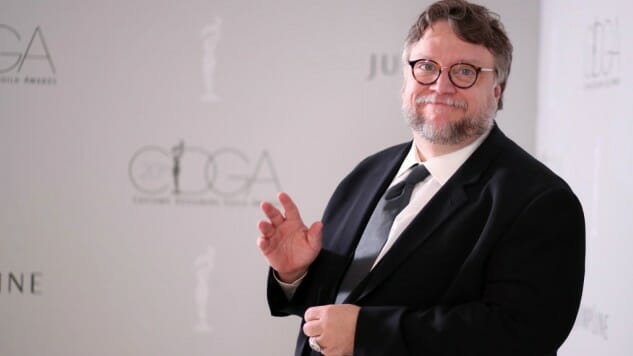 Newly crowned Academy Award-winning director Guillermo del Toro is adapting the popular book series Scary Stories to Tell in the Dark by Alvin Schwartz. Finally, the director has found some studio backing for the project he will produce and write.
The film, following the book series, is about a group of teenagers who must solve the mysteries surrounding a bunch of sudden and macabre deaths in their small town, according to Variety. Del Toro has been developing the project since January of 2016.
CBS Films and Entertainment One are co-financing the film with André Øvredal (Trollhunter) directing. Sean Daniel, Elizabeth Grave, Jason F. Brown and J. Miles Dale are producing alongside del Toro. Principal photography is expected to begin in Toronto this summer. CBS will distribute the film through Lionsgate and Entertainment One will distribute internationally to Canada, the U.K., Australia/New Zealand, Germany, Benelux, Spain, Austria and Switzerland. For all other territories and countries, the film will be available to buy distribution rights at the Cannes marketplace this year.
Entertainment One's film and television president Steve Bertram said, "Scary Stories to Tell in the Dark, led by the incomparable Guillermo del Toro, is such a chillingly fun ride that it's sure to leave audiences around the world jumping in their seats."
Del Toro is coming off his best year yet after not only winning the Academy Award for Best Director for The Shape of Water, but also claiming a producing Oscar with the film's Best Picture win. His film earned a total of 13 Academy Award nominations, including noms for Sally Hawkins, Richard Jenkins and Octavia Spencer. The Shape of Water won four Oscars including Best Director and Best Picture.
No word on when to expect this film, but judging by the quick turnaround in beginning principal photography, we wouldn't be surprised if it was ready by late 2019 to early 2020.