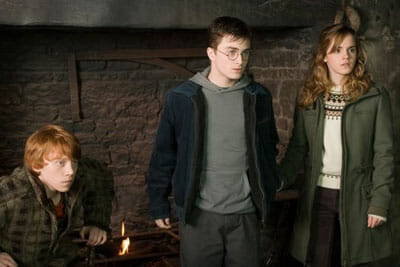 Director: David Yates
Writer: Michael Goldenberg
Cinematographer: Slawomir Idziak
Starring: Daniel Radcliffe, Emma Watson, Rupert Grint, Michael Gambon, Imelda Staunton, Ralph Fiennes, Gary Oldman
Studio/Running Time: Warner Bros, 138 min.
"Shivers up and down my spine
It's a feeling so divine
Let me go back for a while
Got to go back for a while
To that magic time."
-Van Morrison "Magic Time"
During a group session in the Adam Sandler film Anger Management, psychologist Buddy Rydell (Jack Nicholson) treats a distressed patient who suddenly yells out, "Oh! The anger sharks are swimming in my head!" Harry Potter can relate. Harry Potter and the Order of the Phoenix is steeped in acrimony, to the point that our hero almost loses it, going so far as to consider opening a can of whoop-ass on Hogwarts headmaster Albus Dumbledore (Michael Gambon). The young protagonist discovers it's not sharks, actually, but the evil Lord Voldemort (Ralph Fiennes) who's invading his private thoughts and restless dreams. In an ironic turn, one of Potter's biggest tormentors, Snape (Alan Rickman), one-time follower of "he-who-must-not-be-named," teaches Potter how to keep the dark one out of his head.
The film begins with a Death Eater attack on Potter and his cousin Dudley (Harry Melling). When Potter uses his wand in defense, the ministry tries to expel him for using magic around muggles (humans). An envoy of wizards whisks in and takes Potter to the headquarters of the secret Order of the Phoenix created years earlier. At Hogwarts, Potter begins to secretly teach defensive arts to Ron (Rupert Grint), Hermione (Emma Watson), and others as they create their own order—Dumbledore's Army. Later they have good reason to use it in a grand battle with Voldemort. But ministry head Cornelius Fudge (Robert Hardy) refuses to believe the dark lord has returned and inserts Dolores Umbridge as the school's High Inquisitor, a full-fledged nut job and horrible Dark Arts teacher who may be one of the most twisted villains in Potter history, grandly played by Oscar nominee Imelda Staunton (Vera Drake).
It would have been interesting to see more of the Phoenix headquarters with the face-changing Tonks, the angry portraits and Kreacher, the mumbling house elf. And what about the giant in the woods? And Harry poised for a kiss with Cho? The sense of trying to squeeze far too much material into a couple hours keeps The Order of the Phoenix from true greatness. After all, they could've pushed it to three hours like Pirates of the Caribbean without upsetting many of Potter's rather-intense fans. But still, the thrill survives in fine form, and the throngs begin their inevitable speculation about number six.