The Hellboy Reboot Has Wrapped, Says David Harbour
Photo by Simon Varsano/Lionsgate
Movies
News
Hellboy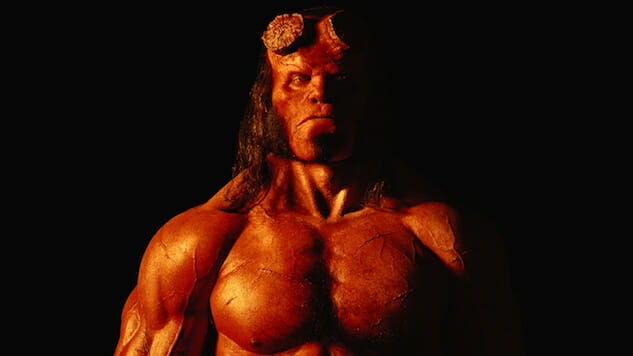 This new Hellboy movie is actually happening. It may not be Guillermo Del Toro and Ron Perlman's "Hellboy 3," but fans of the source material might be happy getting anything at all in the form of this R-rated, Neil Marshall-directed and David Harbour-starring reboot. Harbour recently told Variety that filming has wrapped in Bulgaria.
"It was hard," said Harbour, in his only quote regarding the project. "I'm 40 years old, and I'm running around punching giants." Most of the interview was devoted instead to Harbour's wish list for the recently confirmed Stranger Things season three.
The Hellboy reboot was controversial in several aspects—comedian Patton Oswalt basically had to organize a beer summit between Perlman and Harbour for the former to air any grievances about the reboot, but some fans of the first two films will undoubtedly still remain bitter. The production was also an epicenter for some egregious white-washing, with Ed Skrein initially cast as a Japanese-American character. Skrein, thankfully, earned some respect when he dropped out of the role, leaving Daniel Dae Kim to take over.
The Hellboy reboot, formerly subtitled Rise of the Blood Queen, opens on Jan. 11, 2019.