A24 Is Promoting Its Horror Film Hereditary By Sending People Creepy Dolls
Images via A24/YouTube
Movies
News
Hereditary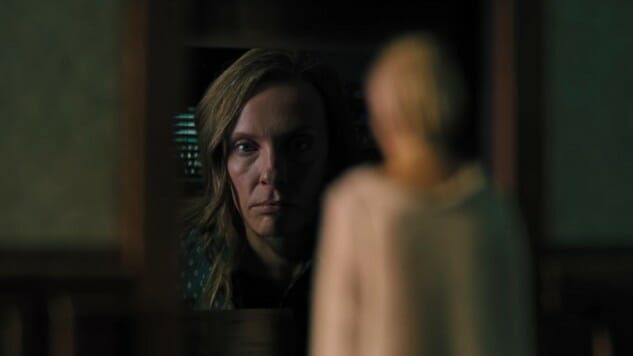 A24's newest horror project coming straight out of Sundance this year is already being hailed as one of the scariest films ever and a horror masterpiece, garnering Oscar buzz for Toni Collette's lead performance. Perhaps one of the creepiest things about the film is the infatuation Collette's character has with building miniature versions of the world around her.
This past weekend, the film had a special midnight screening at SXSW. Following the screening, attendees received small boxes with, you guessed it, miniature disturbing dolls with notes attached, as the AV Club points out. A24 is really taking advantage of this guerrilla marketing tactic for Ari Aster's debut feature, which will arrive in theaters June 8.
Moonlight director Barry Jenkins was one of the lucky attendees to receive one of these little presents in the mail. His response pretty much sums up all the feels.
Man @A24 play too much ???? After seeing the TERRIFYING @HereditaryMovie at a midnight screening last night (and checking every shadow of my room before going to bed), I woke up with THIS waiting outside my hotel room. Y'all play WAAAAAAY tew damn much ???? pic.twitter.com/sKHQuuuIWa

— Barry Jenkins (@BarryJenkins) March 13, 2018
Entertainment writer Eric Vespe also received a package and shared a picture via Twitter.
Got home to find this creepy @HereditaryMovie shit on my front porch! No postage!!!! Someone hide me! pic.twitter.com/MpO1iQ6Rv4

— Eric Vespe (@EricVespe) March 12, 2018
And A24 tweeted out some images showing their entire collection. Totally not creepy in the slightest.
No animals were harmed. @HereditaryMovie#SXSWpic.twitter.com/ENRXtbty63

— A24 (@A24) March 12, 2018
What is this, Pokemon!?
collect them all #Hereditarypic.twitter.com/64gwGLehyO

— A24 (@A24) March 12, 2018
Fittingly, critics have called Hereditary "pure emotional terrorism" and "a serious, adult psychological study that also happens to double as impeccably crafted haunted-house 'entertainment.'" Basically, what we're getting is that this film is beyond terrifying.
You can check out the trailer here and then decide if you ever want to step outside your home again. Enjoy.