First The Exorcist: Believer Trailer Features Twice the Demonic Possession
Photos via Universal Pictures
Movies
News
horror movies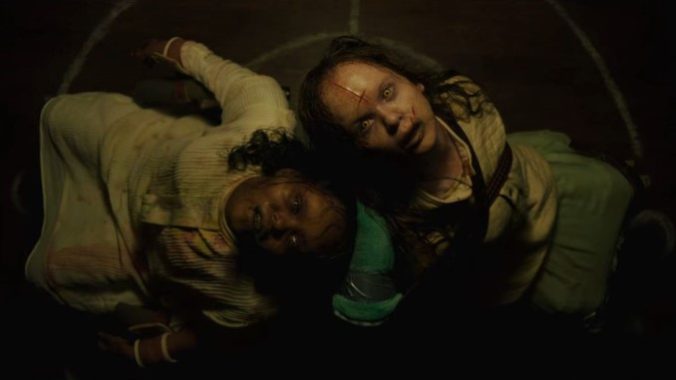 Surely we can all agree in principal that 1973's The Exorcist, the film that tops our list of the 100 greatest horror movies of all time, was not direly in need of a modern "legacy sequel" from the likes of Blumhouse and recent Halloween trilogy director David Gordon Green. The film is monolithic; it stands alone in a hallowed spot in the history of shocking horror cinema. It has definitely been subjected to terrible sequels before, but that's hardly a compelling reason to dredge up those old bones once again. Perhaps we had been holding out some small amount of hope that Green's The Exorcist: Believer might emerge with a compelling raison d'etre once we saw some footage of it, but today's newly released first trailer, which you can see below, only seems to drive the point home: We're just callously mining more IP here. We may be looking at a misfire on par with last year's putrid Texas Chainsaw Massacre requel.
Honestly, I'm not sure what else we should have been expecting from The Exorcist: Believer, given that it was conceived and co-written by Green, the architect of a grossly overstuffed, nakedly greedy Halloween trilogy that couldn't even manage to focus on what should have been the simple and satisfying story of three generations of Strode women vs. Michael Myers. Instead, we got such highlights as "evil dies tonight," and the introduction of an entirely new central protagonist in the third film of a trilogy, amid an endless stream of franchise callbacks. The Exorcist: Believer looks to just double down on that format by bringing back anyone from the 1973 film who is alive and willing to appear, most notably Ellyn Burstyn as Chris MacNeil, mother of the possessed Reagan.
The possessions this time around, meanwhile, are split between two young girls who go missing in the woods near their home, before returning with a demonic hitchhiker in tow. Burstyn's dialog in the trailer seems to suggest this is the very same demon she and Reagan previously tangled with–no indication of whether they're keeping the name from the sequels, which was "Pazuzu." Everything else in the trailer just appears to be perfectly conventional, right down to the digitally altered voices of the duo of little girls. It's difficult to imagine this film even scratching the transgressive nature of the original Exorcist, being far more concerned with generating a tidy opening weekend box office by not truly turning off any viewers with potential blasphemy. Oh, and get ready for the cliffhanger, because Believer is meant to be the first of THREE new Exorcist pictures. Who wanted complete stories, anyway?
The Exorcist: Believer stars Burstyn, Leslie Odom Jr., Ann Dowd, Lidya Jewett and Olivia Marcum, and is currently scheduled for wide release on Oct. 13, 2023. You can check out the first trailer below.