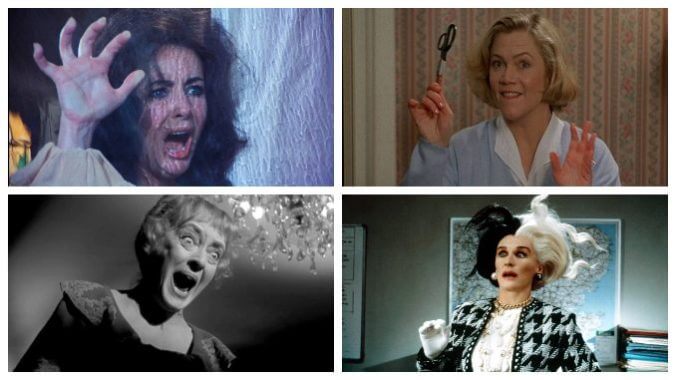 If you were horny for a little sensationalism at the turn of the 20th century, you could always go to the Grand Guignol. Tucked away in a Paris alcove, this infamous theater of the macabre would put on grotesque melodramas, erotic exhibitions and gory phantasmagorias that often caused audiences to orgasm, vomit or both.
Oscar Méténier named his theater after the classic puppet Guignol. The name winks at the topsy-turvy contents inside and the invisible hands and strings that manipulate the productions. Appearing alongside other famous characters, Punch and Judy, Guignol was known for his witty social satire. The Grande Dame Guignol tradition gets its name from this pleasure production house, but all too often, she's caged in by definitions about what she does or what happens to her. Critic Peter Shelley nearly frees the Grande Dame Guignol from the hagsploitation and "psycho-biddy" subgenres of horror by adding that these films must include an older woman with the airs of a great lady. Shelley implicitly notices that "Grande Dame" has crucial performance elements in its tradition, but still focuses on the actions and tropes of the Guignol to define her.
Shelley and others take "Guignol" to refer to the sensationalist elements in the Le Théâtre du Grand Guignol, but they only unearth the possibility of a body buried underneath the roses. If we dig further, we might find the skeleton of something more than a narrative genre.
Here are some of the films that, chronologically, helped defined what the Grande Dame Guignol tradition has become:
---
What Ever Happened To Baby Jane? (1963)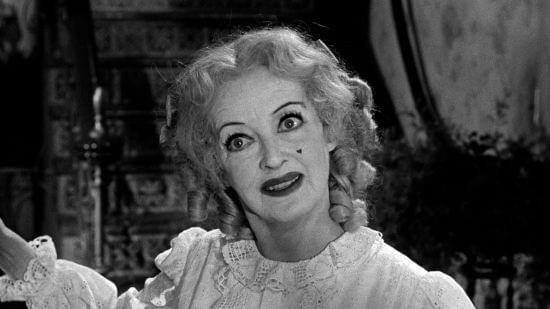 Celebrating its 60th anniversary this month, What Ever Happened To Baby Jane? is widely considered the foundation of the Grande Dame Guignol, hagsploitation and psycho-biddy genres. And while it serves up delicious macabre elements on a silver din-din platter, it also introduces a critical beauty mark on the face of the Grande Dame that is all too often overlooked.
The terror begins with a television. The jealous rivalry between sisters Jane (Bette Davis) and Blanche Hudson (Joan Crawford) intensifies because Blanche's old films are airing for the first time. Jane can't stand to see the revival of public love for her older sister, so she hatches a plan to revive her glory days as the vaudeville child star "Baby Jane" Hudson. Hey, what ever happened to her?
It's a grossly wicked picture. Jane's descent into derangement is frightening, compelling and tragic. And Blanche, poor Blanche, who's still in that chair, is isolated and trapped, helpless to endure Jane's retaliatory torture. Though there have been decades of debate about who is the stronger performer, I refuse to choose. What Ever Happened To Baby Jane? is the reemergence and matching of two different but equally brilliant Classic Hollywood talents.
This is a crucial element of the Grande Dame Guignol. You can't be a Grande Dame if no one knows who you are. The audience is a vital player in the Grande Dame Guignol tradition. What makes Baby Jane so dizzying is that Blanche, Jane, Bette and Joan are all reappearing before audiences for the first time. They all want to recapture that taste of public adoration. No matter how convincing the elegance and grandeur an actress may play to the audience, a Grande Dame brings hers with her. The title is an investment of labor and history. She has earned it by giving performances of great heights. She maintains a benevolent sense of glamor when she's amongst the public.
And we have loved watching her be grande. She earns her title from us (with some help from studio prodding). We have shared our time with her, invited her into the dark rooms of our lives, and she illuminated them. When we watch What Ever Happened To Baby Jane?, as with all Grande Dame Guignol, we are watching Hollywood history change a reel.
---
Hush…Hush, Sweet Charlotte (1964)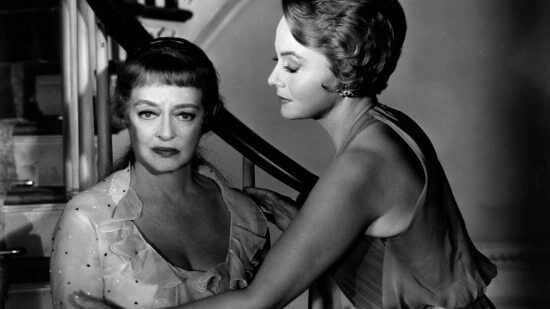 Now that we've curtsied before the Grande Dame as an acclaimed Hollywood actress with an established adoring public, we can pair her with Guignol. I propose we consider the term as a theatrical mode—it is the name of a puppet and a theater, after all.
There's still plenty of grotesquery and gore. Director Robert Aldrich and Davis' next collaboration, Hush…Hush, Sweet Charlotte, almost doubled the number of classical Guignol moments from Baby Jane. It's a macabre plot about a wilting Southern flower manipulated by those closest to her. Like any good Guignol film, there's a ripe amount of blood, fake heads and women screaming in bed gowns.
Here again, we are watching more than a nuanced Southern Gothic picture. We are witnessing Olivia de Havilland make her first glorious turn outside her usual character and costume dramas. Switching the power dynamic from Baby Jane, Davis is the gentle victim of de Havilland's wickedness. Her character, Miriam Deering, is razor sharp to the spine, as formidable as her helmet of hair. When she drops the final curtain, and we can see Miriam for who she is, de Havilland embodies Guignol in a more profound sense of the word.
We can see an actress making choices and scaling the heights these films so often require. Her character is about pulling the strings, luring and trapping those in her way. But more than that, it's a fantastic example of an actress showing a range that executives stifled during her heyday with the studio system. The actress becomes a Grand Guignol theater when she achieves these registers. She invites us in and, through a series of acting mechanisms, traps us. We're terrified with awe at the extremes we're seeing and the new horizons of genre into which our cherished star has wandered.
These films or characters are more than celebrities doing horror when the bills are low. Yes, they're older women because Hollywood—society in general—finds older women repulsive and exploits that for entertainment. But that's hagsploitation. The Grande Dame Guignol brings history. In many cases, critics say their performance represents a "fall" from a once proud height. Others will be shocked that an actress from "classic," institutionally recognized films would be "brought low" to popular genres or mediums. If the Grande Dame Guignol is watching Hollywood history change a reel, we're slightly mortified by the intermission.
---
The Madwoman of Chaillot (1969)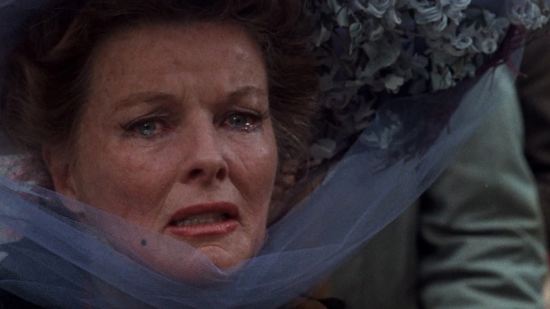 We know the Grande Dame Guignol is a mode because it moves and is sometimes only embodied by one person. In this regal oddball film about Countess Aurelia, an eccentric lady who stumbles upon a conspiracy to extract oil from underneath Paris, Katherine Hepburn is the woman out-of-joint with time. You can tell we're in Guignol territory because most of the men around Hepburn focus on how of a different time she is, how shocking and garish her Edwardian clothes are. The men underestimate her and her friends because of their age—to their detriment. And mon Dieu, does Hepburn show us all the guts and glory of aging with boldness. At her most poignant, Aurelia is a screaming whistle that the bridge is out in the future ahead. She portends impending doom. In The Madwoman of Chaillot, she can stop the train for a time. But in the end, the parade will start again, and the Grande Dame will fade teary-eyed into history and legend.
---
Whoever Slew Auntie Roo? (1972)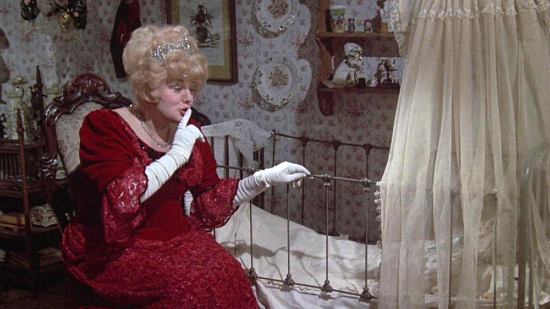 The Grande Dame, as a figure of the past, stands as the last outpost before the future. She also reminds us of pre-modern history. In this retelling of the Hansel & Gretel story, the formidable Shelley Winters plays Mrs. Forrest, a destitute American of questionable age living in England, hosting a Christmas feast for local orphans. When one of the orphans reminds her of her dead daughter, Mrs. Forrest lays a trail to trap her forever. In camp capes and panto costume, Winters sails away in this role, starting airy and light, only tinged with darkness and finishing the picture as wretched and dark.
Many Grande Dame Guignol films have folkloric elements. Several, including a few on this list, base their characters or plots on fairy tales. Others will frequently center around holidays or rituals. And many, like Whoever Slew Auntie Roo?, will use motifs from children's songs, lullabies and playground chants. Children are creepy!
Whoever Slew Auntie Roo? also brings an extra dish to pass, a reminder that the Grande Dame is like a repertory actress or opera singer, part of a troupe of people who reappear repeatedly. While many remember Bette Davis and Joan Crawford for their later careers in the genre, Shelley Winters deserves to be on the same mantle. We will meet her again later and see a new side of this grounded and expansive actress.
---
Night Watch (1973)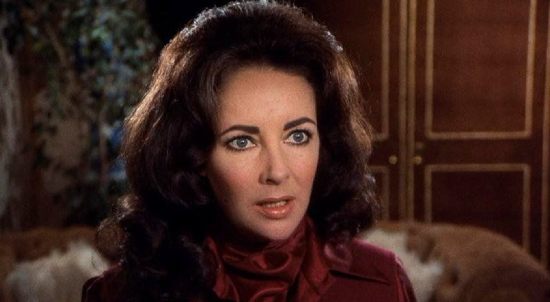 By the early 1970s, the Grande Dame Guignol was becoming aware of herself. It was also time for postwar and '50s starlets to join the cast. And the most glamourous among them was Elizabeth Taylor. After struggles with her health, addiction, marriage and inability to work efficiently, Taylor appears in Night Watch as Ellen Wheeler, a woman everyone treats like a child. Ellen swears she saw a dead body in the abandoned house across the street. People call her a difficult and delusional harpy. The press had been saying the same about Taylor for over a decade. In Night Watch, Taylor plays into this ethos, displaying her talent for acting like a raw nerve before springing her twist and lashing out in furious and fabulous aggression.
---
Identikit (1974)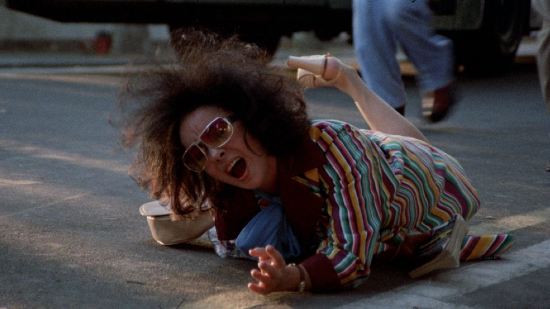 While she played to the persona public gossip had made of her for Night Watch, Taylor confronts and kills that image in this film. Wonderfully existential and wandering back and forth in time, author Kier-La Janisse calls Taylor's performance as Lise a "beautiful frenzy" in her introduction to the Blu-ray.
And indeed, it is. Her character's death drive has Taylor careening from depression to mania as she tries to "imprint her identity on the world around her." Janisse describes Lise, much like critics did of Taylor, as a "hot mess, surrounded by chaos…but secretly driven by a very decisive ambition." Millie De Chirico's illuminating audio commentary for the Blu-ray marvelously explores the parallels between Lise, Taylor and source author Muriel Sparks. All of them have a deep need and fascination with control. Early in her commentary, De Chirico uses the term Grande Dame Guignol derogatorily as though such films are unworthy of critical appraisal in themselves. For her, like other critics, the Grande Dame Guignol must be removed before the performance can be considered valuable. Yet what Identikit and its supplementary materials repeatedly prove is that Taylor excels in this mode. In playing someone close to herself, she reasserts dominance over her persona in ways few other actresses have before or since.
---
Poor Pretty Eddie (1975)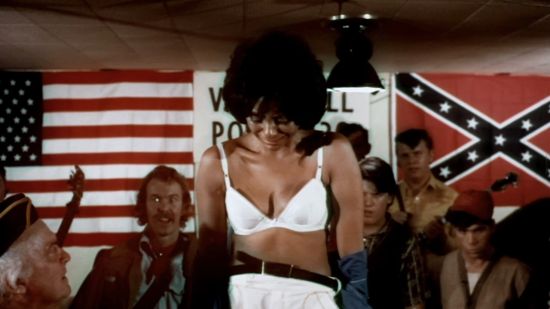 You may have noticed by now that all the people featured on this list are white women. That's intentional. White womanhood is foundational Grande Dame Guignol, hagsploitation and psycho-biddy. Their films concern the fear of and for white women. In the Grande Dame Guignol, whiteness is one of the most fundamental strings she pulls to get her way.
That racism is on ruckus-filled display in Poor Pretty Eddie, once again starring Shelley. In this awkwardly complex rape-revenge thriller, she plays Bertha, a dried-out starlet soaking herself in booze and sex with her pet man and Elvis impersonator, Eddie. But after Eddie attacks the stranded Liz Wetherly (Leslie Uggams, a saint for completing this picture), Bertha becomes inflamed with jealousy.
And Winters sure has a way of delivering her racist lines with a cruelty that is uncomfortably real. Bertha demonstrates all the ways scared and abandoned white women will side with awful white men to protect their property and sense of security. She shows that racism is a form of control, a grotesque reality that can be counted on and twisted. We feel this horror solely because of the honesty in Winters' performance. Sure, Bertha's rages and love for feather boas let Winters go full-throttle camp and yell things like "she farts Chanel No.5," but she's always genuine. Shock and awe come when this great dame does what she does best and drops the curtain, revealing a shattered woman whose life has been totally shot through.
---
The Mirror Crack'd (1980)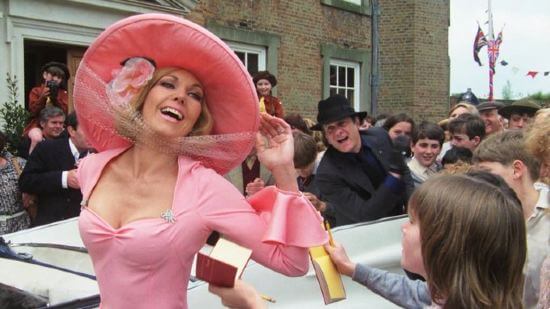 Grande Dames are experts at the levers and pulleys of performance. They come with many tricks, but my favorite is the curtain drop. Suddenly, we see an actress who has been playing in an entirely different depth of field. In these flashes, we glimpse her profound psychology.
Taylor returns to our list again to give a masterclass in dropping the curtain as the mysterious film star Marina Gregg in Agatha Christie's The Mirror Crack'd. She stars alongside a crown of jeweled stars, including Rock Hudson, Tony Curtis, Kim Novak (herself giving a deliciously reptilian performance) and the late, great Dame Angela Lansbury in her only turn as Miss Marple. As the investigation into the murder of a woman from the village starts to heat up, eyes turn to Marina.
That's when Miss Marple's nephew Dermot (Edward Fox), an inspector and Marina Gregg fan, arrives to interview her. During the questioning, Marina gets agitated. Taylor's body starts to turn red. Her breath quickens, pitch heightens. And then bang. Dermot completes her sentence. She's been reciting a monologue from one of her movies. Marina collapses in mischievous laughter like a child caught eating a cookie before dinner. Taylor as Marina is a fine example of the Grande Dame Guignol operating alone outside her usual genre. And Dermot reminds us how important we are as fans and audiences to the building and maintaining the Grande Dame ethos.
---
The Fan (1981)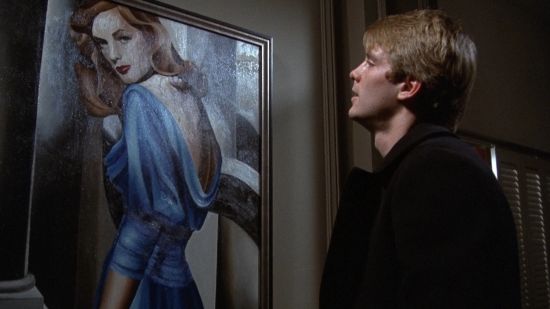 As the postmodern age rounded into the Reagan '80s, the relationship between us and the Grande Dame became fraught. No longer the adoring but distant public, her audience became obsessive fanatics invading her privacy. Thus we get something like The Fan, in which Her Ladyship Lauren Bacall is Sally Ross, an aging film star who is being harassed as she makes her first go at Broadway (with sequined numbers by Marvin Hamlisch and Tim Rice, no less!). Bacall's turn is fun not just because she brings the same unwavering sense of conviction to all her performances, but also because Sally is a maturation of her early noir roles. No longer the purring femme fatale, Sally has been trampled by fame and divorce; she's world-weary and wiser. But Sally isn't hardened at all. Age brings her a contented frankness perfectly suited to Bacall's settled brassy timbre. Is the singing ideally suited? Well, never mind.
---
Marlene (1984)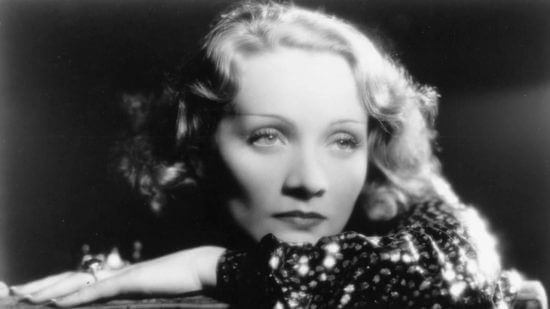 For some, the paranoia about the public was very real. In this enigmatic documentary about her life, screen titan Marlene Dietrich refuses to show herself. Only providing commentary via recorded interviews with director and Judgment at Nuremberg co-star, Maximilian Schell, Dietrich is actively trying to control her public image before she dies. She wants her lasting impression to be one of ageless global beauty—certainly not one of kitsch. (Hearing Madame Marlene disavow kitsch is still one of the most heartbreaking moments in documentary filmmaking.) But unlike most other Grande Dame Guignol films, there is no curtain drop here, no exposing of tricks. All we're privy to is the phantasmagoria that Marlene projects for us. We never see the woman controlling the spectacle. In some ways, denying the usual confrontation of mortality and aging makes Marlene Dietrich feel immortal.
---
Serial Mom (1994)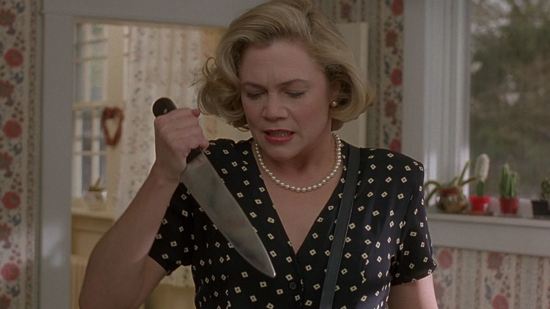 John Water's film starring Kathleen Turner as a serial killer mom offers a delightfully off-kilter look at celebrity culture. This time, when we enter Beverly Sutphin's kitchen, we know Turner is playing in a different mode than usual. She's effervescent and cheery in an unsettling way. And then she snaps, and we see this unending parade of deranged killings that show Turner's capacity to channel range and then quickly tuck it behind comedy at a moment's notice. Seeing Turner put on a heightened act immediately shifts us into a field of play where anything is possible. The Grande Dame always sets the tone. We can root for a PTA member plowing down those who stand in her way. In many of the films considered in this list thus far, any laughter is mainly accidental. But Waters, ever the master at drawing out what is pleasing in the perverse, tickles us with our own enjoyment of the Grande Dame Guignol. The result is a satirical insight into our morbid curiosities while Turner swings for the rafters with a poultry leg. It's what cinema was made for.
---
Ever After (1998)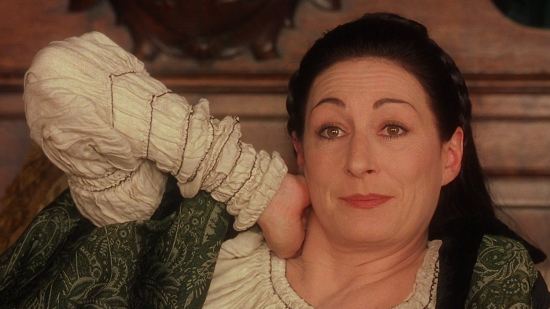 Stories of deranged mothers clutter the history of the Grand Dame Guignol and have their roots in much older stories, the most classic of which is the stepmother in Cinderella. Andy Tennant's adaptation does what was very de la mode in 1990s fairy tale films: Offering the so-called "real version" of the story. When "reality" or "truth" meet the fancy of folklore, the Grande Dame Guignol often materializes—here, as the regal and leering Anjelica Huston.
Baroness Rodmilla de Ghent may not have much written into her character, but Huston shows us just enough to know she's crafted a motivation. Tasked with giving a grounded performance of a fairy tale character famously without psychology, Huston masterfully places one glass shoe in the Guignol and the other in fantasy. She recognizes that if we take the Cinderella story "seriously," we must grapple with the abusive control she inflicts on her stepdaughter. With pointedly crisp gestures and one eyebrow perfectly arched, Huston's character is both a believable bitch and a camp creation.
Ever After is part of several cycles. It's yet another changeover, as the Grande Dame Guignol always is. It's also a return to "truth" and "believability" in a time deeply concerned with losing its grip on reality. The 1980s had aged. And here we have two daughters of the industry working together: Anjelica of the legendary director John Huston, and Drew of the early film and stage Barrymore dynasty.
---
Titus (1999)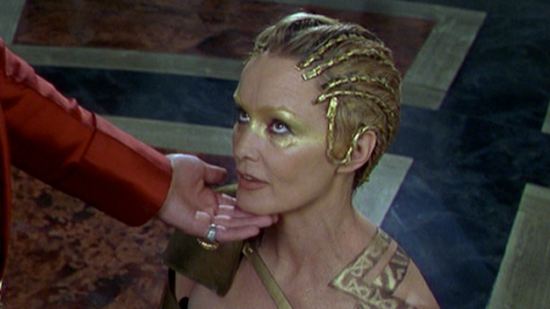 But by the end of the 1990s, many directors were also merging the digital age with pre-modern eras, often abandoning "authenticity" for stylization. Julie Taymor's Titus is a textbook example and another jewel in the Grande Dame Guignol diadem. Famous for its scenes of mutilation, rape, murder and cannibalism, Shakespeare's gory tragedy was one of the most performed plays at Le Théâtre du Grand-Guignol. And just as the early 20th century stage artists added special effects to their production, Taymor does the same with lurid and mixed media surrealism for late 20th century audiences.
Supreme talent Jessica Lange proves that the Grande Dame Guignol is a mode because we can find it in texts written long before the advent of film. Her performance as Tamara is perfectly calibrated to bring a contemporary interpretation of Shakespeare's early modern poetic sensibility. Her Tamara fucks. She winds and slithers her way into Roman politics, manipulating everyone around her just as Lange uses her pitch and hissing tones. She understands every word and turns one of classical theater's cruelest villains into a highly watchable spectacle. From her introduction to her horrid realization at the dinner table, Lange's performance is the Grande Dame Guignol at its most dripping and delicious.
---
Drowning Mona (2000)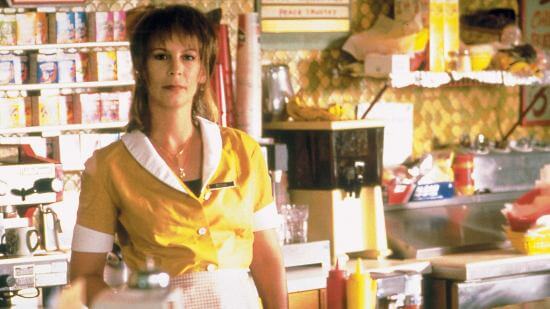 I wish I had some profound reason for including Drowning Mona, but I don't. Bette Midler is my personal Grande Dame, and she's amazing as Mona. We rarely get a Grande Dame Guignol film in which the Grande Dame is dead from the beginning, which makes things interesting because we get to retrace the consequences of her cruelty. Midler has built her persona on an inflated sense of grammar and a self-conscious struggle with weight throughout her career. In Drowning Mona, Midler lets it all go in a maniacally uninhibited performance. She is the direct descendent of Shelley Winters in Poor Pretty Eddie. Between her Madame Rose in Gypsy and this offbeat dark comedy, Midler proves that she can deliver the controlling mother with both a terror and a musical sense of humor.
---
102 Dalmatians (2000)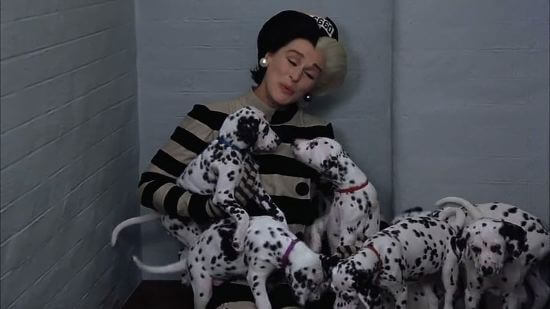 Bringing comedy to a woman scripted to be thoroughly wicked and unlikeable takes tremendous skill. One of the underappreciated Grande Dames of this skill is Glenn Close. And while her first turn as Cruella de Vil in 101 Dalmatians is an untouchable triumph, it does not compare to the marathon that is its sequel. In the second installment, the Grande Dame Guignol and psycho-biddy merge as Cruella relapses from her treatment with Dr. Pavlov (get it?). Once thought to be cured of her hatred for puppies, she launches a new scheme with Gerard Depardieu that's even more flamboyantly costumed than before. We know Close for her dramatic roles and the frightening intensity she can bring to thrillers, so we recognize that every outrageous intonation, head tilt or raised pinky is a choice by a studied actress. This is not our usual Grande Dame. How shocking. She's entered the Guignol mode. Her performance in 102 Dalmatians is a reminder that sometimes sequels are a more complimentary space for an actress to explore new ranges because she's already laid the groundwork in the first film. Sequels also require more flux because, like 102 Dalmatians, they aren't often written very well.
---
These Old Broads (2001)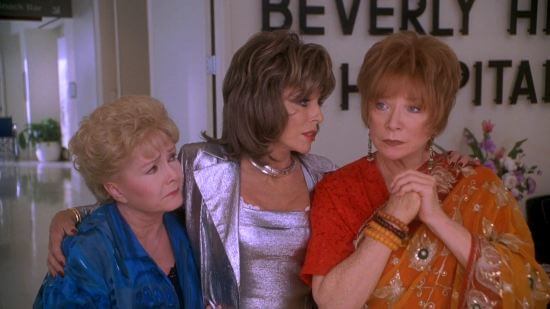 The sequel may be hospitable to the Grande Dame Guignol, but the most welcoming medium has been the TV movie. It seems fitting then that a TV movie should close a significant cycle of the Grande Dame Guignol and, as always with her, Hollywood history itself. The early 2000s were pivotal because we were beginning to lose the last of the great studio stars. Written by Hollywood daughter Carrie Fisher, this hilarious and heartfelt comedy follows three Old Hollywood stars (played by Shirley MacLaine, Joan Collins and Debbie Reynolds) as they attempt to stage a comeback TV special. Though everyone in the production is skeptical and disgusted by older women's talent, these dames still got it, and they've got each other. Each actress is playing a masterful impersonation of her screen persona. Still, none are as gloriously Guignol as special guest star Elizabeth Taylor who plays Beryl Mason, their bedbound, pot-smoking manager. "Get off your asses for these old broads," she crows. It's a command, but she may as well be speaking the fundamental thesis of the Grande Dame Guignol.
---
Sister Mary Explains It All (2001)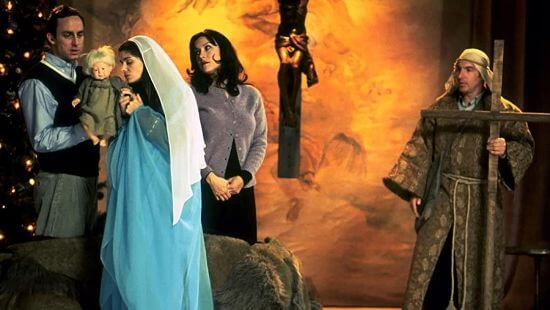 One of the other fundamental truths of any Guignol, if we think back to the puppet that gives it its name, is that it offers social commentary. Most often, as we've seen, the Grande Dame Guignol touches on issues of ageism, sexism and racism, though rarely the institutions that support them. However, this Showtime Original movie offers a searing critique of the church as the new millennium ushered in debates around secularism. Diane Keaton doesn't play unhinged villainesses much, but she should. In this adaptation of the Christopher Durang play, she plays a strict and orthodox nun hosting her annual Christmas catechism. When former students crash her show (one of which is future Grande Dame Jennifer Tilly), Sister Mary quickly scales to violent heights. And because of Keaton, it's an uproarious descent. Her unique gift for flitting from idea to idea is perfect for the nun struggling to justify her dogmatic beliefs. Yet even after the bloody conclusion of a whole night's terror, Keaton never loses her tenderness for Sister Mary, and we end up pitying this monster devoid of spirit.
---
The Stepford Wives (2004)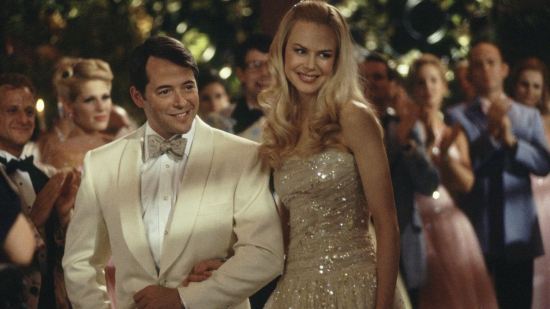 "Uh! She's fabulous!" gasps the Stepford Gay as the town's First Lady melts down, revealing she's been behind the robots the whole time. Glenn Close returns to the mode as Claire in Frank Oz's remake of the 1970s cult classic. And like the sequel and TV movie, we will find time and again that remakes are another place for the Grande Dame Guignol to slip in, because there's a precedent to either respect or reject. And, like this remake, they don't always make sense and require more strings to create a watchable, if not believable, performance. In this case, Close makes her own psychotic character. Her Claire is perfectly vacant, always with a placating smile until the curtain drops. Then, in a full chiffon gown, Close gives one of the most electrifying and dynamic final monologues in film history. At that moment, we're all gay, gasping in wonder.
---
Seed of Chucky (2004)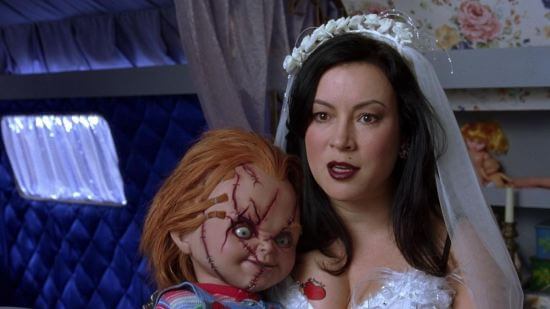 It's the same as when the cursed doll Tiffany (voiced by Jennifer Tilly) sees actress Jennifer Tilly for the first time. In this joyously queer follow-up to Bride of Chucky, Academy Award nominee Jennifer Tilly cements herself as mistress of the Grande Dame Guignol for a new generation. Where other performers of the Grande Dame Guignol, like Elizabeth Taylor, confronted versions of her persona, in this twistedly meta film, Tilly confronts herself directly—and she does it with an animatronic puppet! Playing a version of herself and voicing a doll who idolizes Tilly showcases a remarkably self-aware actress. She delights in giving her cult audience precisely what they thirst for. Sequels often take meta turns, but Seed of Chucky is special. It features one of the newest Grande Dames standing amongst her audience, looking at herself. Because Don Mancini has crafted the extra layer of distance on the tip of a knife, we return to pure Guignol. Seed of Chucky is unique on this list because it showcases Tilly becoming a Grande Dame and birthing her talents for the Grande Dame Guignol simultaneously.
---
Monster In Law (2005)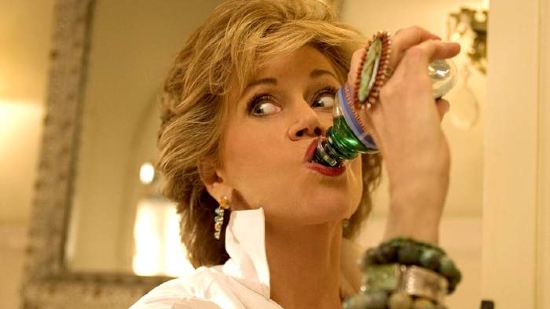 Most Grande Dame Guignol performances come from a dame who has already been bronzed into her title. It's no coincidence that Jane Fonda used the mode to re-enter her public acting career. No matter how brightly lit the scene is, how pastel the hues, how immaculate the Maybelline, Fonda's character Viola Fields is a wicked woman. Should the Grande Dame Guignol show up in a romantic comedy, it's usually in the shape of a sinister mother-in-law. If we take her seriously, she's terrifying. Yet Fonda finds something underneath those starched collars and flawed script that is alluring to watch. It's because behind Viola, Fonda was thrilled to be working in front of her public again, and she hasn't stopped since.
---
Basic Instinct 2: Risk Addiction (2006)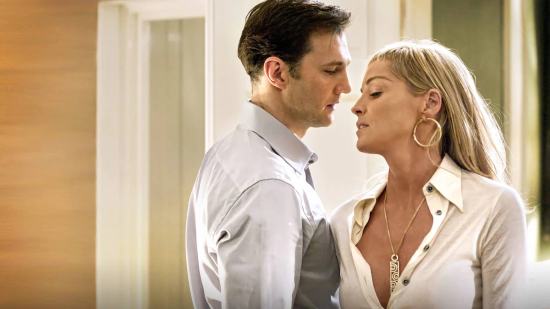 It's been a while since we've had some good hard sex. Films with the Grande Dame Guignol rarely allow their women to be sexual creatures. They spend most of the time laughing or repulsed by any notion that these women might still have desires. That's why the opening moments of the Basic Instinct sequel are preoccupied with being simultaneously obsessed and disgusted by Catherine Tramell/Sharon Stone's pussy. "Oedipus never saw his mother cumming" is a literal line from this movie. "How could this woman in her 50s be so hot?" the clammy men ask themselves. "Discipline me, Mommy." Freud would love it.
Most characters in the Grande Dame Guignol tradition are unsexed, but not Catherine Tramell. Basic Instinct and Sharon Stone have had to answer questions about the infamous crotch shot for over 30 years. This film gives Sharon and Catherine a moment of revenge. For all its overwrought psychobabble and bizarre plotting, it's a layered Grande Dame Guignol piece complete with a European gothic setting, breasts, bloodletting and unethical psychotherapy. But behind all that, Stone gets the unique opportunity to transfer a character from Femme Fatale in an erotic thriller to the Grande Dame Guignol without giving up her sexuality.
---
Hairspray (2007)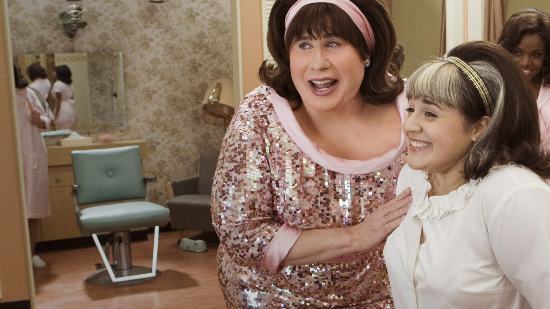 No characters on this list get a whole song, but Michelle Pfeiffer's "Miss Baltimore Crabs" in the musical adaptation of John Waters' 1988 film hits all the right notes. It allows her character Velma Von Tussle to have her own Baby Jane moment, flashing back to her young pageant self. She comments on her faded sexual manipulations and anxieties about keeping Baltimore and television safe for white people. Pfeiffer carries on the irony and, in doing so, manages to provide a more biting historical commentary than the rest of the film. As we've discussed earlier, the Grande Dame Guignol is unafraid to weaponize her whiteness. She is the catalyst for the story having an anti-racist message. Pfeiffer nails Velma's manipulative side, being unafraid to say the most horrible things. While many of the other characters lose their edge when transferring from cult film to commercial musical, not Velma.
---
The Iron Lady (2011)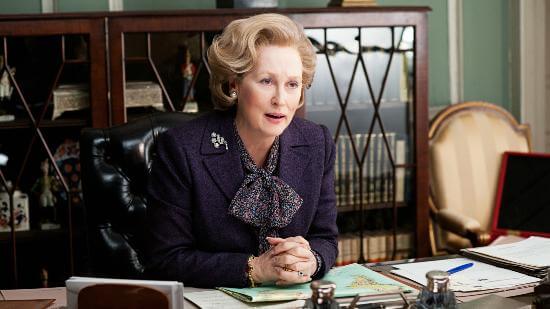 Sometimes history provides us with actual Grande Dame Guignol figures, none perhaps viler than Margaret Thatcher. That's why The Iron Lady remains the most malignant film on our list, perhaps ever. Yes, it has Guignol elements like ghosts, memory loss and a woman caged in by society. Still, its attempt to rehabilitate the capitalist crone who crippled social institutions is what makes it a genuinely terrifying picture. I've tried to keep this list as celebratory as possible, but this is an example of the Grande Dame Guignol failing. Instead of using the Grande Dame Guignol's critical power to interrogate Thatcher's harmful policies, it paints her as a militant girlboss colonialist hunted by terrorists. There are moments, like the boardroom scene with her ill-prepared cabinet, where we can see why Meryl Streep won her third Oscar. But the film's claims to being an honest prestige film are nothing more than a pathetic and violent display of historical revisionism.
---
Mirror Mirror (2012)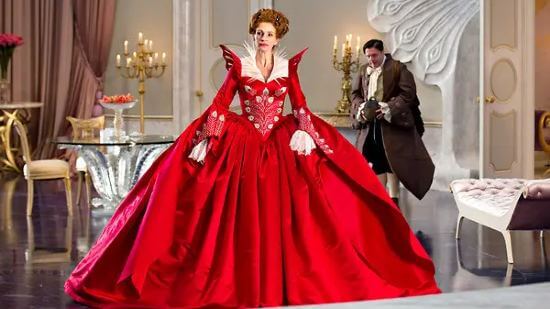 Revisions, returns, reruns and remakes are all vital parts of the Grande Dame Guignol tradition. As the movie star actresses of the 1990s aged into Grande Dames, many were dismayed that America's Sweetheart, Julia Roberts, would play Snow White's evil stepmother. When Tarsem Singh's reinterpretation of the classic folktale premiered, few were prepared for Roberts' off-kilter performance, nor the shock of aging that seeing her worry about wrinkles might induce. But once you've shaken off the dizzying costumes and highly ornamental script, it's a fascinating turn. Queen Clementianna has a split self, so we still get a healthy dose of innocent Julia, but the queen's spitefulness shows off a different set of Julia's skills. It takes the barbed delivery she gives in Soderbergh movies and meshes them with her idea of classical theater. It may not be an example of the Grande Dame Guignol working flawlessly, but it's a memorable example of an actress trying on new timbres of her talent.
---
Flowers in the Attic (2014)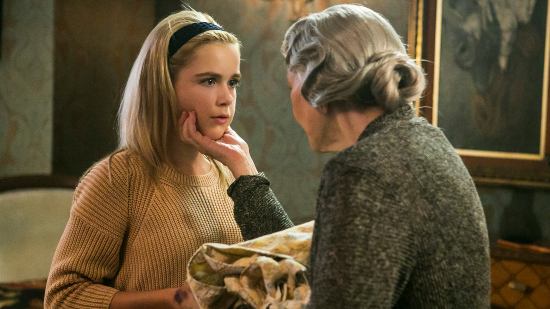 They can't all be Ellen Burstyn, you know? Burstyn draws on her extensive history as a celebrated actress unafraid of the extremes required for horror and gothic drama to deliver a bone-chilling performance. Her appearance as Olivia in this Lifetime Original is textbook Grande Dame Guignol. She's tightly controlled, like her gray finger waves, and rains hellfire and brimstone on everyone in her house.
Besides being a gothic incest tale, this version of V.C. Andrews' novel is both a TV movie and somewhat of a remake, both worthwhile plots for the Grande Dame Guignol to grow. Despite its unsettling story and patchwork script, Flowers in the Attic is a heartwarming opportunity for one of America's greatest actresses to show us that she still knows all her strings after a storied 60-year career by 2014. We often look down on the Grande Dame Guignol as a lowbrow form, but cases like this are a refreshing reminder that the Grande Dame Guignol is a mode that sustains and/or supports longevity, allowing actresses otherwise outcast by Hollywood to shine.
---
Feud: Bette and Joan (2017)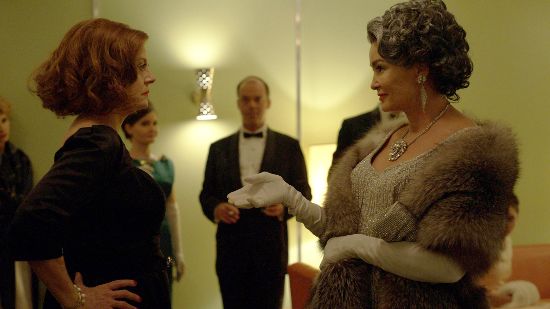 We end this list with the closing of a significant cycle. Plenty of other Grande Dame Guignol films and characters appear after (and throughout) the history charted on this list. But Ryan Murphy's 2017 stunt cast spectacular seems like a fitting end because it's a double vision of the Grande Dame Guignol. Here we have two Grande Dames—Susan Sarandon and Jessica Lange, herself already a solidified accomplished Guignol actress—playing in a TV movie about the two Grande Dames making the film that started it all.
Neither actress successfully becomes the person they're playing. But what's better is that we watch Sarandon-as-Davis and Lange-as-Crawford, each performance composed of two separate but strung-together spirits pulling on each other (Lange's Crawford especially). She's comfortable playing Crawford like a tuba because her Grande Dame persona has more brass than Crawford's diamond-cut edges. Sometimes the two meet, and things sing with honesty, but most of the time, we're just here to watch the backstage spectacle of great actresses making bold choices and big swings of the ax.
Critics often misunderstand Grande Dame Guignol films because our culture doesn't know what to do with our messy biases against messy films starring older women. Instead, they question her choices. We fail to remember that uneven scripts demand an incredible range. Because she's older, we see her appearance in these films as driven by helplessness and financial necessity. And because she appears in genres like horror, children's movies, fairy tale films and musicals, her work isn't considered worthy of acclaim.
But this history reveals an alternative to this way of thinking. Grande Dame Guignol films allow women to explore new, often darker, facets of their talent typically denied to them during their heydays in Hollywood. They are films that provide jobs for older actresses. But most brilliantly, they are moments when Hollywood history and the macabre merge inside the exceptional talent of a great lady.
---
B.L. Panther is a culture writer, scholar and Pisces from Northern Illinois. B! writes for outlets such as Honey Literary Journal and The Spool, where they're also the cohost of The Meh-thod Podcast discussing great actors in less-than-great films. A champion hermit, they enjoy reading, the indoors, afternoon naps and doing nothing at all.