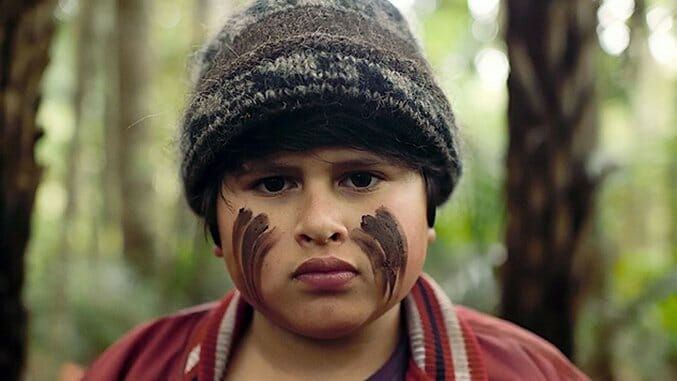 Bella's (Rima Te Wiata) first encounter with Ricky (Julian Dennison), the new foster child she's agreed to take on, doesn't inspire confidence, especially with her clumsy jokes at the expense of his weight. In turn, with child-services representative Paula (Rachel House) painting Ricky as an unruly wild child, one dreads the prospect of seeing the kid walk all over this possibly in-over-her-head mother. Not too long afterward, though—the morning after Ricky unsuccessfully tries to run away from his new home—Bella proves to be much smarter than she initially seemed: Instead of castigating him, she wears him down with kindness, beckoning him to at least come back home for breakfast before he tries to run away again. By the same token, Ricky ends up less of a tough cookie than he—with his fondness for gangsta rap and all that implies—initially tried to project, quickly showing his warmer, truer colors.
An adaptation of Barry Crump's novel Wild Pork and Watercress, Taika Waititi's new Hunt for the Wilderpeople thrives on upending such preconceived notions. Once Ricky and Hector, or Hec (Sam Neill)—the latter an older bushman Bella cares for before she suddenly dies—go on the run in the wilds of New Zealand after child protective services seeks to return Ricky to a care home following Bella's passing, Paula reveals herself as more of a fanatical zealot than she let on in that first scene ("no child left behind" is her frequent motto, which she utters in the film with seemingly unthinking reflexivity). Considering TK (Troy Kingi)—the father of Kahu (Tioreore Ngatai-Melbourne), the young Maori girl Ricky meets as he tries to get help for a sick sheriff he and Hec encounter in a cabin—one initially expects him to capture Ricky himself. Instead, he's star-struck meeting Ricky (newly anointed folk hero for being a widely sought-after fugitive) and proceeds to take selfies with him.
As for the film itself, though Waititi includes aspects that play like genre parody—a montage scored to Leonard Cohen's interpretation of the "Song of the French Partisan" unexpectedly recalling McCabe & Mrs. Miller; a Mad Max-like chase climax; Lukasz Buda, Samuel Scott and Conrad Wedde's 1980s-style synthesizer-laden score—Hunt for the Wilderpeople is ultimately disarming in its innocent sincerity.
Innocence in this case, however, doesn't equal lack of wisdom. The central relationship between Ricky and Hec is a collision course between wide-eyed naïveté and bitter experience, both gradually drawing strength from each other in different ways. This is especially the case with Ricky, who is so enamored with gangsta rap that he names the dog Bella gets him "Tupac" and generally reacts with awe whenever Hec does something he considers badass. Even though Ricky eventually understands the limits of the on-the-lam lifestyle he romanticizes, Hec loosens up on his curmudgeonly ways the more he learns about Ricky—especially the younger lad's difficult upbringing. In many ways, Ricky's desire to settle down resembles his own.
To some extent, Waititi shows more sympathy for Ricky's innocence, which is reflected in the film's grand-adventure style. Cinematographer Lachlan Milne's sweeping, colorful panoramas and a chapter-based narrative structure gives Hunt for the Wilderpeople the feel of a storybook fable, but thanks to the warm-hearted dynamic between Ricky and Hec, even the film's most whimsical moments carry a sense of real underlying pain: Both of these characters are outsiders ultimately looking for a home to call their own. Their adventure across the bush doubles, then, as a metaphorical journey toward normalcy in their deeply abnormal lives. By the end, though both characters have found a measure of that normalcy for themselves, there's a strong sense their real home is out in the open of the New Zealand bush, in each other's company, armed with a renewed sense of openness to life's possibilities.
Director: Taika Waititi
Writers: Taika Waititi; Barry Crump (novel)
Starring: Sam Neill, Julian Dennison, Rima Te Wiata, Rachel House, Oscar Kightley, Tioreore Ngatai-Melbourne, Rhys Darby
Release Date: June 24, 2016
---
Kenji Fujishima is a freelance film critic, contributing to Slant Magazine, Brooklyn Magazine, The Playlist and the Village Voice. He is also Deputy Editor of Movie Mezzanine and former editor-in-chief of In Review Online. When he's not watching movies or writing and editing film criticism, he's trying to absorb as much music, art and literature as possible. He has not infrequently been called a "culture vulture" for that reason.