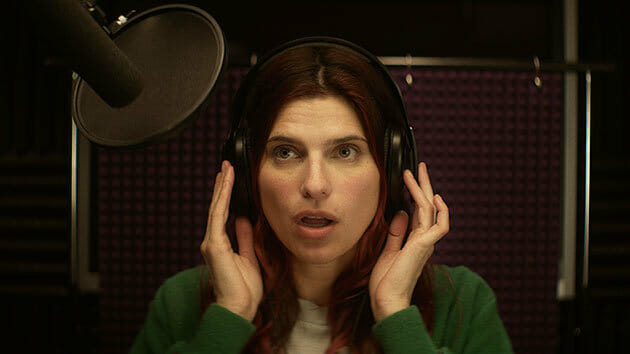 We've already met Lake Bell, versatile actress, who's played it straight in TV dramas like Boston Legal or dabbled in satire starring in Rob Corddry's Adult Swim comedy Childrens Hospital. She's earned so much acting street cred that we'll forgive her for Black Rock, which opened and sank earlier this year. But with the release of In a World… it's time to meet Lake Bell, feature film writer, director (and producer). And what a debut it is: Her film has heart, soul and a message without getting too preachy.
Ostensibly, the film is an examination of the male-dominated world of the voice-over industry. It opens with a short introduction to the men behind the microphone, including the late Don LaFontaine, who voiced more than 5,000 movie trailers during his career. It's LaFontaine's passing that sets the film in motion: Who will become the industry's next godfather? Veteran voice actor Sam Sotto (Fred Melamed) says he doesn't want the mantle, so instead grooms golden boy Gustav (Ken Marino) to win the next big gig: the official voice for a female-centered "quadrilogy" (think Hunger Games).
Sotto's underachieving daughter, Carol (Bell), works on the fringes of the old boys club as a voice coach and accent specialist to actors—with Eva Longoria making a funny cameo appearance early on as one of Carol's clients struggling to master a British accent. Sam isn't supportive of Carol, personally or professionally. He kicks her out of the house to make room for his much, much younger girlfriend, Jamie (Alexandra Holden), forcing her to move in with her sister, Dani (Michaela Watkins), and brother-in-law, Moe (Rob Corddry). And when it comes to the movie trailer business, Sam bluntly tells his daughter, "The industry does not crave a female sound … stick with accents."
Her sound engineering friends, particularly Louis (Demetri Martin), are more supportive. With his help, she lands her first voice-over gig and two more projects soon follow. (She's got the market cornered on the burgeoning "children's romantic comedy" genre.) Carol soon finds herself also in the running for the quadrilogy. When her father finds out, he breaks his promise to groom Gustav and throws his own hat into the ring. It gets ultra-competitive with both hilarious and heart-breaking moments.
In a World… provides great insight into the voice-over industry. (Melamed, who has worked as a VO actor, says that the film's stereotypes of older men with Corvettes, younger girlfriends, big egos and even bigger insecurities are not untrue.) But Bell does an even better job of bringing fresh characters, interesting relationship dynamics and multiple storylines to the screen through a crisp script that doesn't pander to the audience.
The father-daughter relationship between Sam and Carol is fascinating to watch as a sexist, narcissistic father selfishly puts himself before his daughter—actually both daughters—which is polar opposite of what parents are supposed to do. Bell also turns the typical evil stepmother character on its head with Jamie turning out to be a voice of reason in all the family drama.
There are also two love triangles in the film, which Bell thankfully keeps out of Jennifer Aniston-and/or Katherine Heigel-romantic comedy territory. In one, Demitri Martin turns in a sweet, puppy dog performance as Louis, who has a crush on Carol. He helps her not only to win her affection away from Gustav, but also to help even the gender playing field in the industry.
We're not quite sure that the second love triangle between Moe, Dani, a hotel concierge, and a mysterious Irish hotel guest (Jason O'Mara), needed as much screen time as it is given, but it provided background on Carol's fascination with accents and a penchant for recording people, whether they knew it or not. If anything, this storyline proves that Rob Corddry—whom Bell wrote the Moe role specifically for—can play both funny and quietly serious in the same role. It was terrific watching Corddry flex his acting range as a possible cuckold.
Filled with great human dynamics and dialogue, In a World… sheds light on the disparity among gender roles among voice-over actors, but it's also a personal film for Bell, who knows the voice—and film— industry intimately. Peeling back the layers, we find a good first film about a woman who by happenstance challenges societal and industry norms—and in doing so finds some peace in both her professional and personal lives. There are plenty of surprises throughout the script and film, from the familiar faces in the cast from Childrens Hospital to Comedy Central and a few cameo appearances by A-list celebs.
It's hard to imagine that Bell had only written and directed one short film, Worst Enemy, which debuted at the 2011 Sundance Film Festival, before taking on In a World….. Now we can't wait to see what she tackles next after hitting this writer-director-actor trifecta.
Director: Lake Bell
Writer: Lake Bell
Starring: Lake Bell, Fred Melamed, Demetri Martin, Michaela Watkins, Ken Marino, Rob Corddry, Nick Offerman, Tig Notaro, Alexandra Holden
Release Date: Aug. 9, 2013 (limited)