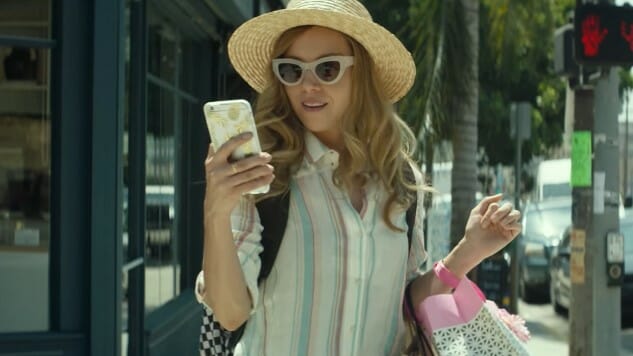 Well, it looks like Legion has opened new doors for the usually comedically awkward Aubrey Plaza, as she completely loses her shit in the opening moments of the berserk red-band teaser for Ingrid Goes West. Man, oh man.
Plaza stars as Ingrid, a disillusioned and disturbed young woman who, yeah, goes west to befriend a social media star who appears to have a perfect life. Well, things decidedly take a turn, and fairly early, with the macing of the bride at a wedding she wasn't invited to. So it's not hard to imagine that things are going to get even more batshit by the time Ingrid actually gets out west, as it appears that there's a bludgeoning, some gunplay and an ominous stack of Benjies. Elizabeth Olson, O'Shea Jackson, Jr., Billy Magnussen and Wyatt Russell are also starring.
Ingrid Goes West comes to theaters on Aug. 4. Check out the trailer above.