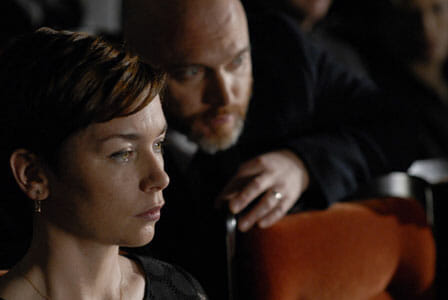 Director/Writer: John Krasinski, David Foster Wallace (novel)
Cinematographer: John Bailey
Starring: Julianne Nicholson, Timothy Hutton, Krasinski, Ben Shenkman, Michael Cerveris, Corey Stoll, Chris Messina, Max Minghella, Lou Taylor Pucci, Will Arnett, Dominic Cooper

Based on David Foster Wallace's short-story collection, this jaggedly riffing film is a bold undertaking for Office star and first-time writer/director John Krasinski. Sara Quinn (Nicholson) conducts her graduate research through interviews with men—from the repugnant to the victimized—whose stories are variations on a theme that's suppressed 'til the last moment. Though at times the language is too mannered, and the emotional performances difficult to watch, this is mostly an artfully made, darkly humorous, thought-provoking and powerful look at gender, sexuality and violence in postmodern society—all presented in an appropriately postmodern package.