Keanu Reeves Needs "Guns, Lots of Guns" in the Latest John Wick 3 Trailer
Images via Lionsgate/YouTube
Movies
News
john wick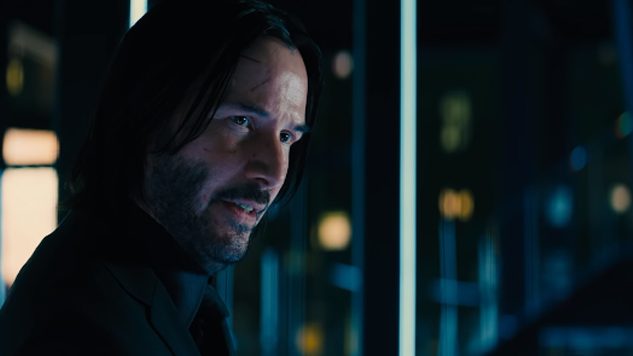 Lionsgate has unleashed the second John Wick: Chapter 3 – Parabellum trailer, a mishmash of knives, guns and dogs, all set to Vivaldi. Nothing pairs with violence like classical music, as we have learned time and time again.
The third installment of the notoriously bloody franchise follows the titular character, played by Keanu Reeves, as he wanders around New York with a bounty on his head after killing a member of the High Table, a mysterious guild of assassins. Threatening figures lurk around every corner as the city's killers put John in their crosshairs.
This time around, we get to see a lot more of Asia Kate Dillon doing their thing, throwing out menacing phrases and rocking a shaved head like few others can. Halle Berry as Sofia is really treading that friend-or-foe line, shooting John when she first sees him, then later helping him attack men with her crotch-biting dog. We're going to go with a soft "friend" on this one (most of our friends do not shoot us). Anjelica Huston pops up a bit more as a fortune teller (?), asking our hero predictably, "All of this for what? Because of a puppy?" It's more than just a puppy, Anjelica—they took his car, too.
Beyond that, there's the most John Wick response ever to the question, "What do you need?"
"Guns. Lots of guns," Reeves says, like the robotic prince that he is.
Watch the trailer for John Wick: Chapter 3 – Parabellum, out May 17, below. If you missed the first trailer, you can check it out here.