Todd Phillips' Joker Sequel Status Uncertain Amid Conflicting Reports (Updated)
Photos by Niko Tavernise/Warner Bros.
Movies
News
Joker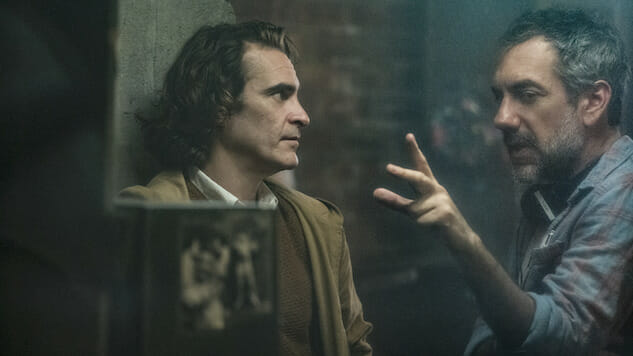 Update, 2:11 p.m. ET: Deadline has thrown cold water on reports of a Joker sequel moving forward, acknowledging that the project is an "obvious likely eventuality," but denying that any negotiations have begun and calling Phillips' interest in making other DC origin films "flat false." The truth is likely somewhere in between: Variety reports that Warner Bros. has met with Phillips and his co-writer Scott Silver, but "talks are very preliminary, no deal is in place, no storyline has been decided upon and no script is currently being written." Their report also denies other Phillips DC origin films in the offing.
Original Story: Joker director Todd Phillips is in talks to co-write and direct a sequel to the $1 billion-plus-grossing DC villain origins film, with star (and Oscar frontrunner) Joaquin Phoenix "likely" to reprise his role, THR reports. Phillips has also acquired the rights to another unknown DC villain's origin story, with THR suggesting that Darkseid or Lex Luthor may be good fits for the filmmaker.
Joker is the highest-grossing R-rated movie ever made, and it joins Christopher Nolan's The Dark Knight and The Dark Knight Rises, and James Wan's Aquaman as one of only four DC superhero movies to gross $1 billion worldwide. Phillips is said to have earned close to $100 million from the film after deferring an upfront salary and deciding to go for a cut of the adjusted gross instead. He cut the same sort of deal when he directed another Warner Bros. production, The Hangover, which made $467.5 million worldwide.