Knives Out Is Getting a Sequel, Lionsgate Confirms
The whodunnit has resonated with audiences and critics alike
Photo by Claire Folger/Lionsgate
Movies
News
Knives Out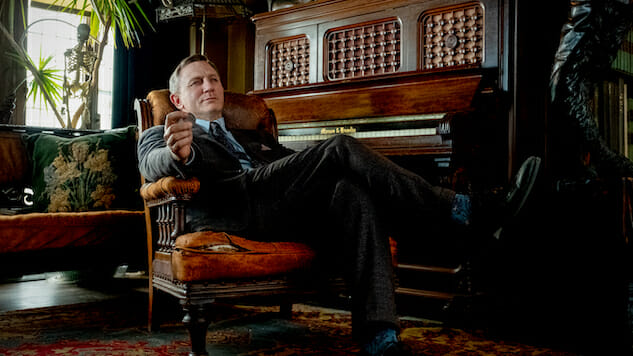 Knives Out, the thrilling whodunnit from Rian Johnson, is slated for a sequel. This may mean more cable-knit sweaters, mystery mansions and Daniel Craig's Southern accent as Benoit Blanc prepares for a return.
John Feltheimer, the CEO of Lionsgate, which distributes the film, confirmed the news in an earnings call Thursday as Knives Out approaches $300 million at the box office.
https://t.co/HaNwgLdIDDpic.twitter.com/zv4WgxHv8I

— Knives Out (@KnivesOut) February 7, 2020
The film has resonated with viewers and critics alike, earning both Academy Award and BAFTA nominations for Best Screenplay, and Golden Globe nominations for Best Motion Picture, Best Actress and Best Actor. The film won the top prizes at the Costume Designers Guild Awards—unsurprisingly, given the intricacy of the costumes and production design—and the AFI Awards.
The ensemble cast is also a compendium of talent. Ana de Armas plays Marta Cabrera, the compassionate caretaker of Harlan Thrombey (Christopher Plummer), who is thrown into a vicious cauldron of family drama when Harlan is discovered dead and everyone seems to have a potential motive.
There's Joni Thrombey (Toni Collette), a lifestyle influencer low on cash; Walt Thrombey (Michael Shannon), who has just lost the rights to Harlan's publishing empire; Richard Drysdale (Don Johnson), who just learned that Harlan was going to tell his wife Linda Drysdale (Jamie Lee Curtis) that he's been having an affair; and there's Ransom Drysdale (Chris Evans), the family's black sheep. Private Investigator Benoit Blanc (Craig) is soon hired under shadowy circumstances.
Watch the Knives Out trailer below and find out where the film landed on Paste's ranking of 2019's best here.