Annapurna Pictures to Distribute LAIKA's Newest Animated Film, Starring Hugh Jackman, Zoe Saldana and Zach Galifianakis
Photos by Kevin Winter/Getty, Stuart C. Wilson/Getty
Movies
News
LAIKA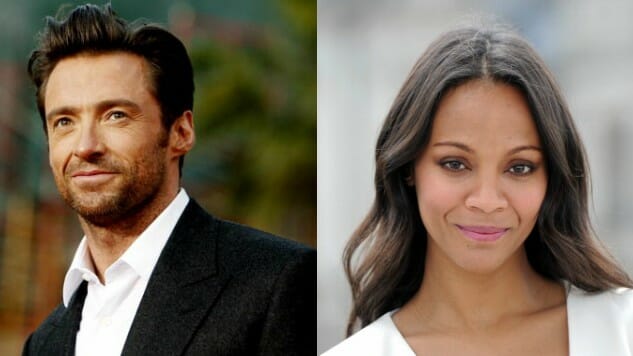 LAIKA, the Academy Award-nominated animation studio behind Kubo and the Two Strings, The Boxtrolls, ParaNorman and Coraline, announced its fifth feature-length film on Wednesday. Megan Ellison's Annapurna Pictures will be distributing the film, marking the second animated film for the production and distribution company.
"Our next film represents an evolutionary shift for LAIKA," said LAIKA's President and CEO Travis Knight. "It's an exciting bridge to our future. Director Chris Butler and the wizards at LAIKA have crafted a moving work of art, layered with wit and imagination and soul. Plus it's really, really funny. It's a privilege to partner with Megan and her exceptional team at Annapurna to bring this beautiful original story to the world."
The film is currently being referred to as Film Five, since it will be the fifth film from LAIKA, which was established in 2005. The team is thrilled to bring this "globetrotting" comedy-adventure" to life, describing it as "bursting with humor, heart, and a profound message of acceptance and finding one's place." Oscar-nominated actor Hugh Jackman will lend his voice to the film, along with Zoe Saldana (Guardians of the Galaxy) and Zach Galifianakis (The Hangover, Birdman).
LAIKA animation studios is owned by Nike co-founder Philip H. Knight and is run by Travis Knight. The company was awarded a Scientific and Technology Oscar for its innovation in 3D printing in 2016. The pioneering animation studio is best-known for its 2009 film Coraline, which not only earned an Oscar nomination for Best Animated Feature, but also was listed on AFI's Top 10 films of the year. Most recently it produced the Oscar-nominated 2016 film Kubo and the Two Strings, which earned nominations for Best Animated Feature and Best Visual Effects.
Ellison said of Annapurna's new collaboration, "We're excited for the opportunity to collaborate with Travis and the amazing team at LAIKA. We appreciate their trust and look forward to having some fun together." Ellison is one of the most prominent and influential producers in the industry, one who became a major power player at a very young age. The 32-year-old producer became the third person in history (and the first woman) to receive two Oscar nominations for Best Picture in the same year in 2013 with American Hustle and Her. She most recently produced Phantom Thread, earning herself another Oscar nomination.
Annapurna has many projects on deck, including Boots Riley's directorial debut Sorry to Bother You, a The Sisters Brothers adaptation, Richard Linklater's adaptation of Maria Semple's Where'd You Go, Bernadette with Cate Blanchett, the untitled Miranda July project and Adam McKay's Dick Cheney project, Backseat, starring an unrecognizable Christian Bale as Cheney, along with Amy Adams.