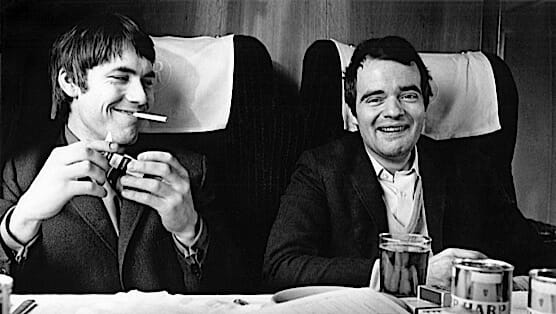 First things first: If you're a fan of The Who, you're going to love Lambert & Stamp. I've loved them for about as long as I can remember, probably since about 1977, and Lambert & Stamp was loaded with stuff I hadn't heard. That said, there's absolutely no reason you need to be a fan to connect to this film. In fact, it's not really about the band. Well, it is but it isn't. It's about Kit Lambert and Chris Stamp and how they tapped into key elements of the Mod subculture in post-war London and discovered—some might say created—The Who. On the other hand, it most certainly is a film about The Who, since by all accounts, the two parties were part and parcel of each other.
What Lambert & Stamp most definitely is, however, is an affectionate, rough-and-tumble and occasionally deeply sad story about the partnership of two immensely creative people and how a chance meeting at Shepperton Studios combined with a rather far-fetched idea about making a film about a band, changed the course of Rock 'n' Roll.
Lambert and Stamp met while working as assistants at Shepperton, but had come to the arts by completely different paths. Stamp as a stagehand at the ballet (a job suggested by brother Terrence, since the younger Stamp had stated that his only real interest in life was girls and Terrence reasoned that the ballet was a great way to meet them) and Lambert as the child of wealthy artists.
As club owner and Who insider Richard "Barney" Barnes says in the film, Lambert and Stamp were like "chalk and cheese": Stamp was the working-class son of a Thames tugboat captain and is described by his elder brother, actor Terrence Stamp, as a "rough, tough, fighting spiv (petty criminal)," while Lambert was the upper-class son of a famous symphony conductor. Stamp was a Cockney, with an accent and manner to match, whereas Lambert was multi-lingual, smartly dressed and Oxford-educated with a posh London sound. Not only that, but while Chris was admittedly girl crazy, Kit was gay at a time when homosexuality was still illegal in the UK and very much in the closet.
Lambert & Stamp is as much about the combination of these two visionaries as it is about The Who. Individually, the pair were certainly smart and ambitious, but together, lightning struck. Terrence Stamp referred to their combination as being "like two and two make six" and indeed the sum was greater than the whole.
It also helped that they seemed to have personalities that were instantly likable. Early in the film, Pete Townshend says "I fell in love, I mean literally, with both of them immediately … they completely and utterly, the pair of them, totally changed my life," while Roger Daltrey remarks that "Kit was the only posh guy I'd ever spoken to that was actually interested in me and wasn't talking down to me." It was clear that the pair had a rapport with their young discoveries and in fact, Stamp was only a few years older than the band members. (Lambert was still only 29, though that would have made him like grandpa to most of the Mods in the scene.)
A visually intriguing mix of current interviews, archival and stock footage, Lambert & Stamp benefits greatly from the footage shot by the pair in the mid-to-late 1960s. Director James D. Cooper smartly layers music, mostly The Who, appropriate to the era underneath much of the film, giving it a sort of sonic through-line.
While Lambert died a very early death in 1981 as a result of a fall, there is quite a bit of archival footage of him (in three languages, even) in the film to at least give the audience a partial idea of who the man was. Alas, that is not the case with drummer Keith Moon, who died in 1978, and bassist John Enwistle, who passed away in 2002. While it's always great to listen to Townshend discuss his music, his passionate comments about Enwistle's genius and how Moon was much more than a drummer make it clear that the two of them would have had much to add to this story.
Lambert and Stamp themselves were an odd mixture of P.T. Barnum, con men and true artistic dreamers. In one memorable stretch, Stamp describes how they managed to move into a flat on Eton Road in fashionable Belsize Park, thereby increasing their credit rating so as to be able to get goods and services delivered on credit and bank accounts with large credit lines. All the while, Stamp was working on film sets all over the world and sending his £80 weekly salary back to London, so that they could pay the band £20 each per week. In fact Townshend claims that to this day he has a house account at a London wine shop for which he has never paid a dime, even after asking for the bill.
Lambert & Stampwill be of particular interest to anyone curious about the evolution of bands, both as musicians and individuals. Personally, The Who were about as disparate and fractious as can be, constantly on the verge of splitting up and not at all above the odd fistfight. At one point, Townshend remembers that to save the band, Roger had to be convinced to stop hitting people to solve disagreements.
As for Townshend, while he wasn't the band's front man, Lambert and Stamp quickly realized that he was The Who's musical driving force and plucked him out of "art school squalor" and put him up in their posh pad in Belsize (much to the chagrin of Roger, who was sleeping on the band's office couch).
Even though they reconciled in later years, the professional relationship between Lambert and Stamp and The Who ended as so many in rock and roll do: in acrimony, lawsuits, addiction and in Lambert's case, an early death. The story of Lambert, Stamp and The Who is one of serendipity writ large. While one might claim that Daltrey, Townshend, Moon and Entwistle would have been discovered by someone else and The Who would still have come into creation, Cooper's film makes a case for that not being so. It's clear that The Who weren't yet The Who, and it's easy to see that they might never have found their potential as a band, were it not for Kit Lambert and Chris Stamp.
Director: James D. Cooper
Starring: Chris Stamp, Kit Lambert, Pete Townshend, Roger Daltrey, Terence Stamp, Heather Daltrey, Richard Barnes, John Hemming, Irish Jack, Robert Fearnley-Whittingstall
Release Date: April 3rd (NY/LA)
---
Mark Rabinowitz is a veteran writer and critic, co-founder of Indiewire.com, and regular contributor to Paste. You can follow him on Twitter. He likes cheese.