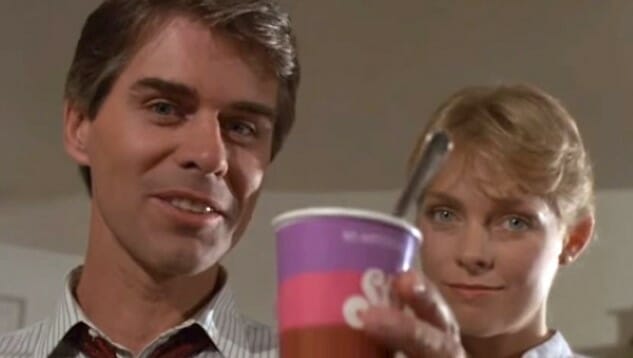 This weekend we received news that classic 1980s horror filmmaker Larry Cohen has passed away at the age of 77. Cohen was responsible for writing and directing a number of horror films that went on to be regarded as cult classics of the genre, and continued on working into the mid-2000s, when he was dubbed a "Master of Horror" in the classic Showtime anthology series.
Commercially, Cohen was perhaps best known for Q – The Winged Serpent and It's Alive, a 1974 shocker about a killer, mutant baby on the loose, but to horror geeks he's likely most fondly remembered for 1985's The Stuff. That film, which pictures a dystopian future wherein all of humanity is being taken over by a mind-controlling tub of delicious, white ooze, contains much of the same anti-corporate satire and wit found in the likes of George Romero's Dawn of the Dead, in addition to being gross as hell. If you've never seen The Stuff, it's an essential moment in mid-1980s horror that is still occasionally overlooked.
Cohen was also known for screenwriting a number of other notable projects, including the Bruce Campbell-starring Maniac Cop in 1988, and a slew of other horror films such as A Return to Salem's Lot or Body Snatchers. In the 2000s, he wrote such thrillers as Phone Booth and Cellular.
Cohen's career was ultimately immortalized via the documentary King Cohen: The Wild World of Filmmaker Larry Cohen, which is currently available to stream on Shudder, wherein he received praise from the likes of fellow filmmakers John Landis, Martin Scorsese and Joe Dante. We leave you with the tribute of a trailer to Cohen below.