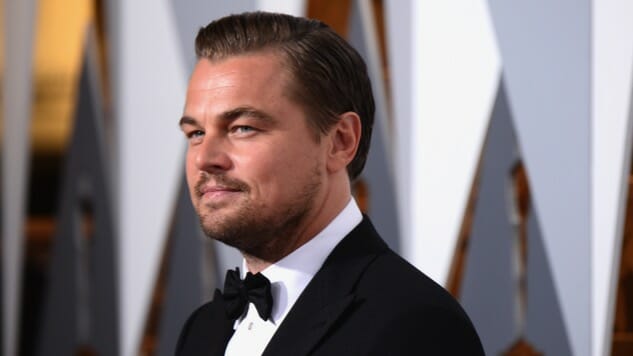 Well, it sounds like Quentin Tarantino has locked up the star for his upcoming ninth feature film. Deadline is reporting that Leonardo DiCaprio has officially come on board the still untitled movie from Tarantino, set in 1969 L.A. during the summer of the Manson Family murders. It will be a reunion of the pair, as DiCaprio memorably starred as the crazed plantation owner Calvin Candie in Tarantino's southern slave epic, Django Unchained. Sony has reportedly set an Aug., 2019 release date for the new film.
This will actually be the first film for DiCaprio since finally winning his Oscar for 2015's The Revenant, suggesting the veteran actor has either been taking some well-earned time off or waiting for a big role to follow the crowning achievement of his career. He seems to have found that in Tarantino, playing "an aging actor" in an L.A. story that has consistently drawn comparisons to the director's earlier Pulp Fiction.
We can expect that with DiCaprio announced, other casting will soon be falling into place. It has previously been reported that Tarantino was seeking Margot Robbie for the role of Sharon Tate, and Deadline previously reported that the director was also pursuing Brad Pitt (a perennial Tarantino favorite) and Tom Cruise, who he's never worked with before. If he can get them all, this untitled film would boast one hell of an all-star cast.
More details will presumably arrive in the not-too-distant future.