The Super Bowl TV Spot for Logan is All Grit and "Grace"
Images via 20th Century Fox/YouTube
Movies
Video
Logan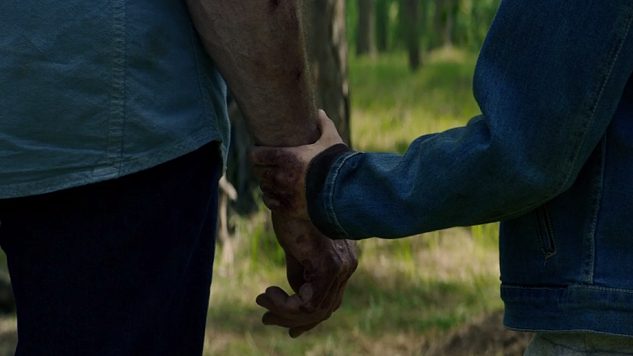 The results of last night's crazy Super Bowl were divisive, to say the least, but if there's one thing we can all agree on, it's that excitement for Logan has been turned up to 11 following the TV spot that aired between stretches of nail-biting football.
The trailer doesn't present much new footage, but what we've seen has been repackaged in a fresh and mesmerizing way. For this latest teaser, the ace marketing team for the forthcoming Wolverine solo film have replaced Johnny Cash's "Hurt" and Kaleo's "Way Down We Go" with "Amazing Grace," whose iconic serenity is used to provide an ironic contrast to the savagery onscreen. As Wolverine and his protégé slice and dice their way through waves of armed-to-the-teeth baddies, the music grows increasingly ominous, partially as a result of the way in which the tune builds toward a high-intensity climax not present in the original song, and partially because, in one sense, it is clear that the ruthless, lawless world of the film is the furthest thing from a place of grace.
In another sense, however, the concept of grace seems potentially fitting for Logan, or at least what we know about it. Based on the trailers that have been released thus far, it looks like our hero's grizzled, alcohol-swigging older self just might be saved from his self-loathing and disillusionment (the latest trailer suggests these emotions through syncing up the lyrics "[wretch] like me" with a shot of Logan's hand) by the mutant girl, who could potentially become the family that he feels he doesn't deserve (also within the "[wretch] like me" shot, we see the girl taking his wrist in a gentle gesture of intimacy).
On a totally different note, let's hope that "amazing grace" will come to describe the action scenes in this film, which, despite being certified vicious (Logan's hard R rating foretells "strong brutal violence"), would also certainly benefit from some elegant choreography.
Check out the TV spot above, find the film's previous trailers here and mark your calendars for March 3.