The Bald Truth
Mad Max: Fury Road and other movies with female actors with shaved heads
Movies
Lists
In this summer's Mad Max: Fury Road, we are promised sandstorm action of the post-apocalyptic industrial junkyard variety—and Charlize Theron with a shaved head. In 2012, when Theron stepped out with a buzz cut, the press and public acted as expected: with shock and awe. After seeing the first trailer for George Miller's fourth installment of the Mad Max franchise (in theaters May 15), it's kind of expected that she would don a drastic change as Imperator Furiosa—she even has a crazy prosthetic arm. I guess people will never get used to beautiful women going bald for movie roles—or shaving their head in general. That said, here is a timeline of women who shaved their heads (or a variation thereof) for a movie role.
---
Maria Falconetti as Jeanne d'Arc in The Passion of Joan of Arc (1928)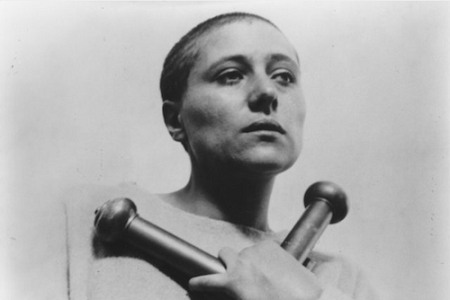 Honorable mention to Milla Jovovich for going short for the same role in The Messenger – The Story of Joan of Arc, but Maria Falconetti's portrayal of the title heroine was not only one of the most remarkable performances in the history of film, but a milestone in cinema. She is the almighty Godmother of shaved-head acting.
---
Maggie McOmie as LUH in THX-1138 (1971)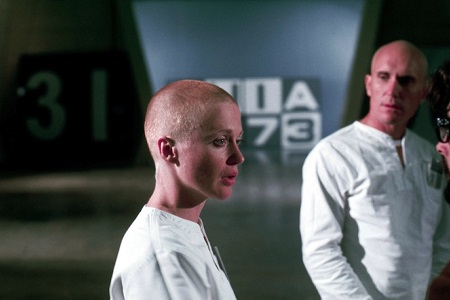 In George Lucas's feature film debut, he wanted everyone's head to be shaved. Everyone. No ifs, ands, or butts. And in this video, you will see actor Maggie McOmie go through a very ceremonious, albeit traumatic head shaving ritual.
---
Persis Khambatta as Lieutenant Ilia in Star Trek: The Movie (1979)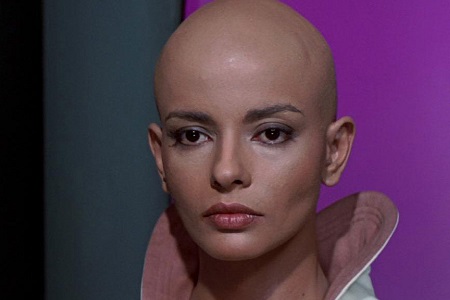 A former Miss India and Miss Universe contestant, Persis Khambatta turned heads as a bald Deltan alien in the first Star Trek movie. The initial hair-shedding was reportedly a tearful event, though she softened to the harsh look upon seeing how finishing powder, after being applied to her bare scalp and face, accentuated her features.
---
Sigourney Weaver as Ellen Ripley in Alien 3 (1992)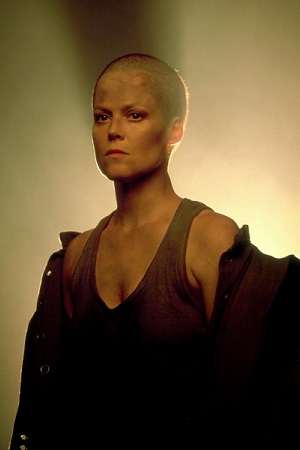 One of the first things out of director David Fincher's mouth when he met Sigourney Weaver was, "Shave Ripley's head." She was game. It brought about a different, dystopian vibe to the third installment of the popular sci-fi franchise.
---
Robin Tunney as Debra in Empire Records (1995)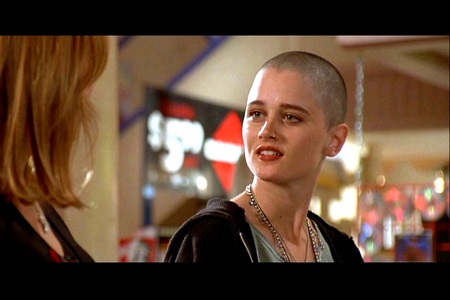 In a liberating moment of an essential '90s movie, the troubled and fearless record store employee Debra goes into the bathroom and shaves it all off. It's an empowering "fuck you" moment, and one that matches her personality.
---
Lori Petty as Tank Girl in Tank Girl (1995)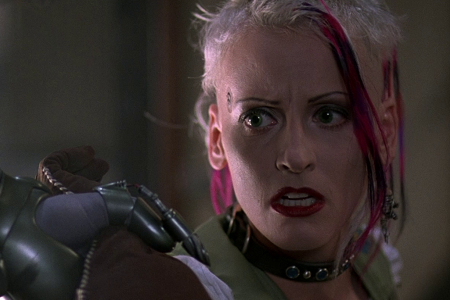 Lori Petty didn't go full buzz cut for the movie based on the cult British comic. Instead, she let the clippers run wild to achieve a multicolored punk look with uneven lengths of hair. It seems like Petty favored the short look; to this day, she rocks a cropped head of hair as seen in Orange is the New Black.
---
Demi Moore as Lt. Jordan O'Neill in G.I. Jane (1997)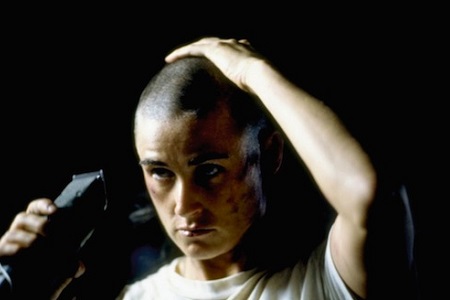 Demi Moore shaved her head for her role as O'Neill, the first woman to be enrolled in a Navy SEAL-esque program that requires a grueling amount of training. When Moore did so, the world practically had an aneurysm because a year before this movie, she was flailing her long locks while dancing on a pole in Striptease—a total 180 from this more rugged role. In the end, it worked well—especially when she screamed "Suck my dick!" to Viggo Mortensen's character.
---
Toni Colette as Sister Concordia in 8 1/2 Women (1999)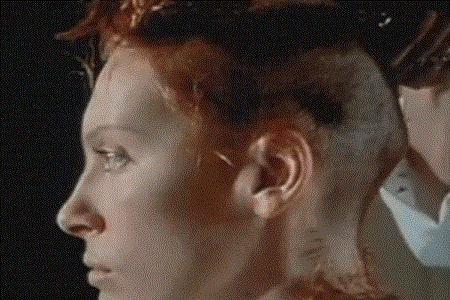 In this Fellini-inspired indie dramedy about a harem, Toni Colette played a nun who shaved her head. This wouldn't be the only time Colette would go bald. She recently shaved her head again for an upcoming role in Miss You Already with Drew Barrymore.
---
Cate Blanchett as Philippa in Heaven (2002)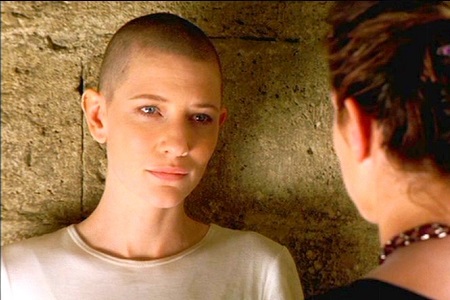 There is something fascinating and eerie about the scene in Heaven during which Blanchett gets her head shaved. She went bald for the thriller and has gone on record many times saying she would do it again.
---
Samantha Morton as Agatha in Minority Report (2002)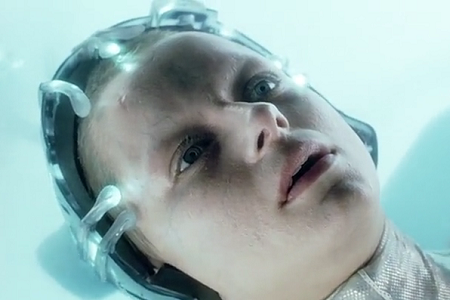 Before Minority Report, Samantha Morton enjoyed great acting success in period dramas, independent films, and even snagged an Oscar nod for her role in Woody Allen's Sweet and Lowdown. With Stephen Spielberg's sci-fi thriller, Morton found commercial success as Agatha, a psychic precog with a heart of gold and a shaved head.
---
Natalie Portman as Evey in V For Vendetta (2005)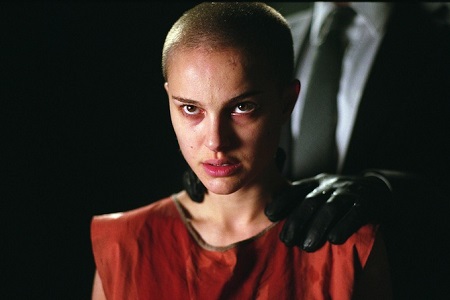 Natalie Portman's head was shaved in one take during V For Vendetta. Then again, it's that kind of take where if you don't get it the first time, you're kind of screwed. Portman told USA Today that it wasn't the fact she was losing her hair that was stressful, it was that they had to do it in one take.
---
Meg Ryan as Sarah Hardwicke in In the Land of Women (2007)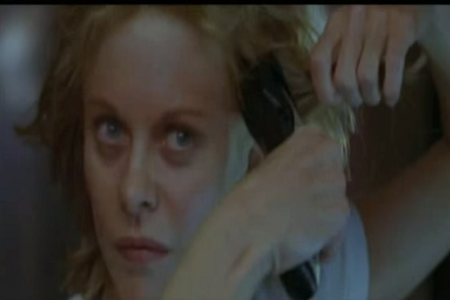 Ryan plays a mom who's in a bizarre love triangle with her daughter, then finds out she has cancer. In the quintessential "take control" scene, she shaves her head, but apparently the whole thing was just staged to make it seem that way. To this day it remains among the many mysteries of cinema.
---
Cameron Diaz as Sara Fitzgerald in My Sister's Keeper (2009)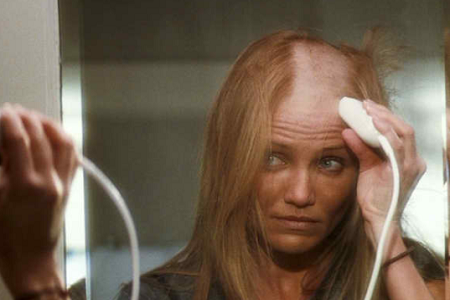 This tear-jerking cancer movie is another case of "Did she or didn't she shave her head?" Turns out she didn't. It may look like Cameron Diaz Kojaked her cranium, but she did go on record saying she didn't because they only needed her to be bald for one day; she didn't really see the need.
---
Rooney Mara as Lisbeth Salander in The Girl with the Dragon Tattoo (2011)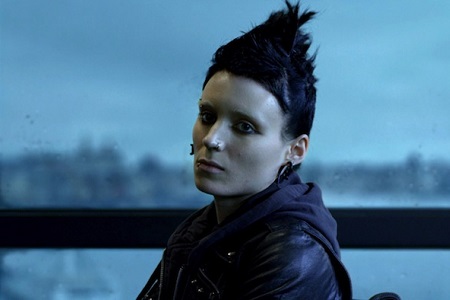 For the American version of the Swedish film based on the Swedish novel by Stieg Larsson, actor Rooney Mara went through an extreme makeover to establish the Goth punk look of the movie's heroine hacker, Lisbeth Salander. She was pierced, tatted and de-eyebrowed. Although her head wasn't completely shaved, it was buzzed in all the right places, transforming her into a totally different person.
---
Anne Hathaway as Fantine in Les Miserables (2012)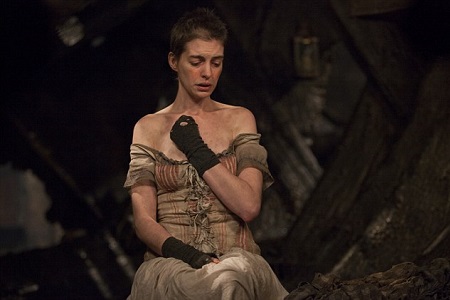 In Les Miserables, Anne Hathaway played a single mother who is treated like garbage while working at a factory, from where she is forced to quit. She enters a life of prostitution, sells her teeth and her hair, only to be rescued by a man who, while she is on her deathbed, promises to take care of her child. Lesson learned: prostitution shaved head = Academy Award.
---
Karen Gillan as Nebula in Guardians of the Galaxy (2014)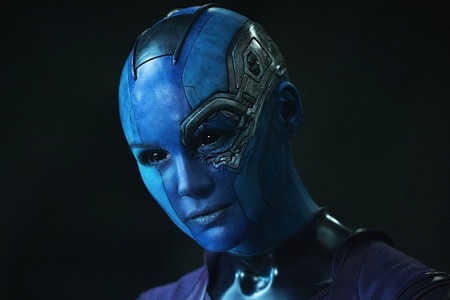 When Karen Gillan stepped out on the stage at Comic-Con in 2014 for Guardians of the Galaxy, she had a head full of hair—but it was all a farce. During the panel, she ripped off her wig and threw it into the audience to expose a fully shaved head for her role as Thanos's second favorite daughter.