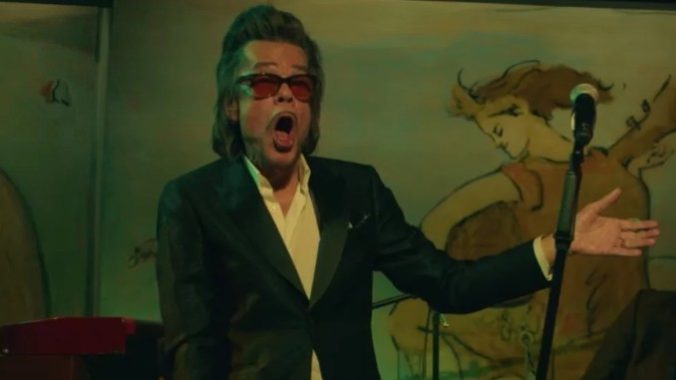 Many documentaries about artists take the form of an extended excavation, a journey to the core of a creative being that seeks to explain the driving force behind the act of creation. At their best, films of this kind can achieve an extraordinary sense of intimacy and understanding. At their worst, they can transform a towering creative mind into an unsettling open wound, more a collection of psychological conditions than a person. 
David Johansen was never interested in that kind of documentary. It's clear from the opening minutes of Personality Crisis: One Night Only, the new chronicle of Johansen's life and work from Martin Scorsese and David Tedeschi, that Johansen seeks to preserve what he calls an "incomplete picture" of his life and work, and it's up to the filmmakers to make that fragmented view into something exciting. On some level, this simply means letting the work speak for itself, which is why the resulting Showtime documentary is packed with performance footage, but there's something else going on here too. Rather than keeping their distance from Johansen, or letting him push their cameras away, the filmmakers keep an earnest, tight focus not on who Johansen "really" is, but on what he's willing to show and tell us. Personality Crisis: One Night Only retains the impish mystery surrounding one of rock's most underrated frontmen while building a beautiful and slightly abstracted portrait of a man in a constant state of transformation. 
Johansen, you see, is many things. As a founder and lead singer of the New York Dolls, he is a punk and glam rock Founding Father, though he'd probably tell you he never intended to be. As a lover of blues, folk and R&B, he's a pop archivist and raconteur keeping the old rhythms and songs alive. As a radio host on his Mansion of Fun show, he's somewhere between a curator and a preacher, guiding listeners through meditative monologues and eclectic sounds. And of course, as over-the-top lounge singer Buster Poindexter, he's the guy who sang "Hot Hot Hot" (a one-hit wonder that he can't stand now), and so much more.
Personality Crisis: One Night Only touches on each of these aspects of Johansen's life and work, but much of the film is centered on the blurred line where Johansen and Poindexter meet. Scorsese and Tedeschi filmed most of the documentary in January of 2020, shooting Johansen's live show at the Cafe Carlyle in New York City as he performed David Johansen classics through the lens of Buster's aging lounge lizard persona, creating a ready-made contrast that's gripping and seductive all on its own. In the performance footage, shot with palpable warmth by Ellen Kuras and cut with Tedeschi's fine-tuned documentarian eye, Johansen sips drinks, banters with his audience (which includes fellow pop culture luminaries like Debbie Harry and Penny Arcade), and delivers intimate new arrangements of Dolls hits, R&B standards, and a few more unexpected song choices. The performance, and the ease with which Johansen commands his stage, is at turns fascinating, hilarious and heartbreaking, and it's easy to imagine a version of this film that's just two hours of unbroken live footage. 
But even as Johansen melds his own performance persona with Poindexter's—a character he created, he says, because Buster can do and say things he just can't—Scorsese and Tedeschi are well aware that it's not the full measure of who Johansen is and what he's capable of doing. So, the performance pieces are broken up with archival footage of Johansen performing with the Dolls, with his band the Harry Smiths, and with Buster's legendary pompadour and bowtie during the character's 1980s heyday. Those clips are then, in turn, intercut with footage shot by Johansen's stepdaughter, the writer and performer Leah Hennessey, who interviews him at home about everything from the religious illustrations which adorn his lyric books to his days moving through the avant-garde scene in New York in the 1960s and 1970s. 
Just as they did with their work documenting fellow New York icon Fran Lebowitz (who, incidentally, shared with Scorsese her own vivid memories of seeing the Dolls live), Scorsese and Tedeschi do not set out to pass judgment on Johansen's life and work, or even to elevate one phase of his career above another. Their portrait of the man is broad, empathetic and geared toward depicting what Johansen wants the world to know about his life and work. But that doesn't mean there's no point-of-view. The documentary is careful to point out the sadness in Johansen's life, the many deaths that have befallen his friends (he's the last surviving original New York Doll) and the shortfalls that come from a career of what he calls "schlepping" from gig to gig while never quite hitting superstardom. There are no moments of pointed and aggressive interrogation in this film, but Personality Crisis still has questions: Is Johansen bitter that other punk bands stood on his shoulders to win many more fans and a lot more money? Does he feel misunderstood? Does he regret the more chameleonic phases of a career that could have coasted on his punk godfather street cred for decades? After years of shapeshifting, who is he now?
The answers are not simple, and Johansen doesn't want them to be simple. Watching Personality Crisis, you get the sense that his pursuit of the "incomplete picture" of who he is and what he does is not just deliberate, but part of a larger search for meaning that he'll keep chasing until he dies. There's an innate understanding of this concept, and even a comfort, in every word he speaks, every song he sings, even in the most bittersweet moments. Scorsese and Tedeschi understand it too, and that same level of comfortable wondering comes through in each frame of the film, creating a portrait of an artist who's spent decades creating himself, and still has more to give.
Director: Martin Scorsese, David Tedeschi
Release Date: April 14, 2023 (Showtime)
---
Matthew Jackson is a pop culture writer and nerd-for-hire who's been writing about entertainment for more than a decade. His writing about movies, TV, comics, and more regularly appears at SYFY WIRE, Looper, Mental Floss, Decider, BookPage, and other outlets. He lives in Austin, Texas, and when he's not writing he's usually counting the days until Christmas.