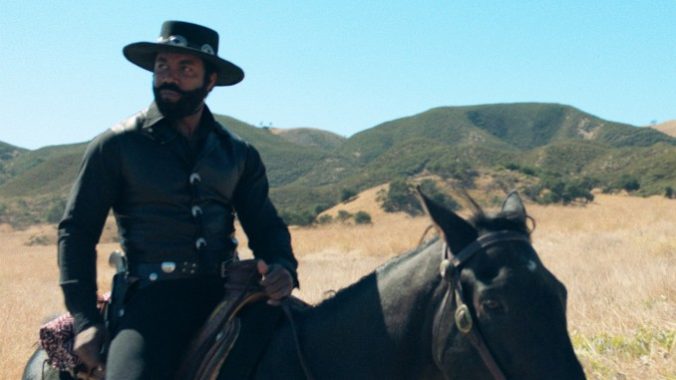 Those expecting Michael Jai White's Outlaw Johnny Black to be a spur-jangling Black Dynamite should recalibrate their expectations. Frankly, Outlaw Johnny Black is an apprehensive comedy with an identity crisis. Throughout the indulgent two-hour-plus duration, White and co-star/co-producer/co-writer Byron Minns bounce between lighthearted goofball shticks and straightforward gunslinger storytelling that forgets its comedic roots. There's no sustained level of silliness, which makes pops of exaggerated physical humor feel out of place—worse when stunt casting and flat observational jokes are met with crickets. Somewhere between The Harder They Fall and Blazing Saddles sits Outlaw Johnny Black, which seems happy enough to exist (given its tumultuous path to screen), but struggles to do so with crackshot precision.
White trades furious roundhouse kicks for deadeye marksmanship as Johnny Black, positioned as a Blaxploitation hero in the Wild West. He's a renegade hellbent on vengeance against Brett Clayton (Chris Browning) for killing his preacher daddy, but plans go on hold when Johnny ends up in Hope Springs impersonating Reverend Percy (Byron Minns). Johnny only wants to maintain the charade of sermons and blessings until the town's bank reopens and he can skedaddle with the church's savings, but trouble in Hope Springs might rewire the hardened outlaw's moral code. The good people of Hope Springs don't deserve to have their homes stolen by greedy land baron Tom Sheally (Barry Bostwick), whom Johnny places in his crosshairs.
You can tell how often White sought inspiration from Blazing Saddles (e.g., direct recreations, like Mongo K.O.'ing a horse), which reads like Keenen Ivory Wayans doing Mel Brooks. Sometimes Outlaw Johnny Black's satirization is exceptional, on par with I'm Gonna Git You Sucka, and other times, it's misfiring as limply as Little Man. None of the Native American scenes featuring comedians like Russell Peters and Paul Rodriguez dressed as Indigenous peoples express their comedic intentions very well, which feel like workshopped sight gags still in their infancy. Observational and history-driven roasts about racism and colonization aren't as zippy or laugh-out-loud noteworthy as in Black Dynamite, playing safe in what could've been a gunsmoke-heavy exploitation hootenanny.
White is unsurprisingly charismatic, translating his undefeatable badass attitude into an outlaw who sees the folly of his obsession and fakes his way into commanding a congregation. While White's horseback riding posture might look novice, Johnny Black is a natural fit for his take-no-guff steeliness. Whenever White can blend martial arts expertise into scenes where he's backhand-slapping and pistol-whipping scoundrels who can't keep up with his swift movements, Outlaw Johnny Black hits its champion tone. Head composer Michael Bearden's soul-funky score unites with White's anti-establishment swagger and becomes everything we'd expect from White's take on a lawless America from a satirical Black perspective. It's funny, chippy and lets White lovingly poke fun at generations of whitewashed spaghetti Westerns—albeit inconsistently.
A significant difference between Black Dynamite and Outlaw Johnny Black is the impact of the entire ensemble. Frequent collaborators Tommy Davidson and Kym Whitley feel underutilized as humble townsfolk, and comedically restrained since the decision to let humor take center stage changes with the wind. That's not to say White, Minns and other more prominent players fail—Anika Noni Rose and Erica Ash stand out as vastly more than love interest damsels. It's how the film's 130-minute runtime somehow finds less memorable usage for the likes of Davidson or Barry Bostwick as the intentionally prototypical Caucasian villain than in all 84 minutes of Black Dynamite. Production design suffers similarly, given how White's budget isn't gold-rush-rich, which becomes more and more noticeable as handmade props and explosion effects are required. The ambition is admirable but also a hindrance with such grand designs, and while the low-budget aesthetic honors dustbowl Western reverence, it's far less successful with its repetitive Wild West backdrops.
Outlaw Johnny Black struggles to meet the hype of being a spiritual follow-up to the hilarious Black Dynamite, doubly so if you've been tracking the team's tireless efforts to get this film into theaters. White's direction wavers between shooting too straight and yucking too slapstick, with hardly any control over the pacing between elements. That said, Outlaw Johnny Black is an otherwise charming ode to Black-led Westerns of the Fred Williamson and Jim Brown era through costume design and cameos—and that's what's so frustrating. Is the film a parody or revitalizing the canon? I'm not sure White ever cracks his own film's code, but you can tell he's passionate about whatever Outlaw Johnny Black becomes. That conveyance elevates what could have been an even messier modern Western with throwback appeal.
Director: Michael Jai White
Writer: Byron Minns, Michael Jai White
Starring: Michael Jai White, Anika Noni Rose, Erica Ash, Byron Minns, Kym Whitley, Tony Baker
Release Date: September 15, 2023
---
Matt Donato is a Los Angeles-based film critic currently published on SlashFilm, Fangoria, Bloody Disgusting, and anywhere else he's allowed to spread the gospel of Demon Wind. He is also a member of the Hollywood Critics Association. Definitely don't feed him after midnight.