Mickey Rourke to Star in Horror Anthology Nightmare Cinema
Photos by Kevin Winter/Getty, Frazer Harrison/Getty
Movies
News
Mickey Rourke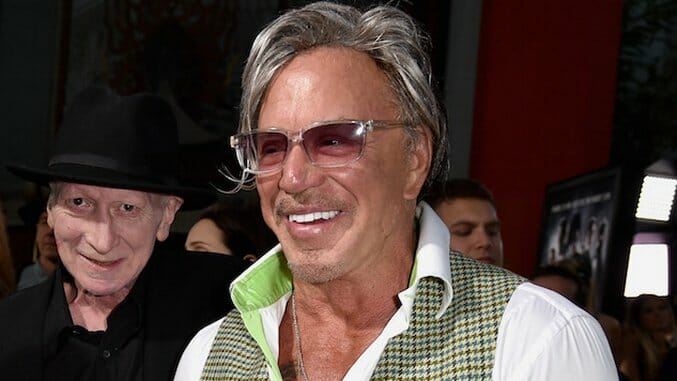 Horror anthologies are all the rage now, from long-form shows like The Twilight Zone to more modern fare like American Horror Story. Now, per EW, we'll be getting another such anthology in the form of five short films, named Nightmare Cinema. The anthology movie stars Mickey Rourke, with the premise centering around "the decrepit Rialto Theater," where the fears of the audience members are brought to life on the big screen.
Depending on the creative players involved, anthology films can be hit-or-miss, with recent attempts like The ABCs of Death, a collection of 26 shorts, being an eclectic mix with jarring tonal shifts. Nightmare Cinema is much more disciplined, and will include directors like Joe Dante (Gremlins) and David Slade (30 Days of Night, episodes of Hannibal). Directors Mick Garris (Showtime's Masters of Horror, Alejandro Brugués (Juan of the Dead) and Ryuhei Kitamura (Midnight Meat Train) round out the rest of the directing roster.
Garris will produce the film, and will present footage of the film at the Son of Monsterpalooza convention in Burbank, Calif. And while no release date has been announced, there are intentions to bring the concept to television (if you don't have horror anthology fatigue at that point), also under the title Nightmare Cinema.