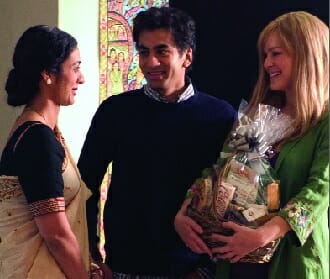 THE NAMESAKE
Based on the book by Pulitzer Prize-winning novelist Jhumpa Lahiri, The Namesake traces the slow, stilted assimilation of a couple who immigrate to New York City from Calcutta in the late 1970s, bear two children, snag a Volvo and split-level ranch in the suburbs, and watch powerlessly as their children inch further and further away from their rich Bengali tradition. Director Mira Nair (Monsoon Wedding, Mississippi Masala) expertly captures the devastating alienation endured by immigrants, lingering on the harsh, awkward process of learning a new culture: Ashima (the stunning Tabu) and Ashoke Ganguli (Irfan Khan) are bound by an arranged marriage, and Ashima's ?rst few months in wintry Queens—which ?nd her unsure of both her new husband (who teaches at a university) and the foreign culture swirling around her—are heartbreaking.
When their son is born, Ashoke names him "Gogol," a complex homage to both the Russian author and Ashoke's own ingrained appreciation for global culture. Gogol (Kal Penn) comes of age in the American suburbs, smoking weed, air-drumming to Pearl Jam and taping R.E.M. posters to his walls—so it seems inevitable when he rejects his given name (switching, initially, to his "good" Indian name, Nikhil, and then, unavoidably, to Nick), studies architecture at Yale and dates an Upper East Side art student (Jacinda Barrett), slipping easily into her family's privileged, J. Crew-catalog existence.
While Tabu and Khan give moving, nuanced performances, Penn—better known for wincing his way through turd-joke gems Harold and Kumar Go to White Castle and Van Wilder 2: The Rise of Taj—struggles with the intensity of Gogol's narrative. Although he enjoys tiny moments of gravity, Penn's performance is mostly one-dimensional, and a handful of scenes feel preposterously staged (during a scrap at a train depot, Gogol's girl inadvertently mentions the name of her extramarital lover, and Penn forgets to let his face make the narrative leap from "Pierre" to "affair," making their entire brawl feel both unwarranted and strange).
Nair understands the staggering sensory gap between Calcutta and New York—the colossal time difference, frosty New York versus balmy India, the food—and production designer Stephanie Carroll employs two distinct color palettes (New York is rendered in shades of gray and chrome, Calcutta in orange and gold) to emphasize distance. Accordingly, bridges also play a pivotal role in the ?lm, featured prominently in birth and death scenes, re-emphasizing The Namesake's deep sense of movement and journey. Lahiri's novel, already essential reading for anyone stuck in an unfamiliar place, is honestly and earnestly rendered here, and The Namesake will resonate with anyone who's ever felt the crush of a compound identity.