From AM to FM to XM, pirate, network or syndication, the radio DJ of film yore is a righteous multitasker. They can make a band(width) and break a heart, fight The Man and rally fans. A disembodied construct of charisma and catchphrase, their realm hums with a certain romance, an intimacy. Callers give their first name; listeners must bend the antenna just so, get the needle at justtheright position on the illuminated dial or resign themselves to an evening of static. And—hooray for tropes!—the DJ also functions in classical, Shakespearean and/or psychoanalysis-begging fashion: Greek chorus, conscience, court jester, prophet, ego, id, etc. Sometimes they play cupid—even Cyrano de Bergerac, in the case of The Truth About Cats & Dogs' Abby (Janeane Garofalo). They even play a song or two.
So tune in, put the headset on, turn the volume up. A pre-podcast, pre-mobile app history lesson is on the flip side of a word from our sponsor. In selecting the 11 (yes, 11) titles that follow, we've ruled out documentaries like Scratch and Modulations. We omitted the club DJs and turntable maestros of Hustle & Flow, It's All Gone, Pete Tong and the House Party movies. A curious pair of Cleavon Little-starring flicks, the aforementioned FM and road movie Vanishing Point, didn't quite pass muster. (We also nixed the witch/radio host in Rob Zombie's Lords of Salem because, for starters, it lifts shamelessly from No. 11's Stevie Wayne.) And sorry, Airheads fans, close, but no Buscemi.
To kick things off, lend an ear to another DJ who didn't quite make the cut, so to speak: the unnamed voice of K-BILLY radio (Steven Wright) from Reservoir Dogs (1992). Lord knows, that Marvin Nash fella couldn't.
---
11. John Carpenter's The Fog (1980)
DJ: Stevie Wayne (Adrienne Barbeau)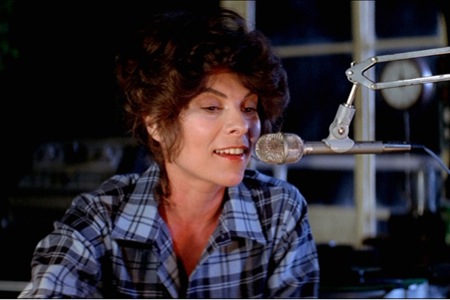 Horror royalty Adrienne Barbeau (Creep Show, Swamp Thing, Someone's Watching Me) makes her feature film debut as a witching hour DJ in a sleepy fishing town on the California coast. Modeled after influential radio personality Alison Steele, aka the Nightbird, Barbeau's Stevie Wayne cautions listeners of a murderous mist (apparently that's a thing) that brings with it vengeance for a 100-year-old sin. Barbeau—then married to the film's eponymous writer-director—isn't the only scream queen here: Jamie Lee Curtis makes her second appearance in a Carpenter movie, just two years after her breakthrough in the original Halloween, alongside her mother, Janet Leigh, not to mention Hal Holbrook and John Houseman. As far as typically slow-moving meteorological conditions go, this is pretty scary stuff, heavy on mood and relatively light on gore, with Barbeau's smokey-voiced forecaster upping the atmospheric ante. (Selma Blair stepped into the booth for a 2005 remake.)
---
10. Pontypool (2008)
DJ: Grant Mazzy (Stephen McHattie)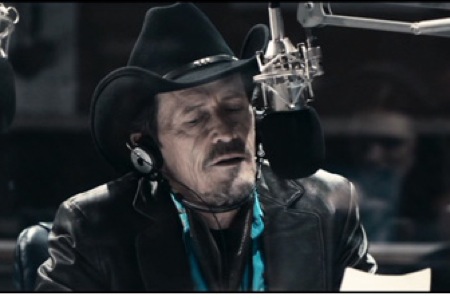 The power of the DJ gets super meta in largely bloodless, verbal thriller Pontypool, wherein the spoken word infects residents of a small Ontario enclave, reducing them to babbling zombies. On a blizzard-stricken Valentine's Day morning, leather blazer and black cowboy hat-wearing host Grant Mazzy (Stephen McHattie) swigs scotch, talks seasonal affective disorder and antagonizes his producer with his blowhard antics—that is, until he starts to believe a traffic reporter whose field accounts grow increasingly odd. It seems area citizens have begun repeating random words and phrases, followed by an appetite for something less … rhetorical. The semantic fright mounts as the DJ, now quarantined in a church-turned-radio station, attempts to reverse the toxic effect of language by changing its meaning—"Do not translate this message," he echoes in disbelief after the fact. Also produced as a radio play (another nod to Orson Welles' "War of the Worlds"), Pontypool is a tight little mindscrew, led by McHattie's dynamic performance and a cold yet visceral style that adds to the dread.
---
9. Private Parts (1997)
DJ: Howard Stern as himself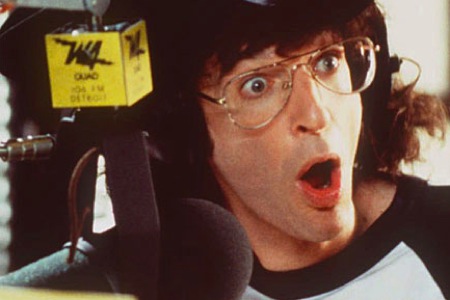 Documentaries were omitted from this list, so including the autobiographical fictionalization (or is that fictionalized autobiography?) of the perennial shock jock's rise to fame blurs lines, sure. But if ever there were an instance of a person portraying a persona, it's self-anointed "King of All Media" Stern playing himself here, almost a decade before he made another ballsy, pioneering move by jumping from the land-based dial to Sirius Satellite. What is most pleasantly surprising, though, is the sincerity and heart director Betty Thomas coaxes out of her leading man, as offensive as he is self-deprecating. With Stern decked in a barrage of laughable wigs, and wielding an arsenal of faux on-air voices as he discovers his own, the film shows what a grind the booth can be: a succession of call letters, timestamps, temperatures and other sundry tedium.
The pièce de résistance comes about an hour and 17 minutes in—a perfect storm of what one can and cannot say, a Carlin-esque situation that baits the FCC and other higher-ups, and an ace example of the characters in play on any radio broadcast. Private Parts lays bare the DJ at his best—and, some will argue, Stern at his worst: profane, divisive, sophomoric, inimitably listenable. Stern's real-life stable of talk-show sidekicks (Robin Quivers, with whom his relationship grows rather organically; Jackie Martling; and Gary "Baba Booey" Dell'Abate, all playing themselves) and dramatized nemeses (Paul Giamatti, as an old station boss nicknamed "Pig Vomit") crank maximum wattage out of what is essentially an underdog story, one that appealed to a much larger moviegoing audience than Stern's zealous fan base.
Also, W-NNN-B-C.
---
8. Pirate Radio (2009)
DJs: The Count (Philip Seymour Hoffman), Gavin (Rhys Ifans), Bob (Ralph Brown), Simon (Chris O'Dowd), Carl (Tom Sturridge)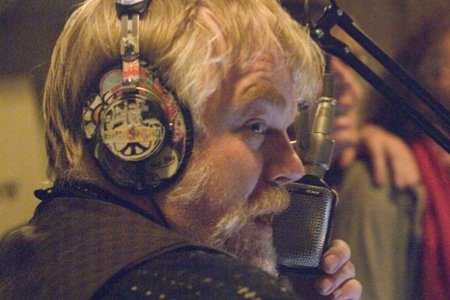 For the sheer volume of onscreen on-air talent alone, this enjoyable if slight farce cannot be denied. Writer-director Richard Curtis (Love Actually, Notting Hill) sets his ensemble just outside U.K. territorial waters—and at the apex of '60s rock 'n' roll—for a 24/7 show forbidden by the crusty old BBC. Based on the real-life Radio Caroline, the motley crew collectively known as Radio Rock serve months-long tours of transmission during which they drink, carouse and, oh yeah, deliver Dusty Springfield, The Who and The Beach Boys to mainland earholes.
The stir-crazy sketch antics are amusing enough—the flick was hacked significantly between its U.K. and U.S. theatrical releases, and it shows—and the cast is top-notch in its good-natured, too-clean tomfoolery. Curtis puts the "broad" in broadcast, right down to Kenneth Branagh as a mustache-twirling Establishment dolt and Emma Thompson as wary mum to the the youngest DJ on "The Boat That Rocked" (the film's original title). Nonstop music and a droll roster of radio outlaws, led by station owner Bill Nighy, buoy an otherwise unfortunate mess. It hardly matters that the late Hoffman basically recycles his Almost Famous bluster as a Yank called the Count who, in another Carlin-esque scene, debates "a word too far … one tiny little 'fuck.'"
---
7. Play Misty for Me (1971)
DJ: Dave Garver (Clint Eastwood)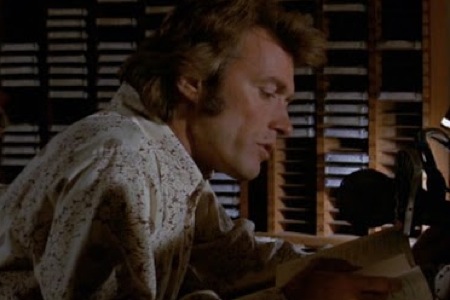 Decades before he was the crotchety old man of Gran Torino, Clint Eastwood—in his directorial debut—was the crotchety young man of radio. The night DJ at a station in Carmel-by-the-Sea, California (where Eastwood would later serve as mayor), his Dave Garver is as cool on the air—think: poetry readings—as he is off. (Peep those era-appropriate sideburns that arrive a few minutes before the rest of him.) Garver's swinging bachelor cashes in on his local popularity at the bar when he's not fielding the (not-so) occasional song request. Jessica Walter, now known best as the matriarch of Arrested Development and Archer, co-stars as Evelyn, the uncorked listener who will not be ignored. Yep, Play Misty for Me is a direct and obvious antecedent of Fatal Attraction, and a better film.
As disc jockeys go, Eastwood's suede-and-sandpaper voice is tailor-made for radio, especially jazz—a genre the multi-hyphenate has returned to throughout his career; he even staged the film around the time of the 1970 Monterey Jazz Festival, where he shot live concert scenes. A stylish, spare, unnerving thriller, Play Misty for Me builds like a tight musical composition—arguably displaying an economy lost in its director's behind-the-camera work of late.
---
6. Talk to Me (2007)
DJ: Ralph "Petey" Greene (Don Cheadle)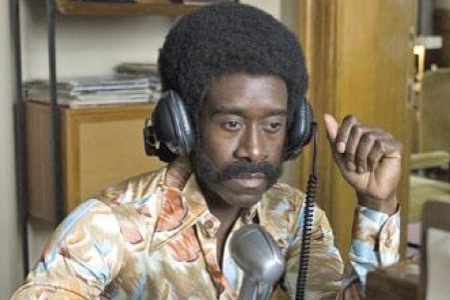 Don Cheadle is marvelous in Kasi Lemmons' crowd-pleaser of a biopic, starring as an ex-con-turned-DJ and activist in 1960s Washington, D.C. The story of Ralph Waldo "Petey" Greene opens with his polarizing prison broadcast, overheard by visiting radio exec Dewey Hughes (Chiwetel Ejiofor, expert as the straight man to Cheadle's flamboyant lead). As shrewd as he is verbose, Greene soon finagles his way out of jail and onto public airwaves, with Hughes as his makeshift babysitter and Martin Sheen's station owner as his exasperated boss. Talk to Me chronicles this messenger of the streets—or "P-Town" as it becomes known—throughout the changing D.C. landscape and accompanying racial politics, particularly Vietnam and the assassination of Martin Luther King Jr. Greene drinks, he womanizes, he sends the FCC into fits with his real talk—an early smackdown of Motown's Berry Gordy is the least of WOL-AM's troubles, even for a station that bills itself as the new sound of soul.
The music featured is expectedly funky, from classic R&B and Stax to Terence Blanchard's score; Cheadle's DJ shares the hope that the Sam Cooke recording, "A Change is Gonna Come," once gave him—"Now that I'm out," he says, "I still need that." Outrageous and fearless, Greene eventually becomes a stand-up comic and Emmy-winning TV show host. The seriocomic film takes heartwarming liberties with the facts and largely glosses over his considerable work as a social reformer. But the guts of Greene's appeal is still here, at its crux his unwavering insistence upon the truth, "because that's all I know," he shrugs. "Being a DJ is the only thing I'm good at that doesn't involve me breaking the law."
5. American Graffiti (1973)
DJ: Wolfman Jack as himself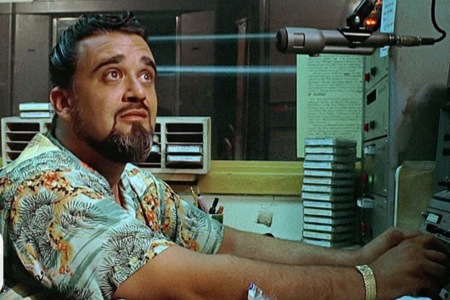 For this nostalgic look back at the salad days of radio, and the nation-at-large, writer-director George Lucas approached a real-life icon. The gravelly voiced, howling "rock-and-roll animal" born Robert Weston Smith—who took a couple cues from Alan "Moondog" Freed (the controversial figure dramatized in 1978's American Hot Wax) before him—epitomizes everything that was hypnotic about the radio, in an age when radio was everything. (For a different take on the dial as all-consuming pastime, Woody Allen's Radio Days is a sentimental look at the serial programs and players of the 1930s-'40s.)
What's more, his onscreen iteration serves as counselor, confessor, comedian, matchmaker and then some to a graduating class of teens (and burgeoning stars), Richard Dreyfuss, Ron Howard and, in a small role, Harrison Ford among them. From Bill Haley to Buddy Holly, the Wolfman narrates the soundtrack of sock hops, drive-ins and cruising circa 1962. He's aural wallpaper, his signature rasp bookending hijinks and make-out sessions, in the background but always there. He's also a testament to the man-behind-the-mic enigma, the proverbial curtain drawn back when Dreyfuss' besotted character makes an in-person plea to dedicate a song to a girl. Approachable yet cool, only the Wolfman can dispense life advice and push popsicles so effortlessly. And with all due respect to AM band ancestors like Freed, he's the only possible voice to sign off on that innocent moment in history. Simpler times, baby, simpler times, when "the Wolfman [was] everywhere."
---
4. Pump Up The Volume (1990)
DJ: Mark Hunter/"Hard Harry" (Christian Slater)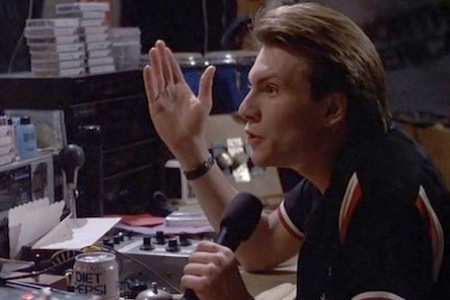 "I like the idea that a voice can just go somewhere uninvited, like a dirty thought in a nice clean mind," muses broadcast bad boy by night, high-school wallflower by day Mark Hunter in this Gen X staple. Christian Slater, two years removed from his James Dean-esque star turn in Heathers, nails his groove as a Wild Cherry Diet Pepsi-drinking, Black Jack Gum-chewing loner. He "talks hard" as a pirate radio DJ, cueing choice cuts from Soundgarden, Pixies, Beastie Boys, and even Henry Rollins and Bad Brains (covering MC5, no less). Alter ego Hard Harry's rants are deep, man: the Disneyfication of life, clueless parental units and suicide, until the threat of censorship turns a suburban Arizona town into an FCC-meets-Footloose melee of adults against teens.
His film's oozing ennui notwithstanding, writer-director Allan Moyle (who revisited the teens and vinyl motif a few years later with 1995's Empire Records) finds a welcome depth in his characterizations, anchored by Slater's brooding sex appeal and a solid supporting ensemble. One more thing to consider: as the compact disc hit critical mass, and when soundtracks were still revered as a cohesive unit, PUTV music maestro Kathy Nelson was among the finest studio supervisors of the era—she also curated the collections for Reservoir Dogs, Grosse Pointe Blank and Pulp Fiction.
---
3. Do The Right Thing (1989)
DJ: Mister Señor Love Daddy (Samuel L. Jackson)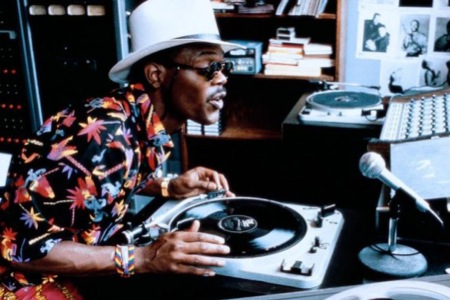 In one of his earliest and highest decibel roles, Jackson—who got the part after Laurence Fishburne turned it down—threads together the 24-hour timeline of Spike Lee's classic joint. Mister Señor Love Daddy croons his rhyme-centric floetry at hyperlocal station 108 FM, "the last on your dial but first in your heart." He's the cool in a 100-plus-degree melting pot of racial tension in Brooklyn's Bed-Stuy neighborhood. With a positivity that crossed color, gender, creed, age, and simply crossed the street, the character is the voice of reason streaming through the boom box of the largely silent, D battery-dependent "Radio Raheem" (Bill Nunn).
Just on the flip side of Lee's opening credits sequence (ignited by its use of the Public Enemy refrain "Fight the Power"), he is moviegoers' first impression, a vivid wake-up call (much like Talk to Me's Petey Greene) and a reminder of the instant community that can be created via a single voice. That is, if said voice reaches its audience: lovers, haters or listeners somewhere in-between. Writer-director-star Lee explicitly interweaves the DJ's running commentary with the increasingly heated events of the day; Mister Señor Love Daddy is an in-your-face sage—an almost omniscient narrator—as he observes the block from his storefront booth's de facto pulpit, sharing a message of peace and understanding while he spins "the platters that matter." Like Wolfman Jack, his duties as DJ are varied: teacher (check his rundown of African-American musicians throughout history), preacher, mediator, friend, literal and figurative forecaster—he even keeps an array of hats at the ready to drive the metaphor home. Jackson's DJ is the most objective voice in a film pulsing with POV drama. He connects with us, even when he cannot affect the violence going down outside. And to quote the Mister himself, "That's the triple truth, Ruth."
---
2. Talk Radio (1988)
DJ: Barry Champlain (Eric Bogosian)
Barry Champlain is a self-destructive, self-loathing, self-important provocateur whose on-air M.O. is attack. Half bully, half paranoid-schizophrenic, all sadomasochist, the Dallas shock jock hurls one tirade after another into the darkest recesses of the night—and psyche—from his glass house, er … booth. He's the spoken-word equivalent of Tyler Durden, physical punches replaced with browbeatings and tongue-lashings—whose target is America the ugly, the empty, the fearful, the depraved. Real feel-good stuff here.
Adapted from the 1987 Pulitzer Prize-nominated play written by Bogosian, who reprises his off-Broadway role for the screen, Talk Radio is ceaselessly liberal, brash, ego-driven soapboxing and inspired by a high-profile assassination (Denver call-in host Alan Berg) to boot. In other words, director Oliver Stone couldn't have picked a better script. Together, Bogosian and Stone goad listeners with a perverse polemic that vilifies the consumer's insatiable appetite for gory details. We're rubbernecking our own lives into crises of faith, intelligence and identity. Champlain, a whirling dervish of Morton Downey Jr.-meets-Lenny Bruce-meets Don Imus, doesn't so much wag a finger at his audience—or even give them the middle one—as he does shove it in their ear with a ball-peen hammer. This is codependent drive time, a vicious circle in which DJ inflicts the very things he despises upon a demographic (role call, anti-Semites and neo-Nazis) without whom he can't feed his unchecked nihilism. For his part, Stone leaves the radio station only briefly, to flesh out Champlain's past in flashbacks. It's a breath of air, though hardly fresh. Staged behind Windexed reflections, Champlain's existential freakouts, manic and panicky—are smothered in deep focus and dizzying camerawork.
If anything, Talk Radio seems almost too easy for Stone, he who's never met a button he didn't push or a stylistic flourish he didn't try. Credit an incredible Bogosian—caged claustrophobia personified with every blink of his crazy eyes, every twitchy mannerism and staccato verbal kick—for gutting us with truth. Talk Radio is very much his show, not Stone's. Before the age of trolls and trigger alerts, Bogosian excuses no one. After all, we still look, still listen.
---
1. Good Morning, Vietnam (1987)
DJ: Adrian Cronauer (Robin Williams)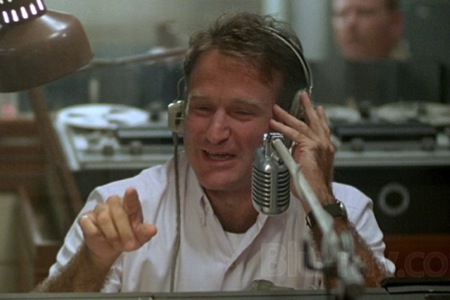 It's impossible to compile a list of movie DJs and not think of Robin Williams—had this ranking happened a few months ago, before the actor's untimely death, or now. It's almost as difficult to not over-eulogize him in discussing this, his breakthrough film role. Make no mistake: Good Morning, Vietnam is hardly perfect, and it's hardly Williams' best performance. It glosses over the horrors of war, stretches belief with its plot holes and feels at times anachronistically self-aware, despite its period trappings. Some of these shortcomings lie with Williams. None of them much matter. The reality is that Williams' DJ occupies a booth unimaginable by anyone else—a quintessential star vehicle.
Inspired by real-life namesake, Saigon-based disc jockey Adrian Cronauer, the funnyman came into his own as a marquee draw and Oscar-nominated actor. (He eventually won for 1997's Good Will Hunting.) Director Barry Levinson wisely let his leading man ad lib the Armed Forces Radio programs, a rapid-fire melange of one-liners, impressions, pop culture references, sound effects and off-the-cuff characters that made "the airways a demilitarized zone." There's nothing much for the outstanding supporting cast (Forest Whitaker, Robert Wuhl, Bruno Kirby) to do but take a backseat to Williams' singular brand of comic anarchy.
All the broadcast basics are here: censorship, a scandalous playlist (James Brown, Martha and the Vandellas), bucking The Powers That Be, a general irreverence and anti-authoritarian vibe. But by the time Good Morning, Vietnam experiences a tonal shift mid-film—you can hear the added gravitas with every titular sign-on—Cronauer becomes something more than a DJ, and Williams becomes something more than a stand-up comic doing his routine on a movie set. To varying degree, each transforms from personality to person. Once hidden in plain sight/sound, Williams/Cronauer steps off the stage, no longer just a monologue between "Cut!" or call letters. He's flesh and blood.
Take the scene where a defeated, sullen Cronauer leaves a restaurant and, caught in a traffic jam, begins to entertain an impromptu assembly of troops. The glint—a spark that anyone familiar with Williams will recognize—returns to his eyes almost immediately (00:42 seconds into the clip linked above), with the first smiles that encircle him. He asks names, he listens, he riffs, he lifts their spirits. So, too, do they his. There's no mic, no amplification, no distance. It's symbiosis—despite its contrivance, a bittersweet and undeniably genuine moment of humanity. You can't fake that connection.
And just like that, the spark is gone—urgent, (a)live, current, until it isn't. Transmission over.
Cronauer—like his fellow DJs—was just another voice, of course. But in Williams' hands, an all the more extraordinary one.
---
Amanda Schurr is Assistant Movies Editor at Paste and a Pac NW-based culture writer. You can follow her on Twitter.