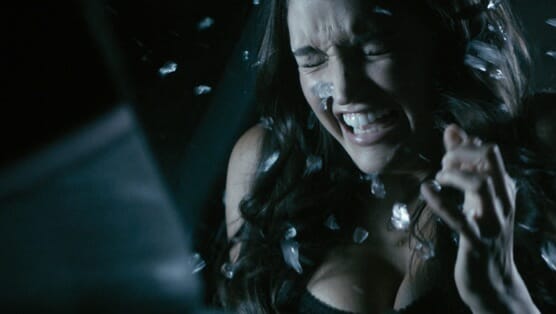 Cannibalistic humanoids and butyraceous posteriors abound in Steve Wolsh's slack horror mash-up that borrows much from Neil Marshall's genuinely bone-chilling The Descent. In 2005's The Descent, blind albino cannibals who live in subterranean enclaves assail an all-female spelunking detachment. Here the C.H.U.D.s du jour hang out in a marsh on Cape Cod and have at it with a batch of comely coeds and their buff beaus who have holed up in a stately manse. The "what" and "why" never come into conversation—as the bodies begin to amass, the lithe twentysomethings don't begin to consider how a tribe of primal alabaster "creepers" suddenly came to be in the middle of America's most venerated vacation seaboard. Nothing, not even a good ol' "What the fuck?"
Somewhere in the middle, I half expected a rewind to an experiment gone wrong or some form of contamination like The Hills Have Eyes, but it didn't happen. Wolsh dives straight into the murk of carnage and undulating breasts and never comes up to catch his breath. As a result, the gonzo assault becomes an uneven straddle of Evil Dead camp and rote splatter, leaving Muck to hobble along disjointedly like Jamie Lee Curtis' battered heroine as she tries to escape Michael Myers in Halloween.
The cast, floated by an armada of buxom eye candy (including a former Playmate of the Year and two Miss Cape Cods) also weaves in slasher genre icon Kane Hodder (the guy who played Jason Voorhees in most of the Friday the 13th flicks) as one of the pale marauders. He's listed as Grawesome Crutal in the credits, a moniker that casts shades of pig Latin cryptography and may be the most thought-out device in the project. The town where all this mayhem goes down is called West Craven—I kid you not.
It doesn't help that the film takes place on St. Paddy's Day, in New England and in a highly seasonal expanse. Ever been to the Cape in mid-March? It's a wasteland. Most, if not all, restaurants and bars are shuttered till summer. No one's there, yet in Muck we've got people traipsing to lively establishments and doing shots in bikinis. Again, this is winter in the Northeast. Boston just got blasted with more than 100 inches of snow (the all-time record) and we were still in subfreezing temps when St. Paddy's rolled around last week.
But all that inanity fades when strapping young lad Noah (Bryce Draper) escapes the besieged house and goes for help. When he gets to a bar and puts his hands on a cell phone (after doing a round with a few hotties, of course), who does he call? You'd think 911, right? Nope, he dials his best bud Troid (Lachlan Buchanan), who's drunk and two towns away. Wolsh tries to build Troid up as something akin to Bruce Campbell's rugged raconteur in the Evil Dead series; he endows him with droll, sardonic wit and a favored shovel, with which he's adroit at bashing in the craniums of the albino terrors, but most of what falls from Troid's mouth—and most every other caricature in Muck—rolls off the tongue flatly or cringe-worthily. (Troid casually tags his Indian gal pal, played by Puja Mohindra, as "a terrorist who doesn't celebrate Christmas.") In other sharp moves, we stumble upon a MILFy barfly aptly named Victoria Cougar, and one woman engaged in catty conversation with a frienemy barks "Lick my clit" to up the stakes. It's typical of the sophomoric shtick that's rife throughout Muck.
I will concede—given the film's lo-fi constraints and Wolsh's not-quite-fully-baked concept—that the performances, even the shrieking shark bait, are largely passable, even surprisingly spot-on. The dark, well-framed camerawork by Michael Solidum goes a long way, too. And for better or worse, Wolsh and crew will get a shot at a do-over—prequel Muck: Feast of Saint Patrick rolls into pre-production as we speak.
Director: Steve Wolsh
Writer: Steve Wolsh
Starring: Kane Hodder, Bryce Draper, Lachlan Buchanan and Puja Mohindra
Release Date: March 13, 2015
---
Tom Meek is a writer living in Cambridge, Mass. His reviews, essays, short stories and articles have appeared in the Boston Phoenix, Paste, The Rumpus, WBUR's ARTery, Charleston City Paper and SLAB literary journal. He is also a member of the Boston Society of Film Critics and rides his bike everywhere. You can follow him on Twitter.