Here's Our First Look at IT's Sophia Lillis as Nancy Drew
Nancy Drew and the Hidden Staircase is now in production
Photos via Pascal Le Segretain/Getty, Warner Bros. Home Entertainment
Movies
News
Nancy Drew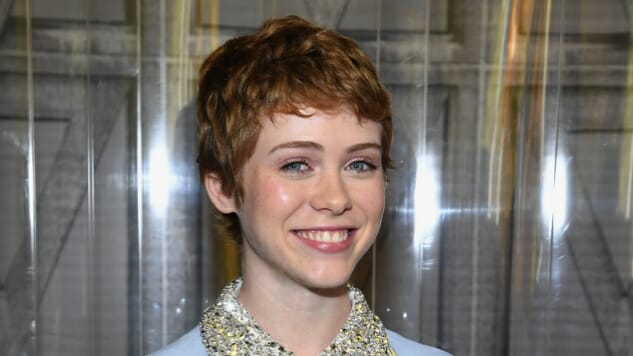 One of pop culture's most iconic detectives is returning to the screen for the first time in over a decade in Nancy Drew and the Hidden Staircase, starring IT breakout Sophia Lillis as the titular teen sleuth. The film has now begun principal photography in and around the city of Monroe, Ga., and with that comes our first glimpse of Lillis' protagonist.
True to the character's rich history, Lillis' take on Nancy Drew is described in a press release as "a smart high schooler with a penchant for keen observation and deduction, who stumbles upon the haunting of a local home. A bit of an outsider struggling to fit into her new surroundings, Nancy and her pals set out to solve the mystery, make new friends and establish their place in the community." Said pals include George (Zoe Renee, The Quad) and Bess (Mackenzie Graham, SYFY's forthcoming The Purge), as well as Helen (Laura Slade Wiggins, Shameless), a mean girl who reluctantly teams up with Nancy and company to unravel the mystery. Filling out Nancy's circle are Sam Trammell (True Blood) as Nancy's father Carson, Andrea Anders (Joey, The Stepford Wives, Better Off Ted) as Nancy's Aunt Hannah and Linda Lavin (Alice) as haunted house owner Flora. The film's cast also includes Jay DeVon Johnson (Vice Principals), Andrew Matthew Welch (Taylor Tate's forthcoming Ma), Jon Briddell (The Resident), Josh Daugherty (We Were Soldiers), Evan Castelloe (Queen Sugar) and Jesse C. Boyd (Hap and Leonard).
Nancy Drew has appeared in books, comics, TV and videogames in the 90 or so years since her 1930 introduction. Books based on the character have sold more than 100 million copies worldwide, and she has appeared in numerous movies, beginning with 1938's Nancy Drew … Detective. She was last depicted on film by Emma Roberts in 2007's Nancy Drew.
Nancy Drew and the Hidden Staircase is a co-production from Ellen DeGeneres' A Very Good Production, Warner Bros. Home Entertainment and Red 56. Katt Shea (Poison Ivy) directs from a script by Nina Fiore and John Herrera (The Handmaid's Tale, The Vampire Diaries). DeGeneres, Jeff Kleeman (The Man From U.N.C.L.E.) and Chip Diggins (A Walk In The Woods) are producers, while Wendy S. Williams (The Fate Of The Furious) is an executive producer.
See today's photo from Nancy Drew and the Hidden Staircase's first day of filming below, showing Lillis in discussion with Shea and Renee. The film does not yet have a release date.